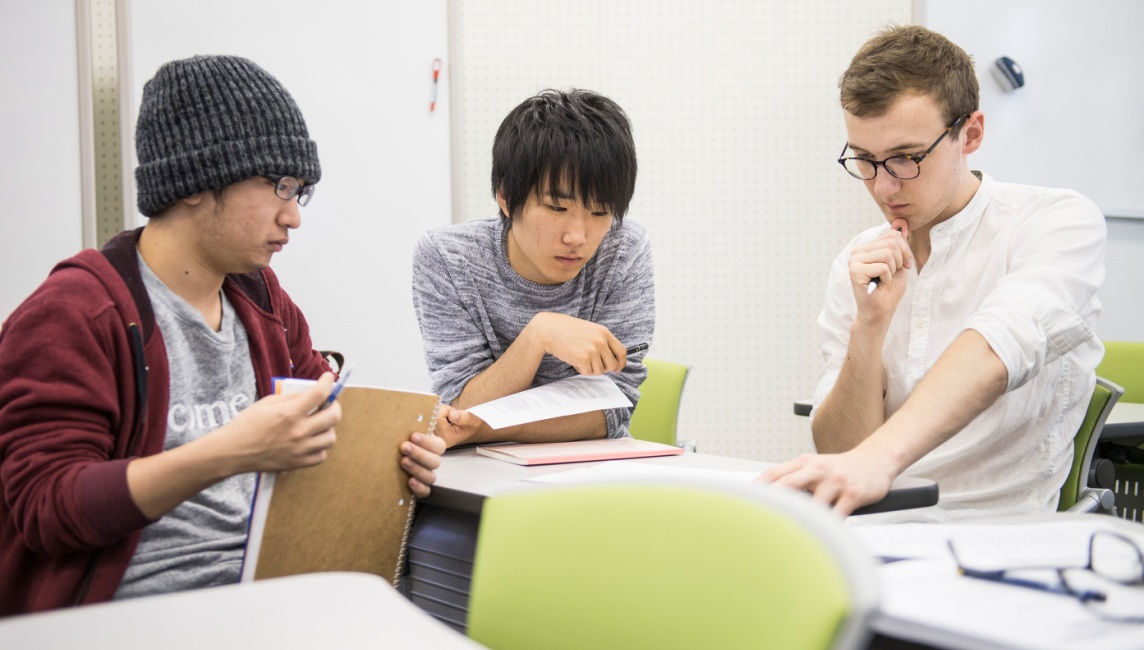 Roundtable Discussion between College of International Relations Dean and Students (1)
Dean and of College of International Relations had a roundtable discussion about the reason they chose the college, its strengths, their studies and extracurricular activities.

Professor Kimijima: Thank you very much for coming today. My name is Akihiko Kimijima, and I am Dean of the College of International Relations (IR). We are very glad to have you as students here. Could you tell me what brought you to our college? And could you tell me a little about yourselves?

Juliane: My name is Juliane Barakat, and I am a fourth-year student majoring in Global Studies (GS). I am of Egyptian nationality, but was born in the UAE. I chose College of IR is because I wanted to enhance my Japanese and English language skills at the same time. I also had a dream to study in a very diverse environment where I could interact with people from different backgrounds, and learn a lot by being surrounded by them. In addition, I chose this college because I am interested in politics, the world, policies, and cultures as well as how society works.

Professor Kimijima: So you had an interest in Japan before coming here?

Juliane: Yes, I always had an interest in Japan, because I had 11 years of Japanese education in my country.

Professor Kimijima: Really? Tell me more.

Juliane: My father graduated from Cairo University in Egypt with a major in Japanese literature, and then he moved to Japan and worked here for six years. He wanted to instill a love of Japanese culture and language in his children, so he encouraged us to learn these things.

Professor Kimijima: OK, that's an interesting story. How about you, Lin?

Lin Tzu-Cheng: I'm Lin Tzu-Cheng from Taiwan, and I am a second-year student majoring in GS. I chose Japan and the College of IR to learn about Taiwan from an outside perspective. Together with the United States, Japan is the country with the best understanding of Taiwan. Learning about Taiwan in Japan helps me to objectively see the position of Taiwan in the international community. Furthermore, Ritsumeikan University provides a lot of support for international students, so I had nothing to worry about prior to starting my life in Japan. Compared to other universities in Tokyo that I applied to, our college provides students with a clear path for studying international relations through the liberal arts.

Another reason is that I wanted to learn English and Japanese at the same time. Some people say that learning two languages at once is hard, but I am trying my best here, using English on campus and Japanese outside the campus. I am also interested in politics because of the Sunflower Student Movement that came to a head in 2014 in Taiwan's Legislative Yuan, which is similar to a parliament. At that time, I lived pretty close by and passed through that area almost every day. I realized for the first time that governments could use their power to do something legal but unreasonable. That event sparked my interest in politics, and started to think about what I could do for my country. Studying hard and broadening my horizons are things I can do now, so I would like to be prepared to contribute to my country in the future.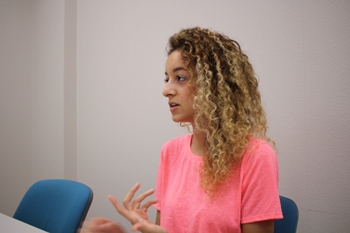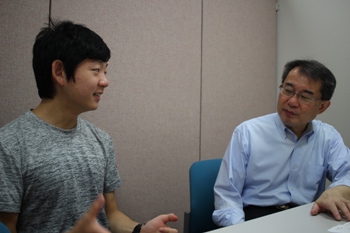 Professor Kimijima: Thank you for your introductions. So, as students of our college, what do you think are the strengths?

Juliane: I do enjoy the environment here, our professors have different backgrounds, and different nationalities. Another point is that, we have many discussion-based classes, especially in the GS major. However, I feel there are some courses lacking that we should also include, such as Middle Eastern studies taught in English.

Professor Kimijima: I see, we have Middle Eastern studies taught in Japanese, but not in English.

Juliane: Exactly, I think it would be great to give international students here exposure not only to international relations between Japan and the US or European countries, but also studies in all regions including the Middle East.

Lin: The good thing about our college is that we study very hard and take many classes. Core program classes are mandatory, so we have to take some classes even if we are not really interested in them. But I found that was helpful. It gives us an important opportunity to learn something. If we were totally free to decide which classes to take, we might miss out on encounters with completely unknown and unexpected aspects of learning and knowledge. And that knowledge may help you in the future. The number of classes taught in English is limited, but we learn the basics of international relations. If we find any specific field that interest us, then we will be able to study them in more depth.

Professor Kimijima: OK, I see. Generally speaking, many colleges of international relations are similar. They are very close to the liberal arts colleges, so you learn many things little by little rather than delving deeply into subjects. If you would like to study any specific subject in detail, it's a good idea to go to graduate school.

Lin: Yes, that's one of my options after graduating from university.
Professor Kimijima: Now I'd like to hear from you about your extracurricular activities. What do you do besides classes?

Juliane: I had an opportunity to participate in a student conference staged in Indonesia last year, where about 200 students gathered as delegates. As for volunteer activities, I took part in the Human Rights Watch Kansai Summit in May. Lin and I also joined KyoTomorrow Academy.

Professor Kimijima: What is KyoTomorrow Academy?

Juliane: It is a community where we help other international students get motivated to work in Japan. We sometimes organize events for international students in Kyoto.

Professor Kimijima: How about your activity on campus? Are you involved in any club activities or associations?

Lin: I am a member of TISA, Tutors for International Students Assembly. From my experience as an international student on the orientation day, I applied for membership in my first year here. This year, I joined KyoTomorrow Academy and the College of IR Student Union. I am also a member of the school festival planning committee. So I am really busy, involved in a lot of activities on and off campus.

Juliane: Wow, you must be so busy!

Lin: Yes, I have at least one meeting almost every day with different people.

(Continued in next article)

Related information