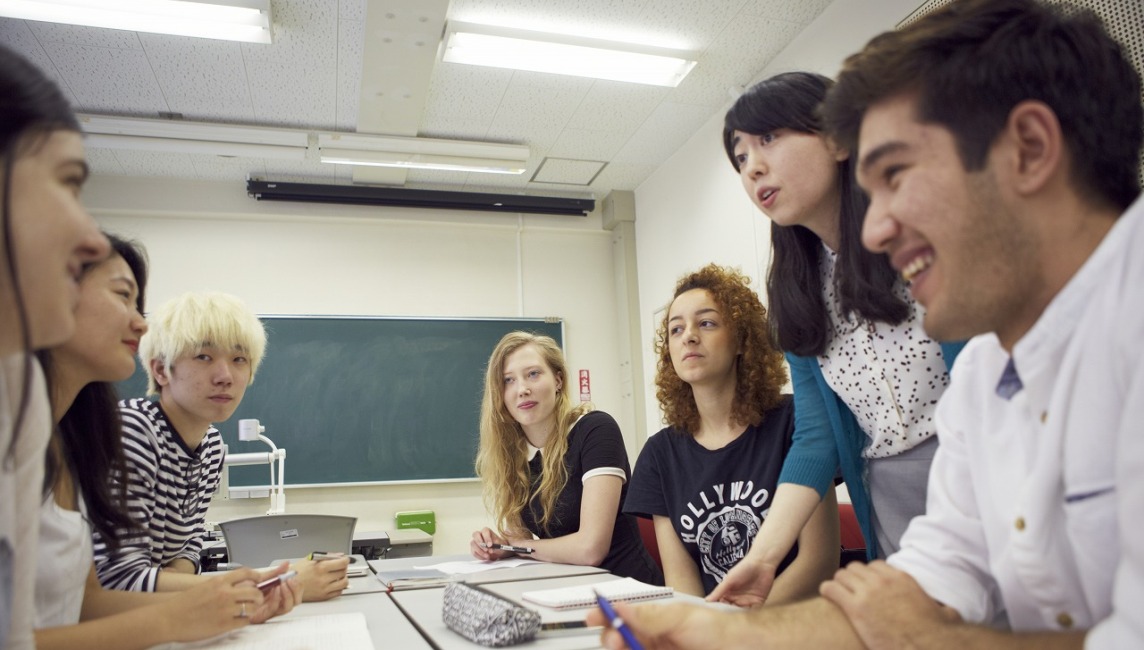 Roundtable Discussion between College of International Relations Dean and Students (2)
Continuing from last time, Dean and of College of International Relations had a roundtable discussion about their study, campus life and daily life in Kyoto.
Professor Kimijima: What do you think of studying in Kyoto?

Lin: Kyoto has nothing to distract from studying, and is also a good place to learn about the traditions of Japan. The only single concern that I had before coming here was that Kyoto might have fewer opportunities than Tokyo in terms of activities, speeches by famous people etc. But now I know this is not the case, and Kyoto has many things that other places do not have. For example, I am learning Japanese tea ceremony in the Urasenke headquarters, which is one of the main schools for Japanese tea ceremony.

Professor Kimijima: Yes I agree, Kyoto is really an attractive place to live and study. By the way, do the Global Studies (GS) major students have part-time jobs?

Lin: Yes, almost everyone.

Professor Kimijima: What kind of part-time job do you do?

Juliane: I used to work in a clothing store in Kyoto and also did interpreting and translating between Japanese and English. I think the majority of the GS majors do translation, work as tour guides, teach English or their native languages, or work in restaurants as their part-time jobs.

Professor Kimijima: I understand GS majors have a heavy workload with assignments. Can the students find time for this?
Juliane: Yes, we do have a lot of assignment, so most students work over the weekend. Lin: I was working on a hotel reception desk because the majority of the customers were from mainland China and Taiwan, and I spoke Chinese. Recently, I have been giving a company worker private lessons in Chinese.

Professor Kimijima: How about your life off campus, do you live in an international students' dormitory?

Lin: I am living in the Taishogun international dormitory in Kyoto. The majority of the residents are exchange students from partner universities overseas. Some degree course students are actively involved in the activities at dormitory.

Professor Kimijima: How about you, Juliane, do you live by yourself?

Juliane: Yes, I live in an apartment by myself. As the Taishogun international dormitory had not yet opened in my first year, the university offered international students some apartments in the vicinity of campus, and I stayed in one of those apartments for a year. Then I moved to another apartment which is much closer to the JR station.

Professor Kimijima: Had you been to Japan before you entered Ritsumeikan?

Juliane: Yes, I'd been to Japan several times.

Professor Kimijima: So you know a lot about Japan and the way of life, don't you?

Juliane: Yes, but there is a big difference between traveling to and living in a foreign country. The most complicated thing for me was the garbage-sorting. Especially for international students who don't speak Japanese, it is really hard to understand the sorting rules, Monday is for combustible garbage, etc. In my apartment, the signs setting out the sorting rules are all written in Japanese. Those who don't speak Japanese, always need someone as a translator. It was also hard for me to get used to that system.

Professor Kimijima: It would be a good idea to contact the municipal office and ask them to prepare an English version of that notice.

Juliane: Is it possible to request that to the municipal office?

Professor Kimijima: I think it would be a good idea for Ritsumeikan students to prepare the notice in English, since it really would be helpful for both the municipal office and those who don't speak Japanese. Lin, do you have any English signs about garbage-sorting in the dormitory?

Lin: Yes, everything is available in English in the dormitory.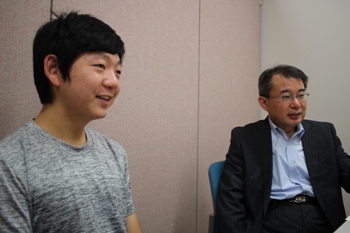 Professor Kimijima: I see. Let's move on to the next topic. Would you tell me your plans for after graduation?

Juliane: Well, I will go back to Abu Dhabi and work for several years then hopefully apply for Master's program. But before getting a job, I would like to do internships as much as I can to gain some experiences first and hopefully that will lead me to work in the field that I want to, which is enhancing the bridge between Japan and Middle Eastern countries.

Professor Kimijima: How about you, Lin? Are you planning to go to graduate school?

Lin: I am going to study at a graduate school in Japan, so have already applied for an early graduation. I'd like to study politics and economic policy in East Asia. I think Japan is a leading country in East Asia and knows a lot about Taiwan, so studying in a graduate school here would be a good idea to get different views and perspectives on Taiwan and Asian countries.

Professor Kimijima: What are you going to do after completing graduate school?

Lin: I want to work in Japan, for a Taiwanese company here. Or working for a Japanese company in Taiwan could be an option.

Professor Kimijima: Juliane, you will be graduating this semester. Through your student life, what made you grown up and what did you obtain at Ritsumeikan?

Juliane: Studying abroad in Ritsumeikan University has given me the chance to meet students from different cultural backgrounds, as well as broaden my perspective on the world. I was fascinated and noticed that regardless of where all the students came from, we all had a common goal and that is studying international relations here. I am always intrigued to learn about different customs and cultures apart of mine, and by being exposed to such an environment, I definitely feel like I became more creative and a fast problem solver. Another major advantage of studying here is the fact that we could learn a wide variety of subjects that not only focuses on the readings, but allows us to develop critical thinking skills through class discussions. Also, because this is my first time living by myself away from home, I also learned how to be more independent and balance my life, such as planning my schedule ahead of time and figuring out when I need to relax.

Professor Kimijima: Thank you, Juliane. Finally, do you have any advice for prospective GS students in terms of screening?

Juliane: Instead of exams, we had an interview and essay. I advise you to do through research on the university and college you choose, using websites, brochures, and interview materials. Learn about the university prior to admission, and always be honest.

Lin: My advice is "don't hesitate to try." I was thinking about studying at university overseas right after graduating from high school, but some people think that it is too early to do so. My parents were a little concerned about whether I could survive in Japan, both in campus life and daily life, because I had never lived alone before. It is difficult but not possible, so just give it a try.

Professor Kimijima: OK, we wish both of you good luck for your future and thank you for your time today.
Related information