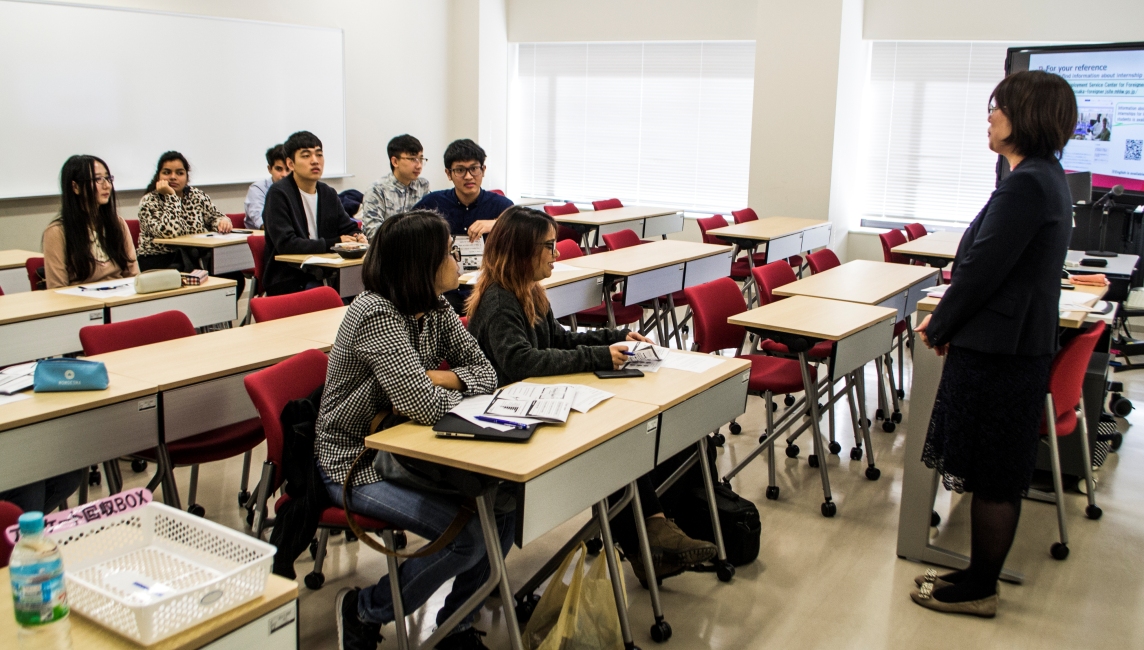 Working in Japan:Career Guidance for International Students
For students already studying in Japan, as well as for those thinking of applying, one of the chief concerns amongst a long list of considerations - housing, academic content, course fees to name but a few - is what to do after graduating. Many look upon graduation as a natural point to return home to develop a career. An increasing number each year, however, are making plans to stay in Japan. It is with the needs of these students in mind that the Office of Career Services at Osaka Ibaraki Campus (OIC) held a Career Seminar entitled "Working in Japan".

Open to all international students considering a future career in Japan, the well-attended and engaging seminar, led by a senior career counselor, began with a clear, three-point, practical agenda aimed at simplifying what can be, particularly for the uninitiated, a complex and difficult subject: 1) Features of Working in Japan, 2) Things to Acquire before Job Hunting, 3) Things to do NOW for Job Hunting.

The first section painted a broad introductory landscape providing various details on how to find employment in traditional Japanese companies. One important point of note was the emphasis companies place upon general skills and attributes in candidates - reflected in the top 10 skills Japanese companies seek from international students, examples of which include: 'Communication Skills', 'Japanese Language Skills', 'Basic Academic Skills', and 'Cooperativeness'.

Encouragingly the counselor highlighted the fact that most of these skills are developed by international students in the process of adapting to Japanese life as they overcome cultural challenges.

One skill in particular, however, took precedence in the second section 'Things to Acquire before Job Hunting': the ability to communicate in Japanese.

'Business Level is required'.
Whilst there was a sigh of relief from students who had already attained this level of proficiency; for others there was a renewed look of determination and commitment to take full advantage of the free SUP Language Exchange Program (SUP: Show yoUr Potential) available across all campuses. According to the counselor, although time consuming in the short term, such a commitment would pay dividends in the long term. The Japanese language, somewhat naturally perhaps, is the language of recruitment culture in Japan where vital areas of the job hunting process require high levels of proficiency: from recruitment advice sites, application forms, and mathematical competency tests, to personal statements and interviews .

This was also highlighted by a representative from the College of Policy Science office, who gave a brief introduction to a summer internship program designed for participants of the Community and Regional Policy Studies major (CRPS). The program, which provides students with the opportunity to take up a one week internship program with a Japanese company, is preceded by an intensive preparation period during which participants take part in classes focused on Japanese company systems, Japanese language skills, and appropriate manners.

In returning to the topic 'Things to Acquire before Graduating', the latter in particular became the focus of attention as the counsellor advised:

'Business manners (including Keigo: polite language skills) cannot be acquired overnight'.

The third and final section was then rather self-explanatory:

''Things to do NOW for job hunting': A) Enjoy your university life, B) Improve your Japanese language skills, C) Join internship programs, and D) Prepare for written tests.

A list that could perhaps be extended to include a final note: E) Refer responsibly to the world wide web for more details.