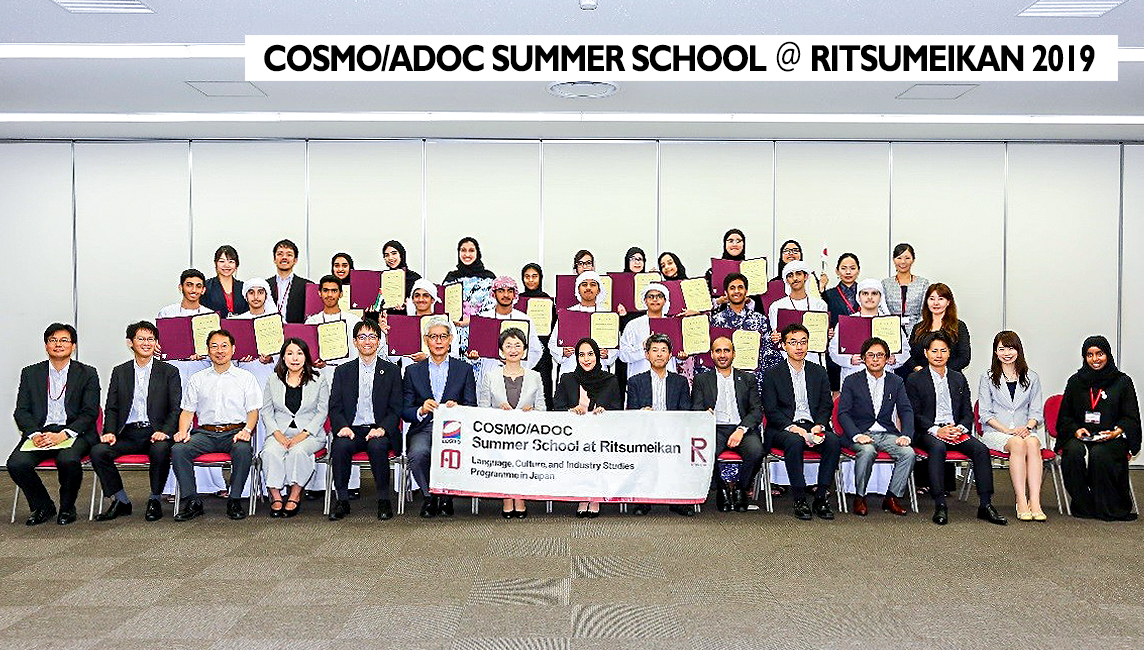 United Arab Emirates (UAE):COSMO/ADOC Summer School at Ritsumeikan 2019 (Eighth Group)
The Ritsumeikan Trust has been conducting the 'Cosmo-ADOC-Ritsumeikan Japanese Language Program' at Applied Technology High School (ATHS) with Cosmo Energy Exploration & Production Co., Ltd and Abu Dhabi Oil Co., Ltd since September 2011.

Part of the program is the 'COSMO/ADOC Summer School at Ritsumeikan'.

To this end, we welcomed 19 ATHS students this year from July 10 to July 20, 2019 – marking the eighth implementation of the summer school.

The students, who had up to their arrival studied the Japanese language and culture for approximately 2 years at ATHS, deepened their knowledge and understanding of both during the program by visiting Ritsumeikan University campuses, Ritsumeikan Moriyama Junior and Senior High School, Ritsumeikan Primary School and Japanese industrial and cultural facilities.

In visiting Ritsumeikan Primary School, ATHS students were delighted by the energy of pupils, thoroughly enjoying interactions, and even rising to the challenge of introducing UAE culture to the children in Japanese.

At Ritsumeikan Moriyama Junior and Senior High School, ATHS students met even more pupils, learning about Japanese school life through school tours, general classes and club activities. In the process, both students and pupils actively used Japanese and English, thus enabling cross-cultural learning and mutual understanding.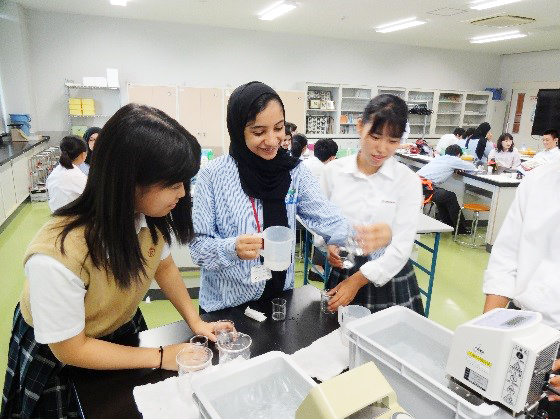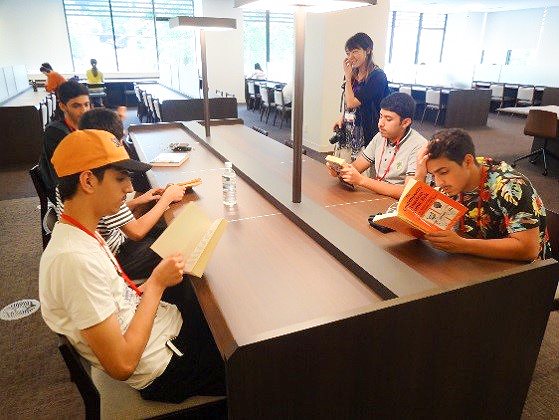 The group also visited four campuses of Ritsumeikan University, taking in the unique atmosphere of each campus, enabling them, at the same time, to imagine what it would be like in the future to study in Japan.

The visit to Biwako Kusatsu Campus in particular provided a detailed insight into university life in the form of an introduction to the English-based Information Systems Science and Engineering Course (ISSE), complimented comprehensively by a tour of research rooms and by meeting current university students - including a former ATHS student.

The Closing Ceremony, held at Suzaku Campus on the final day, included presentations by ATHS students based on what they had learnt during the summer school.

Presentations were enjoyed by various guests of honor: Ms. Muna Almaeeni, Deputy Chief of Mission, Embassy of the United Arab Emirates; Mr. Omran Taryam, Director, Abu Dhabi National Oil Company Marketing International (Japan); Cosmo Energy Exploration & Production Co., Ltd and Abu Dhabi Oil Co., Ltd.; Professor Yoko Matsubara, Vice Chancellor of the Ritsumeikan Trust; and other Ritsumeikan members in a spirit of appreciation and celebration.