Interaction with Junior High School Students from Wakayama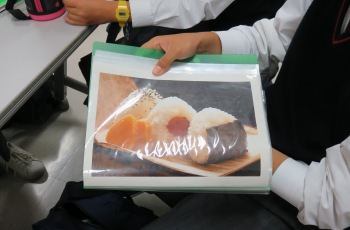 40 students led by two instructors from Wakayama University Attached Junior High School visited Kinugasa Campus last Friday. Their program aims to provide the students opportunities to interact with foreigners outside the school. 10 international students from eight countries and regions joined this program.

Prior to their visit, the junior high school students, in groups of four each, prepared several questions about the home country of the international students, their favorite Japanese food and places. After that, they made presentations on Wakayama, such as tuna, ramen, Tama (a famous cat stationmaster) and lacquer ware using their handcrafted brochures given to the international students thereafter.

As this was the first time for most of the junior high school students to talk with foreigners except English-speaking teachers at their school, they looked tense and nervous. "I would like to improve my English and communicate with foreigners," one of the students said.

For Ritsumeikan international students, this was also the first time to interact with Japanese junior high school students. Georgia from Australia (SKP student) was surprised because the students were well-organized, compared to the students of the same age in her country.

Landy from Madagascar (2nd year in the Master's program, Graduate School of International Relations) was so happy to talk with them. The students were a bit shy, but she understood that they were trying so hard to communicate with the international students. "I would like to have this kind of opportunity again," she added.

Professor Yukawa (College of Letters) who act as a go-between for this program remarked that the junior high school students were shy, but deep inside, they were so happy with talking with international students. She hopes that this opportunity will be a 'trigger' for the junior high school students to get interested in other countries.