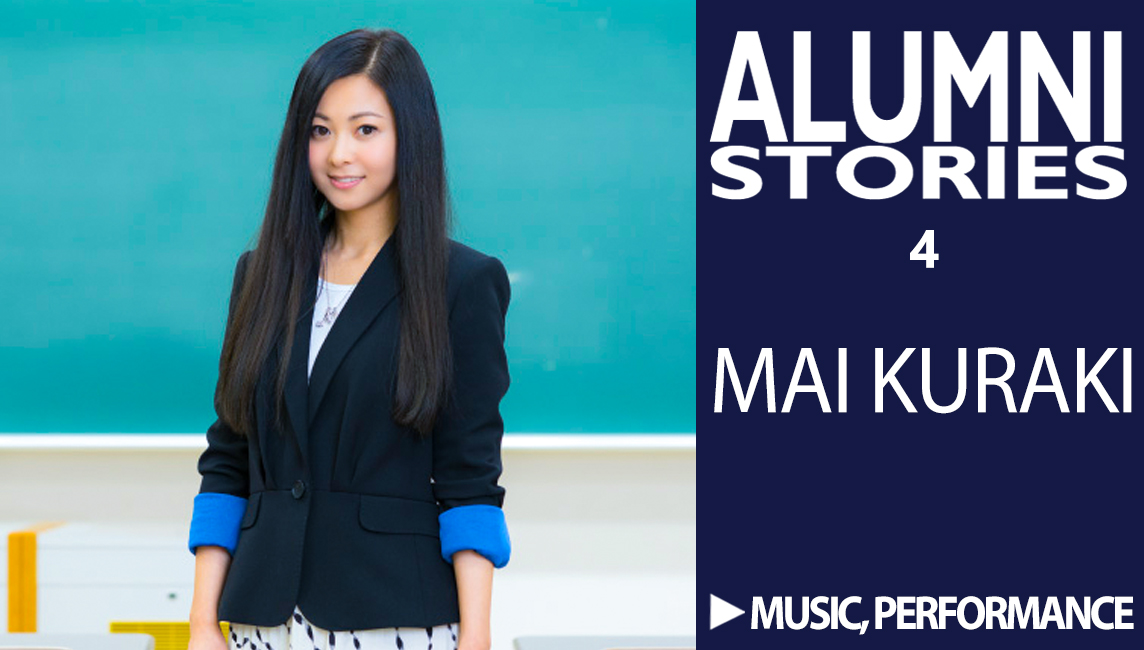 Mai Kuraki:Bringing Hopes together
Mai Kuraki reflects in an interview on a musical career already spanning 20 years, despite having only just turned 37 – a career that has produced seven No.1 albums and two number one singles in Japan, and numerous awards and gold discs – including winner of China's Fresh Asia Chart Award for 'Most Influential Japanese Singer in Asia (2016)'.
Readers may be familiar with the smooth, lyrical tones of her voice from the hugely popular anime series 'Detective Conan' (also known as 'Case Closed'), for which to date she has contributed a record breaking 21 songs.


Mai Kuraki was in her third year of college when she served as a member of the executive committee of the 1st Kyoto Intercollegiate Festa and also held a special live concert at Heian Jingu Shrine.

Looking back on her student days, by which time she was already famous, she recalls fondly, 'My classmates at Ritsumeikan came to the concert and said, "Wow, so you really are the famous Mai Kuraki!" (laughs). That meant a lot to me, because it meant they saw me without pretention – seeing me first as a peer and not as a well-known singer.'

2017 marked her return for the 15th anniversary of the Festa - invited as a special guest where she sang two songs inspired by the city of Kyoto, 'Moon Bridge: You Come to Mind' * and 'In the Town dancing in Bloom: Time after Time'**. This was part of extensive contributions to the city over the course of the year, which also included serving as a one-day tourism ambassador of Arashiyama Kyoto, Kyoto Travel Ambassador, and a PR ambassador of Kimono Day – reflecting the special place her second hometown holds in her heart.
*Japanese title: Togetsukyo -Kimi Omou 渡月橋 〜君 想ふ〜 (see above link)
**Japanese title: Time after time ~花舞う街で~
Making her debut at the tender age of 17, she rapidly climbed the ladder of success to become one of Japan's top musicians. Indeed, at one point, her schedule was so busy that she almost gave up balancing her career as a singer and studying at college – pulling through only with the support of friends and others, and, of course, the ever-present, empowering energy of music.

Her graduation thesis – entitled: 'Consideration of space created by live performances' - Kuraki says, enabled her to deepen her understanding of the significance of live performing, whilst broadening her musical activities at the same time too.

She explains:

'How does the audience receive and respond to what is transmitted by the artist? How can we build a feeling of unity between the artist and the audience? My experience of live performing back then was really quite limited compared to now, but I considered these questions as best I could and tried to unravel the mysteries of live performance.'
Even after 20 years, and having reached the milestone of 300 solo live concerts as far back as 2014, live performances still retain a deep sense of meaning and significance for Kuraki:

'The feeling at the end of finishing a tour, the sense of achievement, is hard to put into words. On tour, I put my heart and soul, every hour of every day, into reproducing my very best performance every concert.'

The inspiration for such dedication?

'Thanks and appreciation.' – gratitude towards her fans.

'It's now been over 20 years since my debut. But it really is only through the amazing support and encouragement of my fans that I have been able to carry on for so long. Gratitude towards them is what inspires me to give my all when performing live.'

In March 2018, Kuraki attended the 25th Chinese Top 10 Music Awards, China's largest pop music award - the first Japanese musician ever to be invited to the event. With lyrics infused with her own unique, personal expression, passion, and meaning, the Japanese Diva will no doubt continue bridging borders and crossing language barriers as she promotes her overarching message:

Love & Peace.


PROFILE

Mai Kuraki, (College of Social Sciences, Class of 2005)

Mai Kuraki made her debut in Japan in 1999 with Love, Day After Tomorrow. She released major hits one after another, and her first full album Delicious Way sold over 4 million copies. She stands as one of Japan's most successful artists with international appeal. Alongside her musical activities, she has also been actively engaged in social activities such as volunteering to support the recovery of disaster areas hit by the Great East Japan and Kumamoto Earthquakes, as well as participating in a 'Terakoya' project to offer educational support to illiterate children and adults in Cambodia. She was appointed as a visiting associate professor of the College of Social Sciences, Ritsumeikan University in 2016.

Mai Kuraki Official Website: http://www.mai-kuraki.com/