Ethnic Dishes 'Beyond Borders'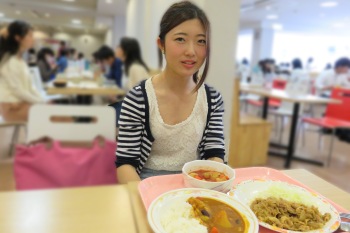 Prior to the World Refugee Day on June 20 as declared by the UN General Assembly, Ritsumeikan University Cafeterias at Kinugasa Campus offered some ethnic dishes prepared according to some refugees' recipes from their homelands. This is a part of project 'Meal for Refugees (M4R)' established by Japan Association for Refugees (JAR) aiming to raise awareness of refugees.
This year marks the fourth year for the project, which has become a huge hit among Japanese university students, selling ten thousand dishes in total in four years. Now, more than 20 universities throughout Japan join this project.

From June 6 to 10, 2016, Ritsumeikan University Co-op offered three kinds of dishes in partnership with PASTEL, a refugee research group at College of International Relations, Ritsumeikan University. Pork stir-fry with garam masala from Nepal, Coconut curry from Sri Lanka and Tomato sauce based beans and vegetable stew from Azerbaijan were available at Ryoyukan Cafeteria and Zonshinkan Cafeteria (only vegetable stew was available at Zonshinkan). 10 Japanese yen per dish was donated to JAR and used to support refugees living in Japan.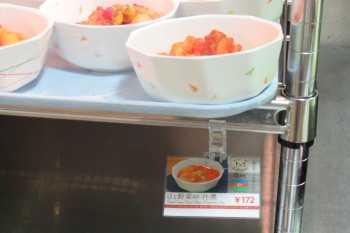 This year's dishes were selected from a cookbook 'Flavours Without Borders' published by JAR in 2013. Ritsumeikan Co-op staffs and PASTEL members held a tasting event in advance of the M4R event and improved one of the recipes, Tomato based vegetable stew. It originally contained some meat, but the members decided to exclude meat so that as many people as possible may eat it.
All the dishes received favorable comments from students, faculty and staff such as "It's that time of year again," and "I like the pork stir-fry with garam masala."

Kaho Ozeki (third-year student, College of International Relations) who represents PASTEL says that food is one of the most familiar topics to everyone and expect Ritsumeikan students, faculty, and staff members to support refugees through this event as well as deepen their understanding of refugees.
Editorial Note
PASTEL will hold an Ethnic Party on June 20, the World Refugee Day at Cafeteria Rosso (Kinugasa Campus).
Application is available at: PASTEL Ethnic Party (prior application required so that the members prepare ingredients.)
Related information