Osaka Ibaraki Campus (OIC)
International Student Dormitory
OIC Global House

In September 2019, OIC Global House is scheduled to open on the Ritsumeikan University Osaka Ibaraki Campus.

The second through fifth floors of the Wakebayashi International Plaza will serve as an international dormitory. Residents will mainly consist of students in the College of Global Liberal Arts (GLA) that was established in April 2019. Depending on availability, it may be possible for students from other colleges and graduate schools to live there. Please inquire for more details.

Features
・On-campus international dormitory
・Resident Mentors (RMs) living in the dormitory *planned
・Building manager available 24-hours a day
・Auto-lock entrance
・Separate male and female areas
*RMs: Residents who work with the university and building managers to by providing support to residents and encouraging exchange, to ensure that residents can have a safe and comfortable dormitory experience

Fee Table
| Type | Fee |
| --- | --- |
| Security deposit (returned when moving out) | 1 month's rent |
| Entrance fee (covers move-out inspection and cleaning) | 10,000 yen |
| Rent | JPY 60,000/month |
| Utilities & Internet | JPY 7,200/month |
| Bedding rental | JPY 2,000/month |
Initial fees consist of the security deposit, 1.5 months' rent (if moving in on the 16th of the month or later) / 2 months' rent (if moving in on or before the 15th of the month), 2 months' of utilities and internet, 2 months' of bedding rental, and the entrance fee.

*Separate enrollment in fire insurance is also required (3,000 yen/year).

Period of Residence
・GLA students beginning their studies at Ritsumeikan University: Until departure for study at Australian National University (ANU)
・GLA students beginning their studies at ANU: Until the end of their stay at Ritsumeikan University

・Students in all other colleges/graduate schools: 1 year
Rooms
The dormitory has 201 rooms (200 standard rooms and 1 accessible room).

Rooms Include:
・Bed (including mattress and rental bedding)
・Internet connection
・Curtain
・Desk & chair
・Air conditioning & lighting
・Wardrobe
・Refrigerator
・Trash can
・Storage boxes

Common Use Facilities: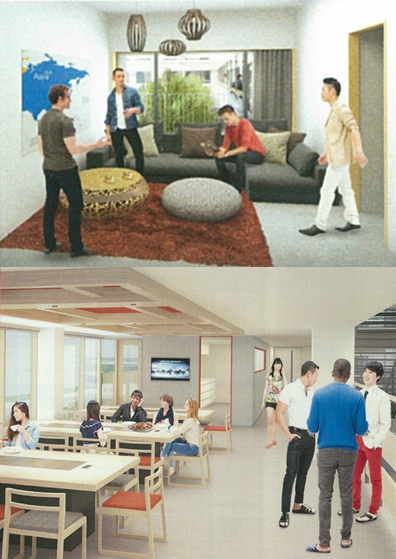 ・Multi-purpose room
・Dining area
・Kitchen area
・Living area
・Shower rooms
・Bathrooms
・Mailboxes, delivery boxes
・Shoe rack *Outdoor shoes are not allowed in the dormitory, so it is necessary to have indoor footwear.
Contact