Learning "Samurai" and "Ninja" in English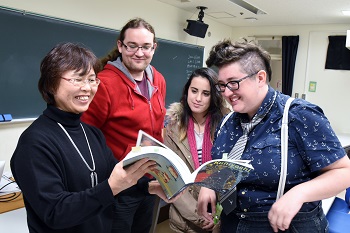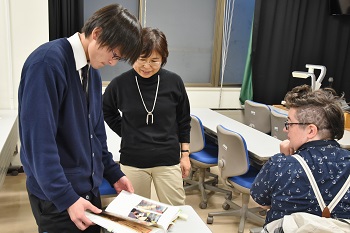 From Academic Year 2016, College of Letters, Ritsumeikan University, has established courses held in English where international students as well as Japanese students can receive specialized education in English language. It is a program where students can learn Japanese culture, history and other subjects in the ancient capital of Kyoto, and is made up of contents that are attractive not only to international students who would like to know and learn more about Japan in English but also to Japanese students who would like to learn more about Japan as they were not able to answer satisfactorily to questions regarding Japan while studying overseas.
The aim of the Globalizing Japan and Its Translation II course, lectured by Professor Keiko Suzuki, is to learn academically how the culture of the Edo period, represented by ukiyo-e, as well as samurais and ninjas in literature are accepted as global culture through movies, comics and anime. A total of 13 students - seven Japanese students and six short-term exchange students from the U.S., U.K., Finland, Denmark, Spain and South Korea - are currently taking the course. Though the classes are held in English, the level of English language proficiency of the students vary from fully bilingual to being able to hold daily conversation. They also come from different programs and majors as well as academic years, but the majority are motivated and filled with the spirit of challenge, says Professor Suzuki.

"The fact that you can learn Japanese culture from an overseas perspective in addition to a Japanese one is the main feature of this course," says Professor Suzuki. "The understanding and interpretation of samurai and ninja differ from country to country, and it is important for both international and Japanese student to think such globalizing Japanese culture based on their respective knowledge and viewpoint and share their ideas with fellow students." "As there are not many classes available for us to learn Japanese culture in English, I'm very much excited. And it is also a great opportunity to discuss Japanese culture not only with Japanese students but also with students from different countries," said an international student attending the course. "Though I had seen samurai and ninja in movies, etc., it is really interesting for me to learn about them in earnest for the first time," another international student said.