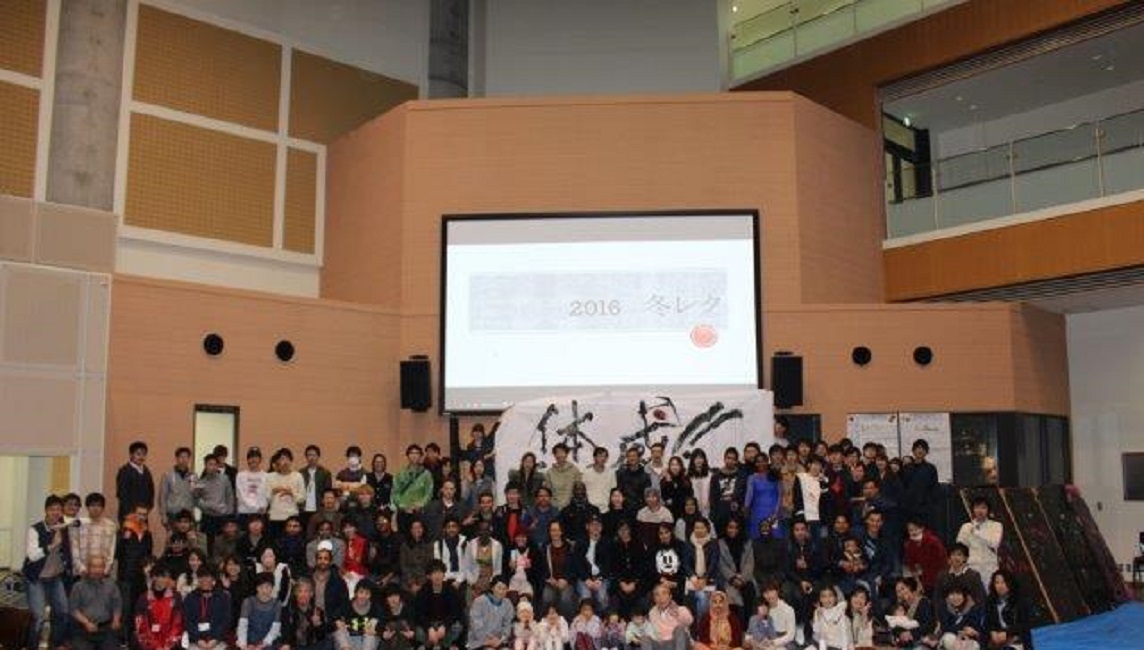 Winter 2016 International Exchange Event - Foreign Culture Festival
On Friday, December 9, 2016, the "22nd Foreign Culture Festival and "Mochi" Rice Cake Pounding Event" was held in Central Arc on Ritsumeikan University's Biwako-Kusatsu Campus (BKC). This event, hosted by the international student support and event planning student group, TISA, is held annually with the goal of furthering international exchange between international and Japanese students and the local community. With the support of a group of farmers from Yamagata Prefecture who make the long trip to BKC each year for the event, and with support from student groups and the local community, this year's event saw the inclusion of several hands-on booths where students and community members could try out traditional Japanese craft-making, and exciting performances from a number of student groups.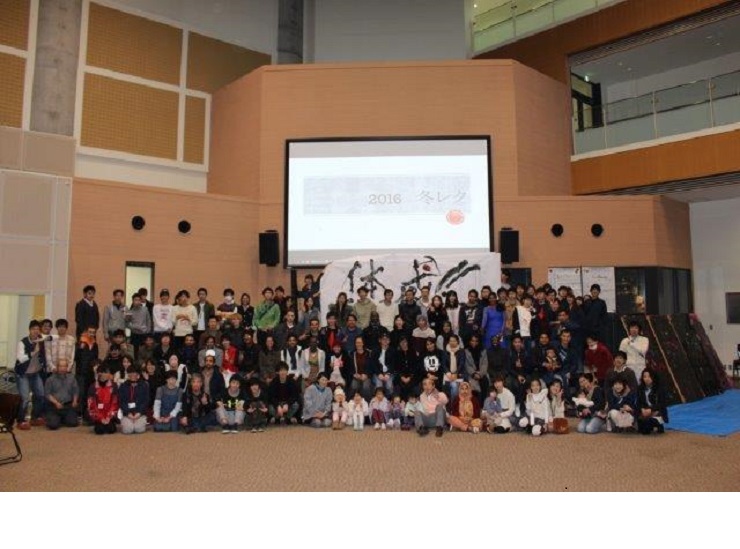 Although a cold wind blew outside on the night of the event, inside Central Arc it was warm and all smiles as over 200 participants including community members, university professors and staff, Japanese students, and international students from Indonesia, Bangladesh, Malaysia, Nepal, Kenya, Ethiopia, Afghanistan, Vietnam, China and more, interacted with one another while engaging in the many activities planned for the evening. For many of the international participants the "Mochi" Rice Cake Pounding was a first, and before the event even began it seemed like everyone was excited to try their hand at "Mochi" pounding. Sure enough, as soon as the sticky rice was placed in the mortar there was a large group of international students raring to go, and friends and fellow students alike cheered each challenger on as they made their best effort at getting used to swinging the large "Mochi" hammer to pound the rice.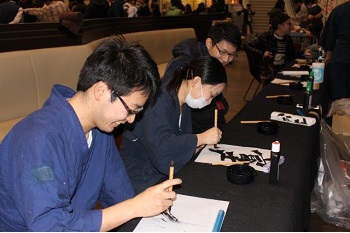 In the end 15 kilos of sticky rice was prepared and 5 batches of "Mochi" were pounded from the rice. Once pounded, the "Mochi" rice cakes were topped with either "anko" sweet red-bean paste, "kinako" roasted soybean flour, "natto" fermented soybeans, or sugar and soy sauce, and were served to those in attendance. Seeing international and Japanese students bonding over "Mochi" was truly a sight to behold. At the hands-on booths this year, attendants could try their hand at "Oshibana" flower pressing, calligraphy, and origami, and international and Japanese students as well as children from the local community could be found enjoying these traditional pastimes throughout the evening. On the stage there were Magic performances from the Magic Circle, a violin performance by the Violin Ensemble, and a piano performance by the Piano Circle, making for a good mix of exciting and relaxing entertainment. Through the "Mochi" pounding and other activities, scenes of international students and Japanese students and community members proactively communicating despite their language barriers were on display wherever you looked. Thanks to this year's "Foreign Culture Festival", the circle of friends for those who attended was able to grow just a little wider, and one short evening of fun activities and delicious food became one big step towards multicultural understanding for everyone. We hope to see you at the next international exchange!