Support Services for International Students - TISA (vol.2)
Roundtable talk by Kinugasa TISA members
We sat down with TISA (Tutors for International Students Assembly) members to have a roundtable talk about their activities, Yuki Nagase, Head of Kinugasa TISA, Mizuki Tominaga, Secretary of Kinugasa TISA, Yuuka Ota and Kyumin Lee.

Q. Could you introduce yourselves and let us know what made you join TISA?

Yuki: My name is Yuki Nagase, I am a third-year student of College of Social Sciences and am currently serving as the head of Kinugasa TISA. I applied for TISA membership when I was in the first year, having learned about it from a flyer distributed on campus during orientation week. I'd been studying at a high school in Canada where lots of friends and teachers helped me out, so when I saw the TISA flyer, I remembered that and thought this would be a good opportunity for me to give back to the international students at Ritsumeikan University. TISA is a student association that supports international students working toward degrees at Ritsumeikan University. Our activities include campus tours and events to provide the international students and Japanese students with opportunities to interact with each other. Currently, the number of Kinugasa TISA members is 34, including five international students.

Mizuki: I am Mizuki Tominaga, I'm also a third-year student of College of Social Sciences. Even before entering Ritsumeikan I'd wanted to interact with international students, then I learned about TISA from a flyer in April last year and applied for it.

I'm the kind of person who prefers to work behind the scenes, so it makes me happy do that and offer students opportunities to interact with each other. I made friends through TISA events and have become close to them.

Yuuka: My name is Yuuka Ota, I am a second-year student of College of Social Sciences. I participated in the autumn recreational event last year and enjoyed it. I thought I'd like to be involved in running such events, so I applied for TISA membership this April.

Kyumin: My name is Kyumin Lee, I am a second-year student of College of Law and I am from South Korea. I learned about TISA at the orientation day, and applied for membership last April, just after entering the university. I myself am an international student, so I know the difficulties we may face, and I want to support other international students.

Q. Have you ever studied abroad before?

Yuki: I studied at a local high school in Canada for a year.

Mizuki: I joined a five-week exchange program at Southern Queensland University last summer. This firsthand experience enabled me to understand what kind of anxieties international students have in a foreign country and it made me think deeply about how I could put my own experience to use in TISA activities.

Yuuka: I'm currently aiming to study abroad for a year. To prepare for that, I learned English at a language school in the Philippines for two weeks, which was the first time I'd gone abroad by myself. The school was located in a university town, so I had opportunities to become acquainted with the university students there. My experience gave me a more flexible mindset, which I'd like to make use of in future TISA activities.

Kyumin: This is my third year in Japan, as I spent one year at a language school before entering the university. When I first traveled to Japan, everybody I met was so kind and friendly. It made me wonder why it's so difficult for our two nations to forge a good relationship, despite sharing many similarities in terms of culture and being close geographically. That's why I decided to study in Japan and enrich my understanding of this country.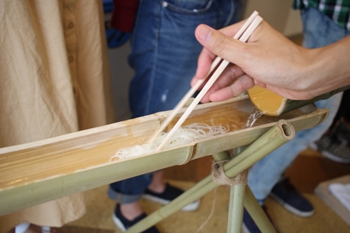 Q. Are there any events or experiences that made a particularly strong impression on you?

Yuki: Sometimes unexpected things happen at off-campus events, even if we're well prepared, but the bonds among the TISA members are strengthened if we all pull together. If problems do occur during an event, we try first to resolve them within our teams, which include both younger students and senior students. If that's difficult, then the team leader contacts the person responsible for the event. Later on, we report the details of the problem to Ritsumeikan University International Center.

Mizuki: For our recreational event last autumn we toured around Kyoto. We prepared carefully by looking over the course and rehearsing the tour in August to check the locations of public restrooms, places to rest, and convenience stores, and to familiarize ourselves with some narrow streets where it's difficult to walk in a large group. For the buses, we checked not only the schedules, but also whether routes were crowded, so we could split up into smaller groups to travel. We then made some minor amendments to our plans based on these preparations.

As a student association affiliated with the International Center, we also try to fulfill our commitments to the center, such as meeting deadlines and reporting the details of events. We know we'll be trusted and supported by the Center if we do. We're aware of our responsibilities as a student association, rather than just a university club.

Q. What have you got from being a TISA member?
Mizuki: It's not that common for university students to engage with faculty and staff outside the classroom, so I think this experience will be a great benefit to me in later working life. I've developed the basic skills to complete an assignment given to me.

Yuuka: Joining TISA has given me wide links to a group of like-minded colleagues and friends from different colleges, countries, and campuses.

Yuki: As the head of Kinugasa TISA, I've gained the ability to see the organization as a whole—not only my own team, but other teams as well. When I was responsible for accounting, for example, I was always keeping track of the finances, not only for a single event but for all the events in a year. And of course, I've gained colleagues with whom I've overcome difficulties and forged deep connections.

Kyumin: TISA increased the opportunities for me to speak Japanese on a daily basis, so it improved my Japanese. Also, sharing different viewpoints with other TISA members widened my perspective.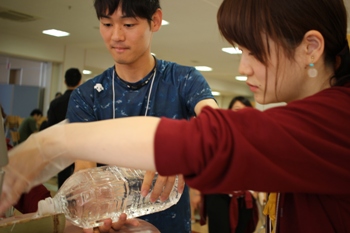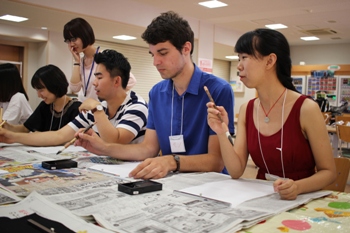 Q. Do you have a message for prospective international students?

Kyumin: I used to be anxious about the thought of living in a different country. Some of you may worry that everything will be unfamiliar and you won't know what to do during your study abroad experience. But I recommend that you just try something, anything, and you'll find what you want to do. What counts most is that you enjoy it fully.

Yuuka: At Ritsumeikan University, there are several associations that offer support for international students and every single student here has an open attitude toward international students, so you would have nothing to worry about while studying here.

Mizuki: It may not be that easy to live and study in Japan, an unfamiliar country. You have to put together your own class schedule, and some of you may be anxious about whether you can make friends here. However, I believe that you'll enjoy studying in Kyoto, the ancient capital of Japan, and here at Ritsumeikan University. Also, I recommend you take part in TISA events, so that you can make lots of friends. We're looking forward to seeing you at Ritsumeikan University!

Yuki: You may be filled with anxiety at the thought of living in a different country with its language barrier and cultural differences. But there are lots of international students at Ritsumeikan University and many communities among those students. TISA will work to help you settle smoothly into your life here, and if you enjoy yourself, we'll be happy. You can always count on us!



Message from Clinical Psychologist
Ritsumeikan University has a student support room where counseling services are available from experienced professional counselors. It also offers a space for students to come and relax any time they need a quiet place to rest during opening hours.

The support room stages some events for the students, such as the global café program. It's very natural to experience culture shock, or to feel stressed or lonely in a foreign country. But we're ready to support you so that you flourish here at university in Japan. Come and enjoy discussing your experiences in Japan and doing yoga as part of the global café program.
Related information