Public Policy Making and Government-Affiliated Policy Think Tanks
Since 2009, Ritsumeikan University has been cooperating with the National Development Planning Agency of Indonesia (BAPPENAS) to provide short-term training programs on public policy making to Indonesian public officials and to host Indonesian MA and PhD students with the support of JICA. Indonesia is a fast-growing economy and is predicted to be one of the world's major economic powers in 2050. As of AY2017, fifteen MA students and seven PhD students are studying at the Graduate School of Policy Science at Osaka Ibaraki Campus (OIC).

The Research and Development on Regional Information Institute at Ritsumeikan University offered a two-week administrative training course at OIC targeting public officials to be in charge of government-linked policy think tanks in Indonesia. During the training, a symposium titled Significance and Prospects of Policy Think Tanks in Indonesia was held, attended by trainees, Indonesian guest speakers, and professors from the Graduate School of Policy Science. On that occasion, the University was honored to receive a visit from Mr. Wisnu Edi Pratignyo, Consul General of the Republic of Indonesia in Osaka, who was kind enough to grant us an interview.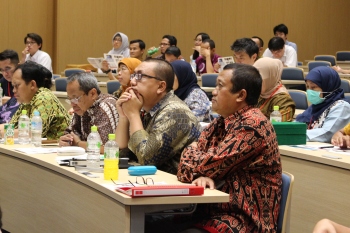 Interview with Mr. Wisnu Edi Pratignyo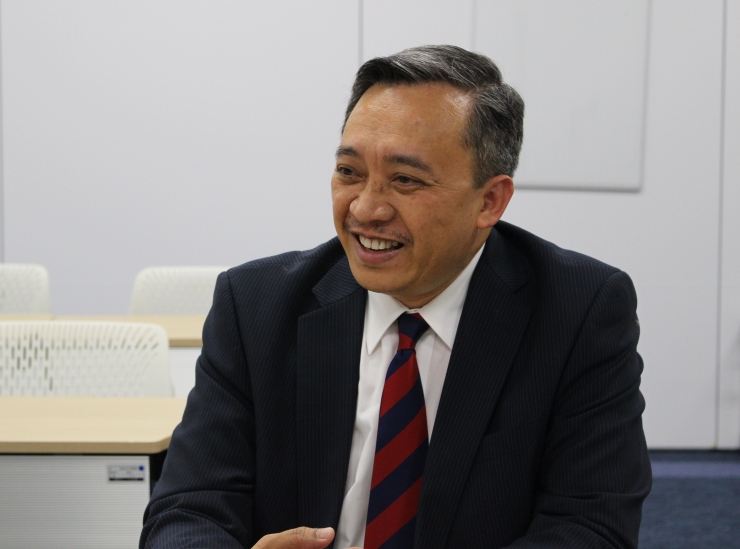 Interviewer: Welcome to Ritsumeikan University. Firstly, could I ask your general impression of the BAPPENAS training?

Mr. Pratignyo: As you know, BAPPENAS is one of our agencies for national planning, so its task is to organize national planning projects—such as what Indonesia is going to do over the next five years—into phases. Through this training, the trainees can learn how Japan undertakes all the necessary planning of cities and suburban areas. Japan is one of the best countries to learn from and our country is taking advantage of the training in many ways.

Interviewer: What are your expectations of Ritsumeikan University and its graduate schools in terms of education and research?

Mr. Pratignyo: I think Ritsumeikan University is one of the best universities in Japan. The universities in our country need to learn more from Ritsumeikan about how they develop their curricula, how they teach the students, and the facilities provided. Learning from Japan and Ritsumeikan is really a great experience. Our former president, Dr. Susilo Bambang Yudhoyono, was even awarded an Honorary Doctoral Degree from Ritsumeikan University in 2014 for his contribution to the peace of mankind as well as democracy. It showed the respect of Ritsumeikan for our government, and so our relationship became much closer. I hope that Ritsumeikan will invite more and more Indonesian students to Japan to study. Today I am visiting OIC, which is not like an ordinary campus; it is more like an office environment, really modern and urbanized. If I were a student, I would enjoy studying here.

Interviewer: What do you expect of the Indonesian students studying here?

Mr. Pratignyo: I think they can learn many things beyond what they learn at graduate school. For example, on their visits to the city government, they learn how the Japanese public officials manage everything inside the office. By that I mean not only the facilities themselves, but even the small things, such as how to keep the environment clean, and how to make people disciplined and punctual. Through such hands-on experience, I expect them to acquire knowledge and turn the knowledge into action after going back to their offices. About 260 million people live in Indonesia and the country faces many problems that need to be fixed, so that's why BAPPENAS dispatches local and central government officials to Japan to learn about the way you do things and find solutions.

Below are comments from two Indonesian program participants studying at OIC.

Khairullah Anshari (2nd-year, PhD candidate)
I was dispatched from the local government in the Banjar district of Borneo Island, and I am majoring in local public finance in Japan and Indonesia. My impression of Ritsumeikan University is that it has a great academic atmosphere and offers advanced technology. People including the faculty, staff, and other students are friendly to international students. After completing my PhD here, I will go back to the local government again and utilize the knowledge I acquired through my study here.

Zelly Eliani (2nd-year, master's course)
I am studying on the Dual Master's Degree Program at Bandung Institute of Technology and Ritsumeikan University Graduate School of Policy Science, majoring in conflict resolution. As it is a dual degree program, I spent the first year at graduate school in Indonesia, and for the second year, I am studying in Japan. I was also dispatched from a local government, in Bangka-Belitung Islands Province. I belong to the cultural and tourism section in the provincial government and will go back and work there after completing my master's. The BAPPENAS program contributes to improving the capacity of public officials, because it provides us with a great chance to study and get degrees in Japan. Through our experiences living here we find many things to learn and can transfer knowledge back to take action in our offices.