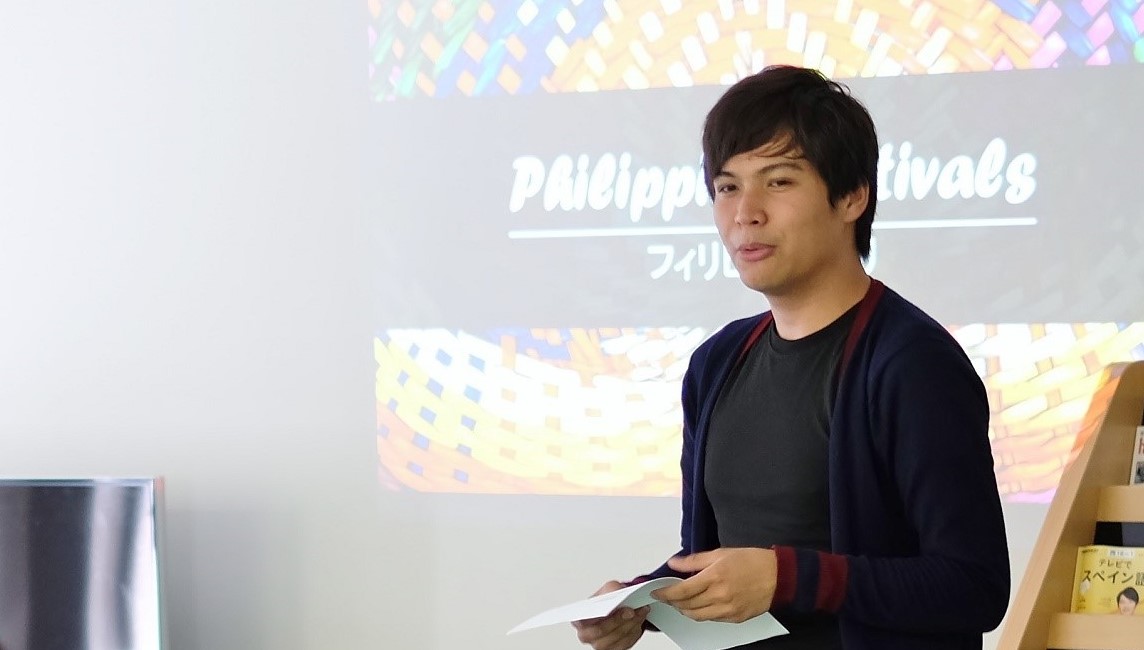 International Student Presentations - Discovering the Joy of Summer Festivals in Asia
DISCOVER Summer Traditions and Customs: China, the Philippines, and Indonesia
With the arrival of July, it has become the exciting festival season in Japan, with a variety of events taking place all over the country. In the rest of the world too, summer brings a diverse range of festivals and traditions.

On Monday, July 3, 2017, the cultural exchange event "DISCOVER Summer Traditions and Customs: China, the Philippines, and Indonesia" took place in the Self-Access Learning Lounge (SALL) at the Osaka Ibaraki Campus (OIC), with international students sharing about summer rituals in Asia in English. This event was planned by the international student support group Tutors for International Student Assembly (TISA) and the OIC International Center, with the goal of having international students reflect on their home countries. A total of roughly 30 Japanese and international students attended the event.

First, a student from China introduced the Chinese Ghost Festival, which takes place in the seventh month of the Chinese calendar. The aspect of respecting the ghosts of one's ancestors is similar to the custom of Obon in Japan, when spirits are said to return to earth and families visit graves and make offerings to the deceased, but listeners learned that there is also a custom of burning special paper money in a memorial service to appease the ghosts of those who are not relations.

Next, a Filipino student presented about festivals that take place all over the Philippines. Because the majority of the country is Catholic, there are many festivals related to Christianity. The colorful masks and costumes, as well as the dance parades, of festivals such as the Sinulog festival, Moriones festival, and the Maskara festival left an impression on many listeners.

Finally, students from Indonesia introduced festivals that take place in their country. After explaining that unlike the four seasons of Japan, Indonesia only has two seasons (rainy and dry), they introduced a range of festivals from the modern to the traditional, such as the Jakarta Fashion Festival and the cultural performance Sendratari Ramayana in Yogyakarta. They also introduced famous foods and tourist locations for several regions in Indonesia. During the question and answer period, there was an active discussion about the foods in Indonesia.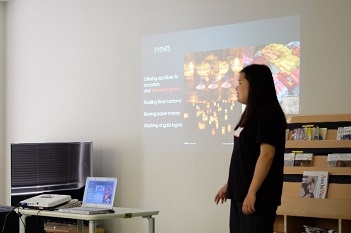 When asked about the experience, one of the presenters from Indonesia said that, "I was nervous at first, but it was fun to introduce my own country to people and persuade them to come to my country. When preparing the presentation, I was actually a bit shocked about how big my country is, because we have thousands of islands and most of them have one big festival annually that might be worth visiting. Hearing the other presentations really makes me want to visit each country to experience the festivals."

Another student who attended the event showed how it was an opportunity to both learn about new cultures and reflect on one's own country, saying "I wanted to learn about the culture of other countries, and I want to go visit all of them because of the introductions I heard. I also thought about the festivals and unique ways in my hometown." She also added that, "The students from different countries were all very good at English, and it became good English practice for me. I will do more to continue improving my English in the future."
Related information