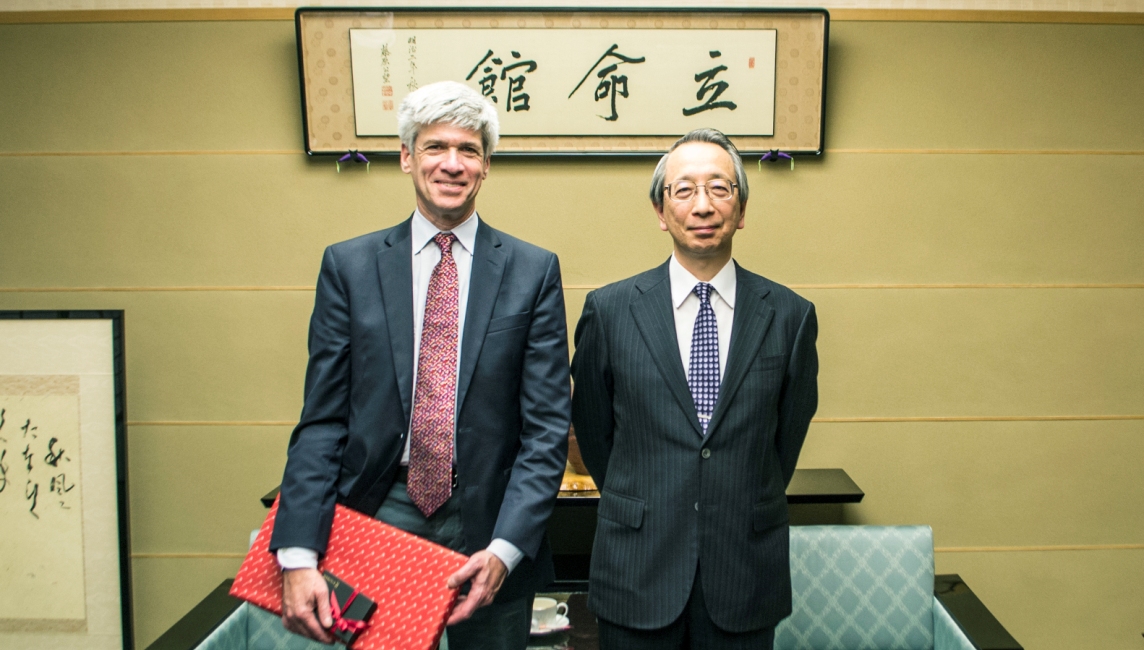 Yale Research abroad Program on Pharmacy discussed: Vice President Professor Masato Ichikawa meets Professor Michael J Caplan of Yale School of Medicine
On November 2, Professor Michael J Caplan and his two colleagues, Professor David Zenisek, and Assistant Professor Jean-Ju Chung, of Yale University's Cellular and Molecular Physiology Division met with Professor Masato Ichikawa, the Vice President of Ritsumeikan University, together with Dean Hattori and Professor Asano of the College of Pharmaceutical Sciences, to discuss details of Ritsumeikan's planned new research abroad program.

This program is designed for graduate students of the Graduate School of Pharmacy Master's program and is planned to be opened in April of 2019. The students on this program will be dispatched to the laboratory of Yale University's Cellular and Molecular Physiology Division for 2-3 months and will experience and absorb cutting-edge research topics and methods.

The meeting took place at the end of the first day of a busy three day scheduled visit, which also included a tour of Biwako-Kusatsu Campus (BKC) and Pharmaceutical Science research facilities, meet and greet sessions with current students to informally discuss research areas, and three special one-off lectures, followed by question and answer sessions, given by Professor Caplan, Professor Zenisek and Assistant Professor Chung.

Discussions were cordial and productive and touched upon the implementation of the partnership as the first step to further strengthening ties between the two universities in the future.