Honorary Doctorate awarded to Her Royal Highness Princess Lalla Hasnaa
Her Royal Highness Princess Lalla Hasnaa, President of the Mohammed VI Foundation for Environmental Protection, was awarded an Honorary Doctorate by Ritsumeikan University on Tuesday, November 27.

With an active interest in environmental issues from an early age, Her Royal Highness has since devoted her energies to the establishment of numerous environmental protection and environmental education programs.

She has promoted, and continues to promote, practical environmental protection activities, addressing a wide range of issues from climate change and air pollution to coastal beautification and conservation. And her focus on environmental protection education for children and young adults, geared towards producing the next generation of leaders and equipping them with the ability to tackle social and environmental issues effectively, is already bearing fruit. Such achievements have been widely recognized on the international stage.
2016 marked the 60th anniversary of the establishment of diplomatic relations between Japan and Morocco.

In taking up the cause of and developing international cooperation from a broad range of perspectives, Her Royal Highness has played a pivotal role in the goodwill and cooperation between the two countries; significantly contributing also to the excellent cooperative relations between educational organizations in Morocco and Ritsumeikan University.

It is in in recognition of such initiatives developed by Princess Lalla - activities relating to: global environmental protection, her efforts towards strengthening good-will relations between Japan and Morocco, as well as her understanding of the international collaborative and human resource development activities of Ritsumeikan University and Ritsumeikan Asia Pacific University - that the award has been conferred on this occasion.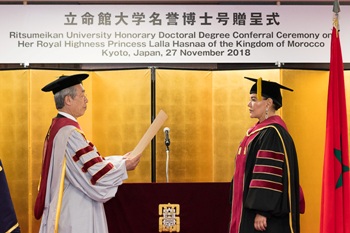 We believe this will have significant implications, not only for deepening future collaborations between Ritsumeikan University and Morocco / Africa and its educational institutions, but also for promoting our global education initiatives.

The Ritsumeikan Academy, through its efforts to incorporate the UN's Sustainable Development Goals, and by encouraging collaboration between education, research and society at large, will continue to work hard to foster human resources equipped to contribute to the future of the world.

Her Royal Highness Princess Lalla Hasnaa commented:

When I first committed myself to environmental conservation, I never imagined that my work would have such an impact. Let us continue to rise together to take on the challenge of protecting the environment and addressing climate change. At Ritsumeikan University, there are students from over seventy countries and regions. I am delighted to accept this Honorary Doctorate from a university which is steeped in so much history, and whose philosophy is truly open to the world.

Her Royal Highness, Princess Lalla Hasnaa of Morocco
President of the Mohammed VI Foundation for Environmental Protection

Profile

◆ Born in 1967 in Rabat, Morocco, as the daughter of the late King Hassan II.
◆ Sister of the current king, Mohammed VI.
◆ Educated at the Collège Royal (Rabat).

In 2001, she became president of the Mohammed VI Foundation for Environmental Protection and has actively launched and implemented numerous projects on environmental protection and education. Her activities have been highly recognized in the international community. In 2007, she was appointed 'Ambassador of the Coast' by the Mediterranean Action Plan (MAP), which is part of the United Nations Environment Programme (UNEP), an honor presented to those who have demonstrated leadership in actions, education and research for international environmental conservation and contributed to society.

Princess Lalla has actively advocated the importance of raising environmental awareness and education for sustainable development on various occasions including at the UNESCO World Conference on Education for Sustainable Development held in Japan in 2014, as well as at the 2016 and 2017 United Nations Climate Change conferences, COP 22 and COP 23 respectively. In April 2018, Princess Lalla was appointed Ambassador of Goodwill of the Climate Commission of the Congo Basin and the Blue Fund for the Congo Basin.

Awards and honors

◎ Knight Grand Cross of the Royal Order of Isabella the Catholic (1989, Spain)
◎ Knight Grand Cross of the Royal Order of Leopold II (2004, Belgium)
◎ Grand Cross of the Order of the Aztec Eagle (2005, Mexico)