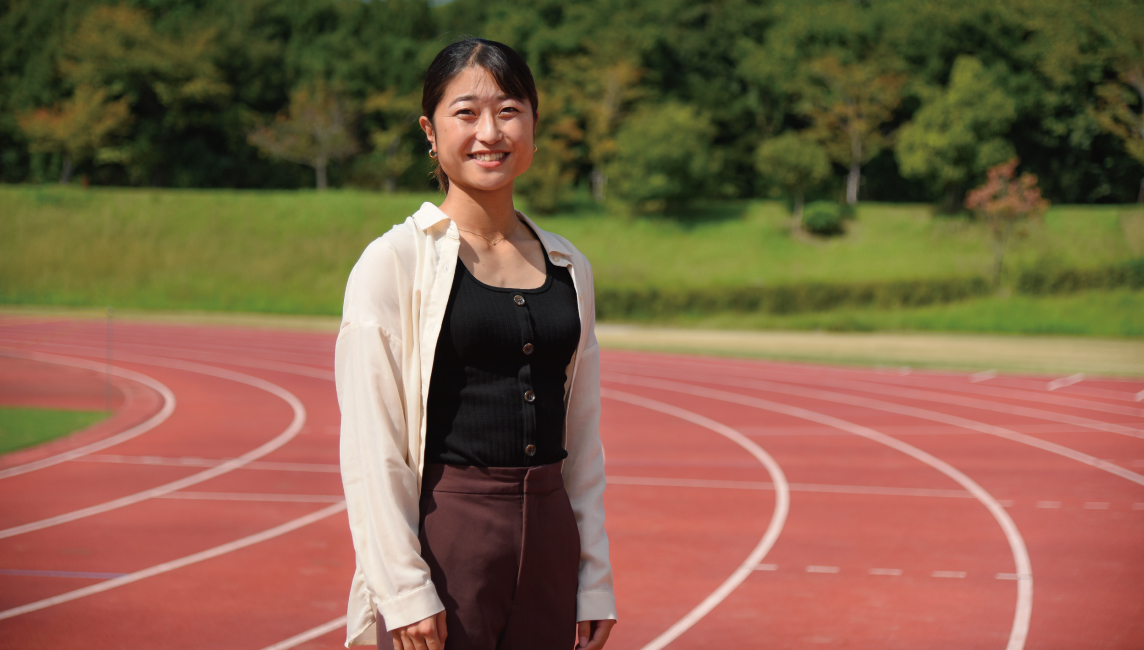 Running to Make People Happy:A Mid-Distance Runner's New Challenge
"I don't run because I want to win. I run because there are people who are filled with tears of joy, grateful for the inspiration I give them. It makes me happy to know I can give someone strength, so that's why I work hard on my running." These are the words of Ayano Shiomi, a member of the Women's Athletic Team and one of the university's top athletes. In the 90th Emperor's Cup Japan National University Championships ("the University Nationals") that were held in September, Shiomi won the women's 800m for the third time and took home her first gold as a member of the women's 4 x 400m relay. Shiomi continues to demonstrate an unflagging strength even at the highest level. In this interview, she talked to us about her dedication to her life as an athlete and the support network that her friends and teammates provide.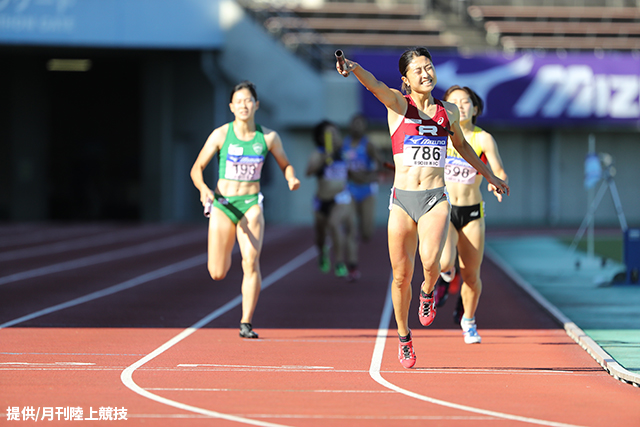 Running for someone else
When she was a high school student, Shiomi competed in the 800m at the High School Nationals where she set a new high school record. After entering university, she represented Japan at the 2018 Asian Games, where she placed fifth, and she took home the gold medal at her first appearance at the University Nationals. "I've been practicing the same amount since I was in high school, and I've done more runs than anyone else," says Shiomi, whose high level of endurance at the height of competition is her greatest weapon.


On the other hand, she has always cherished the phrase "team unity" in her time as an athlete. She says she has always kept in mind that she should run to brings smiles to the faces of her teammates, coach, and the people who support her every day. "At the 2019 Japan Championships, Ritsumeikan University won both the women's 4 x 400m relay and 4 x 100m relay. As a result of working together with my friends, I was very happy to be able to hang eight gold medals on our coach. I'm proud of the team for achieving so much," she said happily, describing the impressive episode. Shiomi is always aware of the people around her when she runs on the track, including those friends who were not selected to participate in competitions and the older fourth-year students who run with her in the relays. Her unshakable conviction to "run for someone else" is her true strength.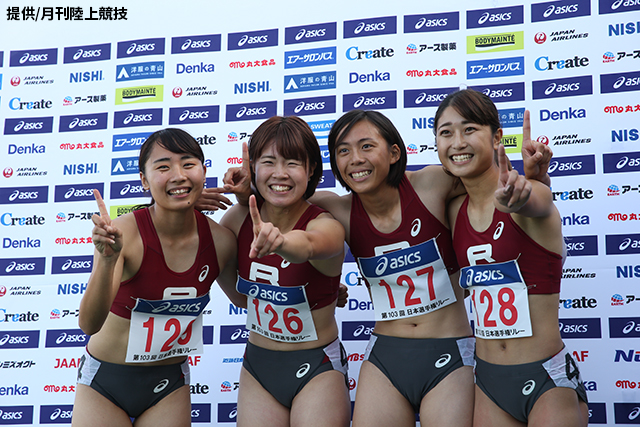 Overcoming struggles
In March 2021, there was a sudden incident right when expectations were high for Shiomi's continued growth. She felt a strange sensation on the bottom of her foot during practice, which later turned into an intense pain. The accumulation of daily fatigue and misalignment of her core balance caused her to injure the tendon in her heel, and the pain was so intense that she could not run.
"After a month, I could not see any signs of getting better, so I kept going to several treatment centers. Gradually, I became impatient and anxious. The pain was unbearable. Eventually, an unfathomable sense of hopelessness came over me, and I started to think thoughts like, 'Even if my injury heals, I may never be able to run again to my satisfaction. I never want to go through such a painful experience again, so maybe I should retire upon graduation.'" she recounts.

Shiomi took a big step forward at the end of May at the Kansai Student Track and Field Championship, which she attended as a spectator. "My friends performed very well at that event. For some reason, watching them race caused a sense of strength to well up from deep inside me. 'I want to be able to run again!' I thought. With this feeling rekindled, I was able to start running again, even though I was still dealing with the pain," says Shiomi. Shiomi turned over a new leaf on that day and set a clear goal to return to running, and she started working towards it. The members of the Athletic Team, both male and female and of all ages, trained with her, and she could feel the support of her friends even more. At the end of June, Shiomi made it to the finals of the Japan Championships in Athletics and finished in 6th place. She was back.


Then, in the University Nationals women's 800m race, she regained the top spot with an impressive run. "No matter how many individual victories I have won, I have never won a relay at the University Nationals, and I have never been able to laugh from the bottom of my heart at this event," she said. For her, winning the women's 4 x 400m relay was a long-cherished dream, as she had always competed with the spirit of "team unity" in her heart. The moment she crossed the finish line in the last leg of the relay, everything she had been doing for the past four years came together. "Without thinking, I pumped my fists in the air, and the crowd went wild. It was a really great feeling," said Shiomi looking back with a smile at the accomplishment she had achieved on the big stage.


Taking her running to the next level
While continuing to participate in track meets and competitions, Shiomi is currently working hard to find a job that will allow her to continue competing even after graduation. "My first goal is to compete with foreign athletes and achieve results in the next three years until the World Championships in Athletics, Asian Games, and Paris Olympics are held. I also want to do my best to give something back to my company," she stated, expressing her desire to keep competing. "I want to work hard for someone else. With this feeling in my heart, I believe I can achieve even more. I want to keep this feeling alive for the rest of my competitive life," declares Shiomi. Having touched the hearts of so many people, Shiomi is now ready to take the next step to generating even more excitement. All eyes are on her as she heads into the future.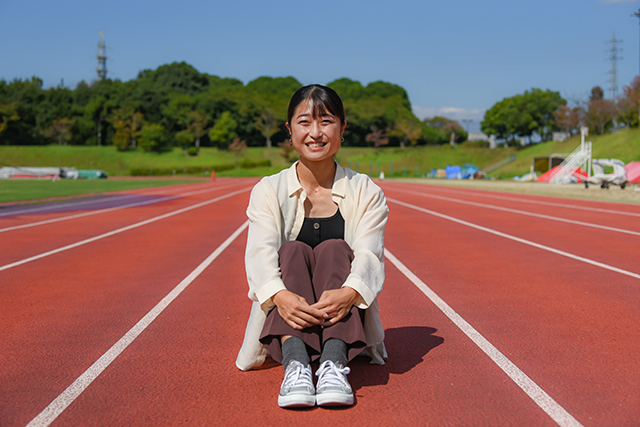 Profile
Ayano Shiomi, College of Economics, 4th year
Influenced by her two older brothers, she joined the track and field team in the fourth grade and began competing in events. In junior high school, she started running road races and other medium and long-distance races. In high school, she began focusing her efforts on mid-distance events. Her hobbies are visiting cafes and watching movies and TV dramas. Korean dramas are her favorite. Recently, she has become obsessed with grinding her own coffee beans at home, and she watches videos to learn how to make a delicious cup of coffee.