Volunteer experience program held at Ninna-ji Temple
A group of Kinugasa Student Coordinators, student staff who work for the Ritsumeikan University Service Learning Center, organized a volunteer cleanup program at Ninna-ji Temple, a World Heritage site, from September 5 to September 7, 2022 with the aim of getting people interested in the preservation of cultural properties.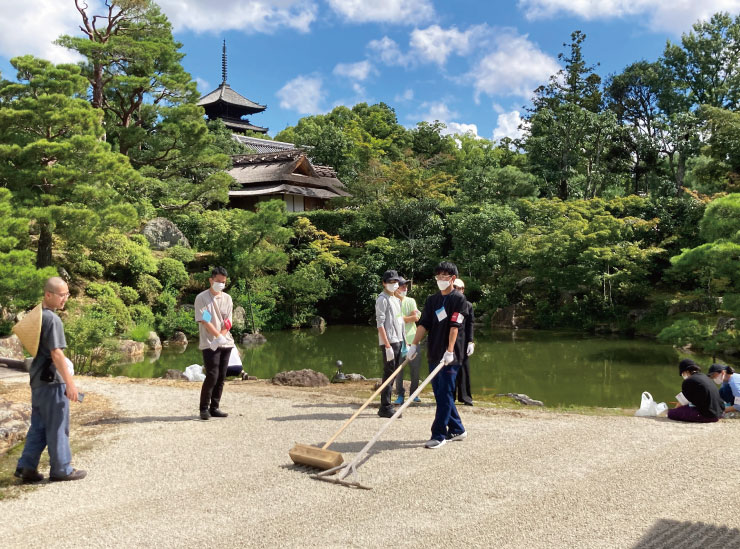 This project was initiated by student staff member Shunsuke Yamamoto (3rd-year student, College of Letters), who was distraught by the effects of recent natural disasters like Typhoon No. 21, which hit Kyoto on September 4, 2018 and damaged several cultural properties. Thinking about what university students living in Kyoto could do to help, he conceived the cleanup activities, and he and his classmates were able to implement them after holding a series of meetings with Ninna-ji Temple, which is committed to passing on its history and cultural assets to the young people who will lead the next generation.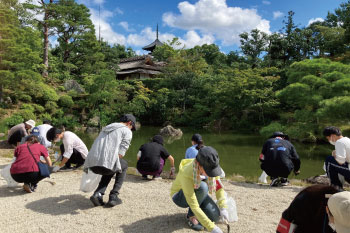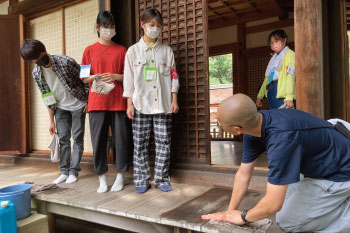 On the day of the event, 32 Ritsumeikan University students interested in protecting cultural properties and volunteer activities listened to explanations from curators and the chief priest of Ninna-ji Temple, a World Heritage site, and learned about how cultural properties are protected and utilized. Afterwards, they pulled weeds from the temple garden, added new sand to the garden, and cleaned up temple buildings that are typically closed to the public.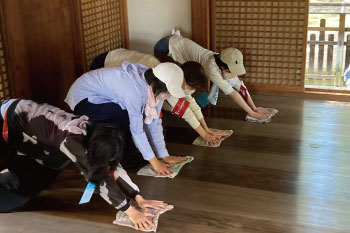 Comment from the organizer, Shunsuke Yamamoto (3rd-year student, College of Letters)
I am very happy we could make this project a reality with the help of Ninna-ji Temple and that so many students decided to participate. I hope this has made the students who participated more interested in the protection of cultural properties. I also hope they will consider joining us in our other volunteer activities.

Comment from a participant, Chika Murao (4th-year student, College of Image Arts and Sciences)
In addition to helping with the cleanup, I got to hear the chief priest speak about Ninna-ji Temple and Buddhism. With each task I did, I felt that I was doing something important. It was a rewarding time.