AY2022 Ritsumeikan University Commencement Ceremony Held
On Friday, September 23, Ritsumeikan University held the fall commencement ceremony for graduating undergraduate and graduate school students. The ceremony was held in person on Osaka-Ibaraki Campus with coronavirus prevention measures in place, and family members were allowed to attend along with the graduating students. In total, 550 students (undergraduate: 418; graduate: 132) from 27 countries and regions graduated from the university. After the ceremony ended, a video of the proceedings was released for those graduating students and family members who were unable to attend.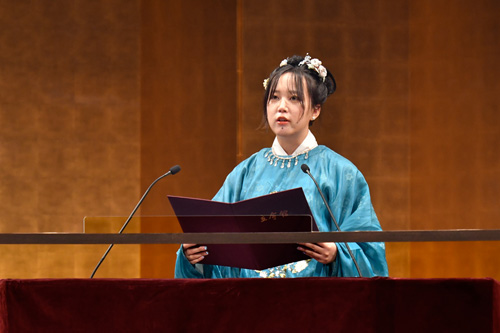 In his congratulatory address, President Yoshio Nakatani sent off the graduating students with an encouraging message: "In every era, every great change that impacts history begins with the will of a single person. I hope that you will identify the issues facing society and actively contribute to solving them. I also hope that you will become a driving force toward the creation of a new society for the next generation."

The university erected a large gate in front of the venue emblazoned with the words "Brand New Day" to welcome the graduating students. There were also floral-themed flower walls and flower photo signs to serve as backdrops for commemorative photos, and the Ritsumeikan University Alumni Association donated roses to express their congratulations to all the graduating students.
Video of the AY2022 Ritsumeikan University Fall Commencement Ceremony