AY2022 Ritsumeikan University Fall Matriculation Ceremony Held
On Saturday, September 24, Ritsumeikan University held the AY2022 fall matriculation ceremony on the Osaka Ibaraki Campus. The ceremony was held in person with coronavirus prevention measures in place, and family members were allowed to participate along with the new students. In total, 340 students (undergraduate: 153; graduate: 187) joined the university. After the ceremony ended, a video of the proceedings was released for those new students and family members who were unable to attend.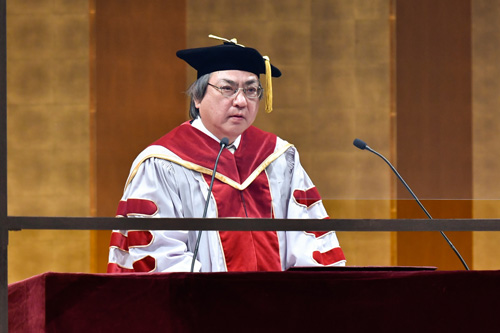 In his congratulatory address for the new students, President Yoshio Nakatani said, "Since opening, Ritsumeikan University has cherished its founding spirit of freedom and innovation. Based on this philosophy, our founder declared his intention to 'create a place where students can freely and enthusiastically pursue their studies.' I understand this to mean that, our students, by thinking freely and trying new things in accordance with this ideal, create a variety of new ideas, and it is the interplay of these ideas that brings about change. Together let's rise to the challenge."

A floral-themed flower wall and flower photo sign were erected in the venue to serve as backdrops for commemorative photos. Furthermore, to give international students a chance to experience Japanese culture on the auspicious occasion of their admission, the university set up yo-yo fishing and ring toss booths.
Video of the AY2022 Ritsumeikan University Fall Matriculation Ceremony