Global Supporters:Supporting the Extracurricular Activities of International Students
From Monday, September 26 to Friday, October 7, Global Supporters, a group that helps international students get involved in extracurricular activities (clubs and circles) held an event on the Osaka Ibaraki Campus (OIC).

Global Supporters was launched in March 2022 by members of the College of Policy Science Student Council and the College of Global Liberal Arts Student Council to help international students in English-basis colleges and courses participate in extracurricular activities. This April, the group undertook its first-ever activities by running a booth at the welcome event for new students and serving as interpreters and mediators between international students and various clubs and circles. The Student Government Board, the student self-governing student body of Ritsumeikan University, has also been dealing with the issue of globalization in recent years, so it became an organization affiliated with the Globalization Promotion Office, which was established this April, and is working to strengthen support for international students in cooperation with its branches.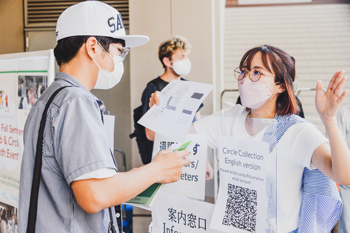 For this event, Global Supporters handled the overall planning and organization. Extracurricular organizations that actively recruit international students were invited to set up booths in Sora-no Plaza at OIC, providing an opportunity to introduce their activities to international students and encourage them to join their groups. On the day of the event, members of Global Supporters served as interpreters and provided guidance in English on how to find and join clubs and circles, in response to consultations from international students. In short, they acted as a bridge between international students and student organizations. Many international students visited the booths and listened intently to the explanations of each group's activities, which led to new interactions.

This year, Global Supporters produced an English translation of "Circle Collection,"(Viewable only by on-campus personnel) a booklet prepared annually by the Central Council of the Student Government Board to introduce the university's student organizations. Using the "Circle Collection" booklet, members of Global Supporters provided explanations about those groups that could not set up booths at the event to the international students.

Going forward, Global Supporters will promote diversity and inclusion in an effort to make it easier than ever for international students to join student organizations and participate in events by disseminating information in English about the School Festival and other Student Government Board initiatives.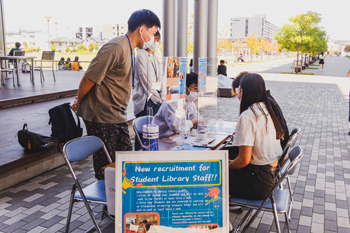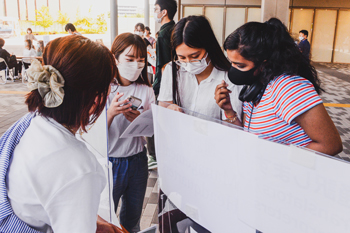 Comment from Sayo Yamakawa (4th year, Department of Policy Science, College of Policy Science)
This was the first time for an organization affiliated with the Student Government Board to host a welcome event for new students entering the university in September, but the large number of international students who participated this time made me realize once again that this event should be held every year from now on. I was also pleased to see international students interacting with the members of the other Student Government Board organizations who helped run the event, which allowed domestic students to experience campus globalization first-hand.
Comment from TRAN Khanh Linh, (3rd year, CRPS Major, College of Policy Science)
As a member of Global Supporters, I am delighted that we were able to hold this event in person, from seeing many international students gain access to English information to joining clubs and circles. Although the event was mainly for international students, I think it was also an excellent opportunity for many domestic students to know where they can interact with international students on campus. I think the event was a success in this aspect as well. I would like to continue supporting international students by providing English translations for the School Festival and other events.
Comment from Monica Sandei Teramoto (2nd year, College of Global Liberal Arts; President, College of Global Liberal Arts Student Council)
We established this team to simply have International and other English medium students have equal opportunities in socializing through clubs/circles. We believe that there are many challenges in achieving our goal, however, I believe that we are strong, hungry, life-long leaders who do not fear failure; we all fail forward. We truly hope to flourish everyone's experience in Ritsumeikan by diminishing any social barriers or biases between English medium and Japanese students. Let's make Ritsumeikan a place where everyone can respect each other's cultural background and circumstances together!
Related information