Third Vege Week Held at Kinugasa and BKC
The third Vege Week, organized by the student group LiNK, was held at Zonshinkan on Kinugasa Campus and the BKC Link Square from Monday, October 31 until Friday, November 4, 2022.


Vege Week, a joint effort by LiNK and the Ritsumeikan Co-op Cafeteria, is an event to offer vegan menu items in the cafeterias. During the week, the cafeterias featured vegan dishes featuring an abundance of vegetables, soy meat, and other meat alternatives.

LiNK is working to provide opportunities for students to become familiar with social issues such as food diversity, climate change, and food crises by organizing Vege Week, disseminating information about veganism on social media, and holding on and off-campus events. Vege Week produced posters explaining the connection between food and environmental issues and posted them in the cafeterias.


Last time, LiNK took the initiative to offer TFT (Table for Two)* menu items for the first time. This time, soy meat salt sauce karaage rice bowl was the featured TFT menu item during Vege Week. During the five-day event, the cafeterias sold a total of over 3,900 servings of the three TFT items: soy meat salt sauce karaage rice bowl (TFT), NEXT kalbi and stir-fried vegetables, and Yamanashi-style udon. (Of these, 1,568 servings of the soy meat salt sauce karaage rice bowl totaled 1,568 were sold across the two campuses.)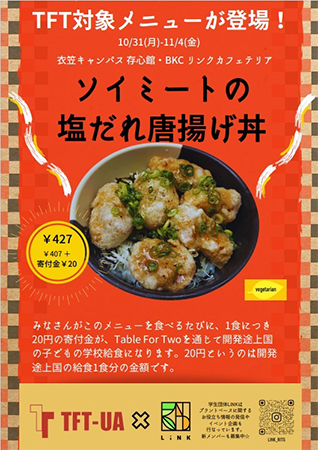 * TFT: A campaign where one meal is donated to a developing country for every meal consumed in a developed country. For this year's Vege Week, 20 yen from every meal is donated to provide school lunches to hungry children in Africa and Asia (Uganda, Rwanda, Tanzania, Kenya, Malawi, and the Philippines).

Some of the students who ate the soy meat salt sauce karaage rice bowl said they enjoyed the dish with no problems as the soy meat tasted like the real thing, while others said they hope the event will continue because they can eat lots of vegetables during Vege Week. This year, the featured sweet proved very popular. Conceived by Anna Lena MUENSTER (3rd year, College of International Relations), it was a vegan muffin made without any animal-based ingredients.


Vege Week's efforts to "contribute to society in a delicious way" by solving food and environmental problems and supporting children in developing countries were rated highly by the students.

Furthermore, on Thursday, November 17 and Friday, November 18, LiNK joined forces with Kamogawa Bakery to offer nine animal-free items, including vegan bagels, at the Shitokukan Shop on Kinugasa Campus, and all 620 units sold out. The group plans to keep selling these items in limited quantities for two days a month.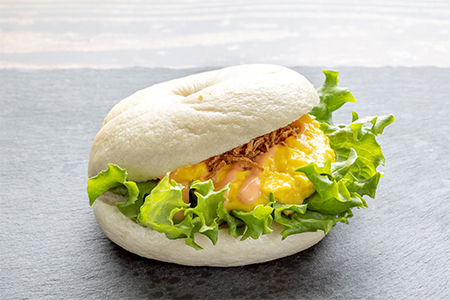 LiNK will continue to work toward creating a diverse food environment by offering a permanent vegan menu in the cafeterias and selling vegan food items on campus.
Comment from LiNK member Rizumu Ichimura (4th year, College of International Relations)
This time, the fried soy meat, whose seasoning was changed from the last time, was served as a rice bowl and proved to be highly popular. We at LiNK feel that we have created a dishes, including udon noodles and other small dishes, that can become regular menu items to help realize school cafeterias where students can enjoy plant-based meals at any time, not just during Vege Week. There are issues that we need address in terms of cost and operations, so we will continue to discuss these with the Co-op and move forward as an organization to reach the next step in this process.