[Visiting Centers of Knowledge] Center for Monodzukuri Qualitative Research: Harnessing the Diverse Aspirations of People and Envisioning the Future of Manufacturing
It has long been said that consumers are shifting from the consumption of things to the consumption of experiences, but it is not easy to foresee the future as the pace of change continues to accelerate. As convenient products and services continue to emerge and consumer needs diversify, what kind of manufacturing does the world really need?

The Center for Monodzukuri Qualitative Research conducts qualitative research to ascertain what people want and to help develop new kinds of manufacturing. To answer this and other questions, we interviewed Center Director Tatsuya Sato (Professor, College of Comprehensive Psychology) and Deputy Director Yuko Yasuda (Professor, College of Comprehensive Psychology).
A center for qualitative research and human resources development for manufacturing
In their work, Professors Sato and Yasuda have been using qualitative research methods, borrowing one approach from the field of psychology. Professor Sato explained how the center came to be as follows.

"For example, when a company launches a new product, it conducts marketing research to predict sales based on a vast amount of data taken from surveys and other sources, while setting variables such as price range and customer age groups. This is called quantitative research. In contrast, what we are proposing is a qualitative research method called Trajectory Equifinality Modeling (TEM). We have been developing this methodology since 2004. TEM is a qualitative research method in which each person surveyed is interviewed, and the various choices and actions they take over time are visualized on a two-dimensional diagram.

One day, while we were holding a TEM workshop, we received a visit from the automobile manufacturer Mazda Motor Corporation. Mazda puts the value of enjoying driving at the forefront of its business, as expressed in its catchphrase 'Be a driver.' They wanted to incorporate TEM instead of existing marketing research to learn what kind of choices customers go through before purchasing and enjoying a vehicle.

This conversation led to the decision to work together to develop a program to cultivate talent who can employ the qualitative research method that is TEM, and Ritsumeikan University and Mazda signed a basic agreement for co-creation activities. In 2019, when we had reached an inflection point in our joint research, we established the Center for Monodzukuri Qualitative Research as a hub where we could further develop our research and foster human resources for many companies."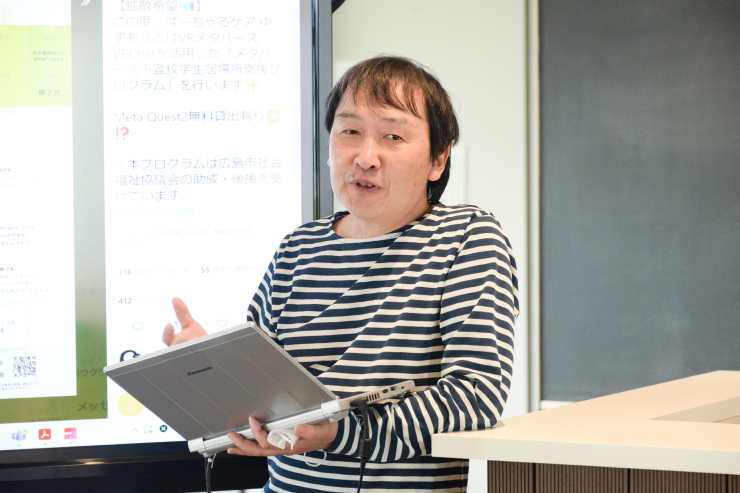 Connecting things and experiences with products
Why is qualitative research needed in manufacturing now? This is closely related to the concept of "things, experiences, and products" advocated by Professor Sato. He explains as follows:

"In this age where we find ourselves surrounded by convenient things, some say what is more important is to create experiences. In response to this, I have proposed a scheme that does not place 'things' and 'experiences' in opposition to each other, but instead connects them with 'products.'

Take food for example. You have food, food products, and meals, each of which corresponds to the primary, secondary, and tertiary industries, respectively. What you eat when you are alone to just fill your stomach is different from what you eat on a date with your significant other. To consummate the 'experience' of food (i.e., a meal) by way of the 'things' of food, you must first consider how food should be in the form of a 'product' or service in accordance with its purpose. In order to get people to choose a certain product from among many others, you must show them what they will gain from that product.

From the standpoint of connecting 'things' and 'experiences,' it is important to know what kind of dreams people are trying to realize through things. Here is where qualitative research methods rooted in psychology, like TEM, come in handy. By conducting interviews, we ascertain people's wishes and then use that information for the development of commercial products and the experiences that extend beyond that. This is the basic philosophy of our center."

Based on the objective mentioned by Professor Sato, the center is now receiving a steady stream of offers from companies and municipalities in need of qualitative research. There are many projects underway, ranging from qualitative evaluation of the usability of new products from cosmetics manufacturers, to the development of services using wearable watches, to the evaluation of city planning efforts by local governments.
TEM ascertains the choices people make and actions they take over time
TEM is one of the most distinctive qualitative research methods that the center employs, but what is it exactly? We asked Professor Yasuda, a leading expert on TEM, to explain this to us.

"TEM is a method we use to visualize people's wishes and choices on a certain topic in relation to their lives, that is, over time.

TEM is a diagram of a path, or trajectory, with time on the horizontal axis. We interview subjects after having them set a goal ("Equifinality Point"), for example, purchasing a car, then we plot where their paths diverge ("Bifurcation Points") and the points that almost everyone passes through ("Obligatory Passing Points"). Social and cultural forces also play a role in what paths lead to the Equifinality Point. Social and cultural backgrounds are particularly prone to manifest at the Obligatory Passing Points that most people pass through. Forces that encourage people to make choices that lead them to the Equifinality Point are called Social Guidance, and conversely, forces that hinder people from making choices are called Social Direction. In this way, we visualize the process by which people make choices, including potential paths to the Equifinality Point, as well as the forces that influence their decision-making."


The concept of Equifinality, which forms the basis of TEM, was originally proposed by the cultural psychologist Jaan Valsiner. This concept caught Professor Sato's attention, and he invited Dr. Valsiner to Japan. This, in turn, paved the way for TEM, which Professor Yasuda incorporated into her dissertation, and she continues to employ this concept to the present day. The entire research approach, which combines TEM as a research method and the supporting theory, is called the Trajectory Equifinality Approach (TEA).

"In April 2022, we launched the Japanese Association of TEA and Qualitative Inquiry to further expand the learning opportunities for TEA that we had already established in the form of research workshops. When viewed as an academic research method, qualitative research faces the issue of its so-called 'reliability' being easily called into question in analysis. We hope that TEA will provide a platform for highly motivated researchers to engage in this kind of research," says Professor Yasuda.

Professor Yasuda added that, as a hub of learning, the center also functions as a network for researchers and practitioners involved in fields like manufacturing and human resource development. Some of the members have also starting giving their own TEA workshops. In this way, a positive feedback loop has arisen in which everyone freely uses TEA and shares information about their research, which in turn, leads to the further refinement of the method itself.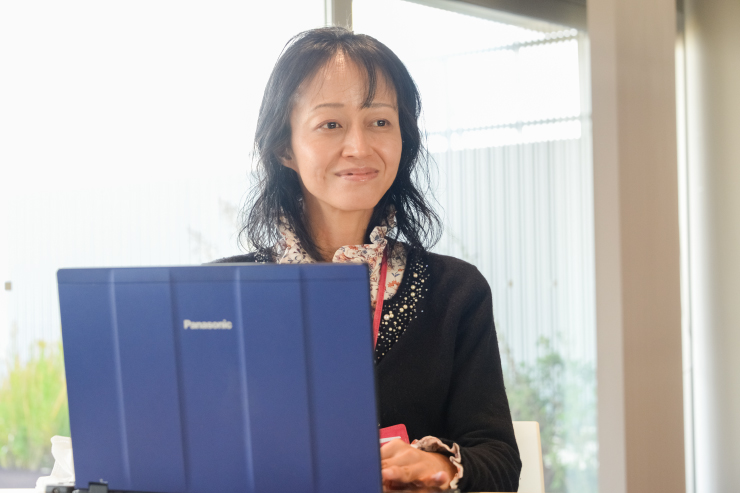 Four Actions pursued in an interdisciplinary manner
According to Professor Yasuda, the Center for Monodzukuri Qualitative Research is exploring new styles of manufacturing through what she calls the Four Actions, in which experts in the four fields of psychology, cognitive science, social informatics, and innovation management work together. We asked Professor Sato to explain this to us in detail.

"The first action is to validate the concept of existing products and services by gaining a deeper understanding of the customer. Here again, we use TEM and other psychology-based approaches that we have been talking about. The second action is storytelling. In order to establish new product and service concepts based on the desires of each customer that emerge through our process, we reorganize the customers' stories through the medium of video. With the third action, we use virtual reality (VR) and other technologies to depict a future customer experience that is yet to be realized. And finally, the fourth action is to manage all of these actions comprehensively from various perspectives, including the standpoint of business management."

By expanding the means of communication, Professor Yasuda says TEM itself can be employed in a more applied way.

"We usually work with TEM in two dimensions, but in the past, some scholars have attempted to visualize the experiences of multiple people in a single three-dimensional image. In some studies, for example, scholars have developed tools that use imaging technology to list a variety of individual experiences when you click on a certain Bifurcation Point. By combining storytelling and design and visualizing these elements using videos and VR, we aim to create an environment that enables the viewer to understand the experience in question. We aim to create something new in an interdisciplinary manner, by combining elements of the humanities and the hard sciences."

According to Professor Sato, the Four Actions themselves are a TEM-like concept that follows a timeline from past to present to future experiences. What kind of future can this interdisciplinary approach open up? The possibilities are endless.
Broadly exploring the union of manufacturing and qualitative research
Finally, we asked Professor Sato to talk about how the center's activities could evolve going forward.

"What we are doing is a union of manufacturing and qualitative research, so we would like to conduct research as broadly as possible and not limit ourselves to a narrow scope. When research progresses in one of these fields, it helps to advance the other.

In the end, I think we can consider the possibility of strategically dissolving the center. This is because if we pursue future-oriented manufacturing, we will eventually face the problem of how to harmonize it with the structure of society itself. For example, if we develop flying cars, we will also need to think what new shape our new legal system will take. When we reach a juncture like this, I think it will be important to enhance the value of the manufacturing that Ritsumeikan is sharing with the world by collaborating with, or in some cases integrating with, research institutions that can approach this issue from a broader perspective. Even if that happens, naturally, we have no intention of easing up on our core qualitative research innovations."

It seems that this center could help yield innovations that are beyond anything we can currently imagine.