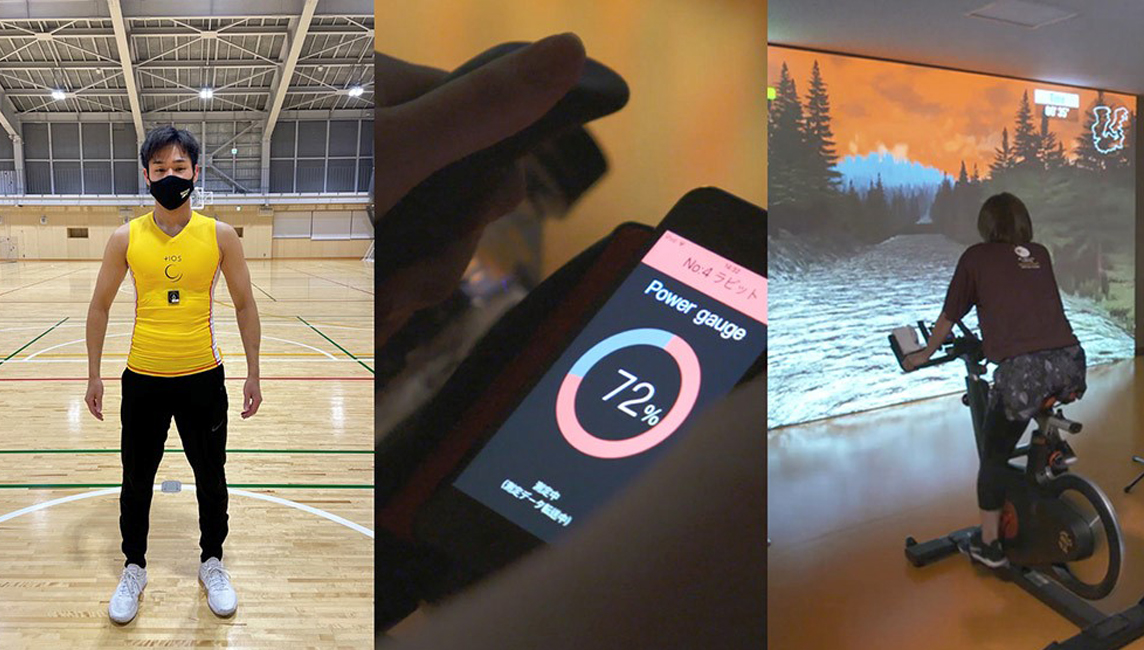 Entering the wearable era:Smart wear will change the way we train and improve our health
Special clothing that can measure body temperature, respiration, and even heart activity just by wearing it normally and transmit the data it collects wirelessly— this kind of smart wear has finally become a reality. What's more, its appearance and comfort will make you forget that it is equipped with built-in sensors. We asked Professor Naruhiro Shiozawa of the College of Sports and Health Science at Ritsumeikan University how smart wear will be used and how it will change our lives in the future.
[Key Points of this Article]
● Undergarments that can measure biometric data
● With smart wear, you can easily take measurements 24 hours a day, 365 days a year
● Where health is concerned, individual data is more important than average values
● Hardware and software are both expected to continue evolving
● Harnessing smart wear technology to develop the next generation of businesses
With smartwear, biometric data can be measured without discomfort
An industry-academia collaborative research team led by Professor Naruhiro Shiozawa of the College of Sports and Health Science at Ritsumeikan University has developed an undergarment that can measure a range of mental and physical conditions. Until now, researchers had to attach sensors in devices like a watch or wristband in order to measure biometric information such as heart rate and respiration. However, this smart undergarment allows measurements to be taken just by having the user wear it normally. It is a wearable sensor in the truest sense.
The Smart Wear Technology research team, led by Ritsumeikan University and including participants such as Toyobo and Omron Healthcare, developed this wearable sensor. This project was selected by MEXT for the Center of Innovation Science and Technology based Radical Innovation and Entrepreneurship Program (COI STREAM), a program that brings cutting-edge researchers together, and development has been underway since AY2013. Professor Shiozawa, a core member of the group, told us about the project.

"I was doing research on using wearable sensors and wearable devices to make biometric measurements, and even in terms of research collaboration, getting people to wear something all the time is a big obstacle. Even with a small wristwatch sensor, users still find it stressful to wear it 24 hours a day.
Therefore, we have been examining how we can integrate sensors with clothing. We aimed to create a device that can be worn in the same way you wear regular clothes," explains Professor Shiozawa.

Integrating sensors with clothing is easier said than done. However, by using a 0.3-millimeter-thick stretchable conductive paste (a flexible adhesive with conductive properties) developed by Toyobo, the team has cleared the difficult hurdle of integrating sensors into clothing.
Undergarments using this technology can measure the heart's electrical activity, respiration, body temperature, perspiration, and the angles of moving joints. Another major feature is that a smart undergarment can measure significantly more items than smartwatches and other wearable devices.

In addition, since all you have to do is wear the undergarment, measurements can be taken 24 hours a day, 365 days a year, except when bathing. The greatest strength of this technology is its ability to measure data over a long period of time in any situation in daily life.
Long-term monitoring provides a more accurate picture of health and training results
The first area where smart wear can demonstrate significant value is medical and healthcare management. Professor Shiozawa explains:

"Smart wear helps us visualize health conditions. Not only will we be able to accurately ascertain the state of health at any point in time, monitoring over a period of time will allow us to see the trends of conditions like cardiomyopathy and arrhythmia and detect the first signs of disease. The undergarment we developed can be easily worn even during sleep, so I think we will be able to visualize sleep quality with more precision than ever before. Also, by monitoring mental stress from a user's heart rate, we could use this undergarment to manage the health of employees in an office, for example."

Of course, the team also envisions that this smart wear will have benefits that go above and beyond conventional sensors in the field of sports.

"The use of smart wear will facilitate long-term data analysis. While it is difficult to realize the benefits of a single training session, I believe that combining this garment with other evaluation and forecasting techniques will be very useful in supporting athletes in training, as it will allow us to evaluate and predict subtle changes in the body and see what results the training has yielded.
The ability to measure the angles of joints in motion is another great advantage, which will make this device effective for checking things like running and batting form." Previous health indicators were average values. Now we can discover those indicators best suited to individuals.

Professor Shiozawa says that in both health management and sports, "it is highly meaningful to measure and accumulate data on each individual." He explains further:

"Health is often discussed in terms of averages, and there are many common indicators like 'walking this many steps a day is good for you' or 'exercising this much is effective.' However, we actually don't know if these average indicators are optimal for each individual. The key is to find the right indicator for each person.
If personal data can be accumulated over time with smart wear, it will be possible to derive the optimal amount of sleep and exercise for a person based on the evidence. I hope that smart wear will be an opportunity for us to provide each individual with a tailor-made health index."
Making exercise a part of daily life and metaverse applications
What Professor Shiozawa and his team are aiming for beyond the development of smart wear is to "make exercise a lifestyle culture." We asked him to provide us with some specific examples.

"Our goal is to go beyond making exercise a 'habit;' we want to make exercise a 'lifestyle culture. I hope that this research project will create a culture in which people exercise not because they feel they have to, but because they enjoy doing it and want to do it, and as a result, become healthier."

The team is developing smart fitness programs, where heart rate and other biometric information can be obtained from comfortable smart wear, and smart educational materials, which can be used mainly in the field of education, to make exercise a lifestyle culture.
In terms of practical applications, the Smart R-Bike the Ride is an original smart fitness program that combines games, videos, and bicycle-based exercise, while the Educational Materials Project aims to improve skills like logical thinking and problem-solving skills by linking smart wear with ICT education.
What's more, Professor Shiozawa is focusing on the metaverse as a space where the possibilities of smart wear technology can be expanded.

"We have been kept the metaverse in mind since the beginning of our research into smart wear. Although our research is still in the early phases, I believe that if we are going to do something advanced in the metaverse, we will definitely need this smart wear technology. I think it is important to not only look at the metaverse as a virtual space, but to create linkages where users can seamlessly move back and forth between the metaverse and real, physical spaces. I believe that we can realize this goal if we can make progress on this research.
The bio-signals obtained from smart wear can also enable us to infer a user's psychological state to some extent. If we apply this technology, we will be able to create new forms of communication and relationships, such as knowing what other metaverse users are thinking."

This industry-university collaboration on smart wear technology has been transitioning into the commercialization and practical application phase since 2019.
Examples of this are sensors that can acquire multiple pieces of information simultaneously and eye masks, socks, and tights with built-in sensors. In addition, the team is also embarking on the research and development of under garments that are less constrictive, and it is getting closer to realizing smart wear whose sensors you don't even notice.
We look forward to the future of smart wear, which will have an impact not only on health and sports, but also on our lifestyle as a whole.
Profile
Naruhiro Shiozawa
Shiozawa earned his doctoral degree in Engineering from the Graduate School of Science and Engineering at Ritsumeikan University. His main area of expertise is biometrics. The sensors he is working on measure not only exercise and physiological data during sports and daily life, but also psychological states. He has applied for several patents related to biometrics, including "Smart wear", "Method and device for measuring biological signals", "Electrocardiogram measurement device," "Movement trace calculating method and apparatus of periodic moving body", and "Sthenometry (measurement of muscular strength) and apparatus used for the same."
Related information