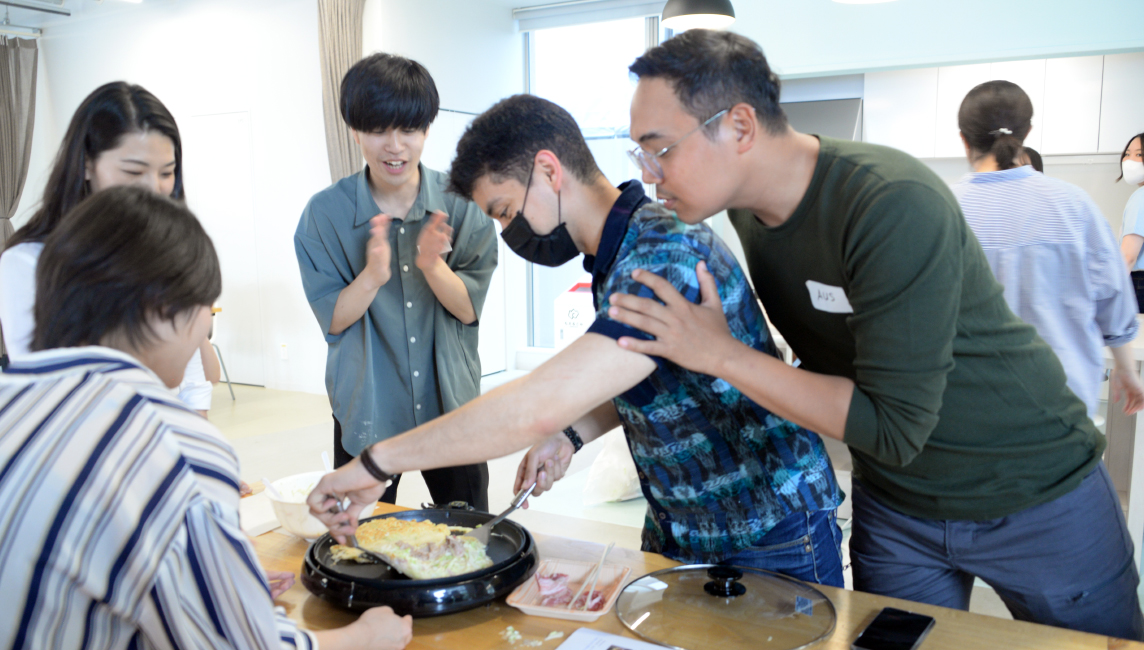 [Campus Scenes:Global Edition] Japanese Kitchen, the BBP's First International Exchange Cooking Event, Held at OIC
On Monday, June 26, 2023, "Japanese Kitchen —Let's Cook Japanese Food Together!" was held at the Yasuhiro Wakebayashi International Exchange Center on the Osaka Ibaraki Campus. Planned and implemented by the Management Staff of the OIC Beyond Borders Plaza (BBP)), a global commons focused on international exchange and language learning, this event was an attempt to encourage casual, tension-free interaction between international and domestic students. This was the first-ever cooking event organized by the OIC BBP.

On the day of the event, a total of 20 international and domestic students gathered in the kitchen on the first floor of the Yasuhiro Wakebayashi International Exchange Center, where they tried their hand at making okonomiyaki and mitarashi dango. The students were divided into teams for each menu item, and although it took time for them to acclimate, they enjoyed cooking together using a mix of English and Japanese. After finishing their respective menu items, the students dug into the okonomiyaki and mitarashi dango they worked hard to make.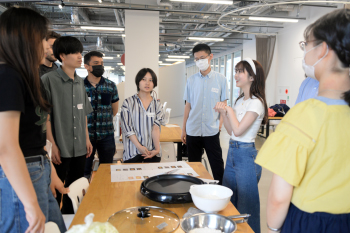 One participant commented, "It was nice to get together with people from different countries and regions," while another said, "The dishes were hard to make, but they were very tasty." In this way, the event proved to be a great opportunity for intercultural exchange.

Rena Sukenaka (3rd year, College of Policy Science), the head of the OIC BBP Management Staff, remarked, "I am happy that we were finally able to hold this event that had been shelved during the pandemic. We plan to improve on the event and hold it again in the future. "With Japanese Kitchen and other events, we aim to both foster international exchange and create places where international and domestic students can congregate."
Related information