Inside the Hirai Kaichiro Memorial Library
This article is written by Akari Kakura, Nao Kishimoto and Hiromu Noda (College of Letters).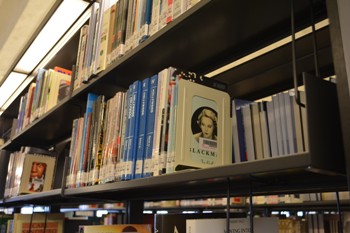 In the past, libraries were lonely places. Students would sit for hours in silence, reading, browsing, and thinking things over. The modern library embraces noise. In places.

The peer learning room at Ritsumeikan's new library on its Kinugasa campus is full of vigor. In fact, the open plan room feels more like a technology start-up. Students gather in small groups around computer monitors, flat screen TVs and white boards, sipping on coffee while collaborating on pro-jects. CNN headlines flash across a TV at one end of open plan room. The peer learning room, or piara as it's called in Japanese, is representative of a new kind of library – a noisy break from the past.

Word of the new library, with its six classical Greek-style columns and which officially opened in April 2016, spread quickly on social media. It wasn't long before it had earned a nickname – "the Parthenon Palace" - named after its much older Athenian cousin. The buzz on Line and Twitter was helped by the addition of Tully's, a coffee shop, located inside the library, and appropriately enough just next to the peer learning room.

For the past three months we have been interviewing some of the key people involved in planning and building the new library.

The Hirai Kaichiro Memorial Library, as it is officially called, is dedicated to Hirai Kaichiro, a Ritsumeikan alumnus, and a founder and former president of Nichicon, a Kyoto-based electronics company. His wife, Nobuko Hirai, is a major benefactor.

The library took four years to complete, a total of 399,000 working hours and had a budget of 45 billion yen. It was designed by Osaka-based Yasui Architects and Engineers who were given a brief to create a modern library with a classical Greek façade.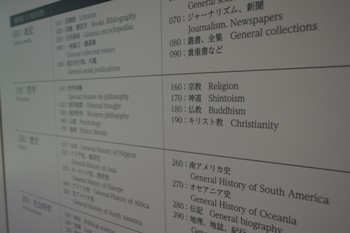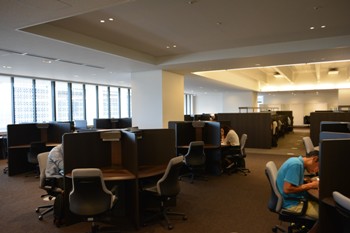 Katsuhiko Yamamoto, the lead architect for the library project, explained the overriding concept as manabi ga mieru, manabi ni fureru, manabi aeru or "visible learning, experiencing learning and learning together."

The "learning" motif is on display in the lobby of the library. The center of the library is hollowed out offering an unimpeded view of the second and their floor. Furthermore, floor to ceiling glass panels provide a view into the library.

"We wanted to motivate students by seeing each other studying, and also seeing the books," said Kiyotomo Akagawa, a senior interior designer at Yasui. "Transparency can act as a stimulant for learning," Akagawa added.

"Concept is important," said Yamamoto.

"We try to put these concepts together - classical and modern - and make a blueprint. Our role is essentially to add value" said Katsuyuki Togawa, an architect and designer at Yasui Architects and Engineers.

The library features fifty different types of chairs, a third of them designed specifically for the new library. Concepts like universal access were also instrumental in the design according to the team of architects from Yasui. "We wanted all students to be able to access and use the library," said interior designer Akagawa.

Another key innovation are the automatic check-out gates, which at the time of writing are the only of their type in operation in Japan.

Yasuhiro Mitani, a library manager, explained that books are fitted with a chip that enables auto-mated check-out simply by scanning the book over a panel at the check-out gates. A confirmation email is subsequently sent to the user informing them of the books they have borrowed and the return date.

The new library houses 963,000 books which will increase to one million this year Mitani said.

"We plan to expand the collection by 20,000 thousand (books) every year."

"However, books can be borrowed from all Ritsumeikan libraries via the new library so that puts the total number of books available to students and staff at 3,266,000 books," said Mitani.

Mitani also explained that the library can keep track of which books the 4,000 to 5,000 daily users are perusing via the book truck. Books that are not checked out are returned to the book truck allowing staff to monitor which books are being read.

According to Mitani the addition of a coffee shop within the library is in keeping with other universi-ties such as Nagoya University. "I think users can comfortably use the library if it has a coffee shop and it might even increase the numbers of users."

Asked if he had a favorite book from the sprawling collection Mitani answered that he is interested in books about libraries seeing as he has only been working at the library for the past year.
As well as a full time staff of over 100 the library employs a small army of students who carry out tasks such as library tours and assisting fellow students. Hiroshi Komatsu, a third year law student, first started working at the old library, which is due to be demolished by the end of 2016. Like many people we spoke with Komatsu said the new library is much more comfortable than the previous library.

As well as providing library tours Komatsu also assists in special projects such as putting on events such as the 'Night Theater' held in the purpose built theater near the entrance.

"It's a flexible schedule and it feels good to be able to help other students," Komatsu said.

Daeil Jang a first year arts student was quick to notice the similarities with the Parthenon. "When I walk inside past the columns I almost feel Greek," he said, half-jokingly.

Jang uses the library nearly everyday as it's on his route home and is an ideal place to study, especially the third floor which as well as being less crowded offers a panoramic view of Kyoto.

The comfort of the new library was another winning feature for students we talked with. Kaito Tatewaki, a first year social science student, said it's a comfortable place to study.

"It's especially convenient that there are so many desks and they have a partition so I can concentrate while studying."

In the age of the digitization of books and in an era in which we can access great amounts of information from our smartphones the library may seem archaic to some. But as Ritsumeikan's new library is proving books - and coffee, and collaboration - still have great appeal, especially when they are offered together in a comfortable setting.


Editing by JJ O'Donoghue

Special thanks to the staff at Hirai Kaichiro Memorial Library and Yasui Architects and Engineers.