Greetings from the President
We are living in what has been called an era of diversity, but exclusion and conflict continue to occur. The world needs people who can respect others, understand their differences, and work together to tackle shared issues. Moreover, the advancement of information and communication technology (ICT) is also transforming how we view knowledge.

The Ritsumeikan Academy formulated a vision for 2030 with the slogan of 'Challenge Your Mind, Change Our Future'. It is a bold declaration of the challenge we will undertake precisely because we are living in an age when the future is difficult to forecast. What we need now is to find new meaning in the world and accumulate inspirational experiences that support this endeavor.

As places where people can experience joy and inspiration and the new possibilities and meaning these experiences bring, universities must continue to provide education and research to this end. It is my sincerest wish that Ritsumeikan University will contribute to humankind by searching for and creating new kinds of knowledge, presenting that knowledge to the world, and preserving it for posterity.

Taking as a base the founding spirit of 'Freedom and Innovation' - extolled by our founding father Prince Saionji Kinmochi, and Nakagawa Kojuro, his protege and the founder of Ritsumeikan University - I will make every effort to ensure we become a globally recognized university, one with roots in the local communities in which we operate, yet with a truly globally-minded system of values.

I look forward to working with you this year.
Yoshio Nakatani
President
Ritsumeikan University
Profile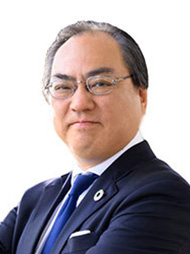 Yoshio Nakatani
Date of Birth: July 24, 1958
College of Information Science and Engineering (Professor)
Academic Background

March 1981: Bachelor of Human Sciences, School of Human Sciences, Osaka University
August 1989: Doctor of Philosophy, Kobe University

Fields of Specialism

disaster mitigation information system, artificial intelligence, human interface, cognitive engineering, OMOIDE (personal memory) engineering, and affective engineering

Ritsumeikan University Employment History

April 2004 - August 2005: Director, The Institute of Science and Engineering, Ritsumeikan University
April 2006 - March 2008: Associate Dean (in charge of Planning, Research and International Project), College of Information Science and Engineering, Ritsumeikan University
April 2008 - March 2010: Associate Dean (in charge of Planning and International Project), College of Information Science and Engineering, Ritsumeikan University
July 2009 - March 2011: Deputy Secretary General at Ritsumeikan University, Promotion Headquarter of Project for Establishing University Network for Internationalization (Global 30) by Ministry of Education, Culture, Sports, Science and Technology, Japan
April 2010 - March 2011: Associate Dean (in charge of International Project), College of Information Science and Engineering, Ritsumeikan University
April 2010 - March 2011: Specialist Manager for Program Development at Ritsumeikan University, The Advanced Specialized Foreign Student Development Project in Concept of "Asian Human Resources Fund" by Ministry of Economy, Trade and Industry, Japan
April 2012 - March 2014: Director General, Research Organization of Science and Technology, and Chief Director, Research Institute of Science and Engineering, Ritsumeikan University
April 2014 - March 2018: Dean, College of Information Science and Engineering; Dean, Graduate School of Information Science and Engineering, Ritsumeikan University; and Trustee and Councilor, The Ritsumeikan Trust
April 2018 - December 2018: Vice Chancellor (in charge of Research, Information Technology, International Collaboration and Gender Equality) and Chief Information Officer (CIO), The Ritsumeikan Trust

Academic Society Memberships

Human Interface Society; Information Processing Society of Japan; The Japanese Society for Artificial Intelligence; The Society of Instrument and Control Engineers; The Japanese Psychological Association; Japanese Cognitive Science Society; Japan Society for Disaster Information Studies; the Japanese Group Dynamics Association; The Society of Project Management; The Institute of Systems, Control and Information Engineers; Research Society of Traffic Science

Motto

"Free and Easy Wandering" (Quote from ancient Chinese Philosopher: Zhuangzi)

Hobby

Visiting art galleries