NEWS
2020.11.18
The entire video record of the "Gulf Symposium" is now uploaded!
On Friday, September 18, 2020, a public symposium entitled "40 years after the Iran-Iraq War and 30 years after the Gulf Crisis and the Gulf War" was held. Now, its entire video record is uploaded. Please visit our YouTube channel.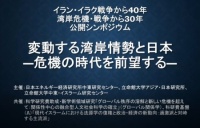 (The link will direct you to YouTube site.)

We are happy to announce that we have opened our channel on YouTube. We will upload various video clips. Please visit us from time to time.