NEWS
2020.03.01
The 15th AJI Frontier Seminar on "State-sponsored Legal Aid System and the way towards the enhancement of its implementation in Myanmar"
On February 14, 2020, the 15th AJI Frontier Seminar was held. Kyu Kyu Aung (graduate student* at the Graduate School of Policy Science Ritsumeikan University and a works as a barrister in Myanmar). She presented a report entitled "State-sponsored Legal Aid System and the way towards the enhancement of its implementation in Myanmar" on the introduction of a government sponsored Legal Aid scheme in Myanmar.
In this presentation, Kyu Kyu Aung described the history of Myanmar's legal system, explained what legal aid entails, especially in cases related to criminal law, and then gave a legal aid country profile of Myanmar, and discussed the issues related to implementing legal aid according to the United Nation's principles and guidelines. She described the challenges Myanmar has to overcome in introducing such a system, including the potential recipients' hesitation to seek access to legal help due to their distrust of the police and authorities, and the insufficiency of qualified attorneys available to provide legal aid services. This particularly affects the poor living in rural areas, who are most in need of these services. In the Q&A session, the participants asked challenging questions about the actual conditions in Myanmar, how authorities were addressing the problems and what the prospects were for the full implementation of a Legal Aid program in the near future.
* She was awarded her doctoral degree in March 2020. Congratulations!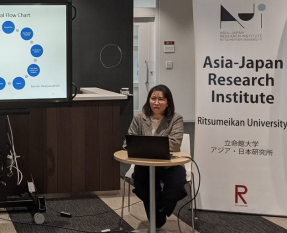 Dr. Kyu Kyu Aung presenting her findings