NEWS
2022.02.07
Global Multilingual Forum Meridian 180: Gendered Transformations under the Pandemic in East Asia (Part 1) was held.
On Friday, January 28, 2022, the first session of the "Global Multilingual Forum Meridian 180: Gendered Transformations under the Pandemic in East Asia" was held under the theme of "Changes under the Pandemic and Emerging Challenges: Perspectives from Social Movements". The following five speakers from Taiwan, China, South Korea, Hong Kong, and Japan respectively made their presentations (Their titles omitted here).
・Hui-Fen Hung (洪惠芬)(Board member of Awakening Foundation and Professor of the Department of Social Work, Soochow University, Taiwan)
・Feng Yuan (馮媛)(Co-founder of Beijing Equality and Weiping Helpline for Women, China)
・Kyungjin Oh (오경진 / 吳京珍) (Coordinator, Korean Women's Association United (KWAU), Rep. of Korea)
・Jay Em Cardona (Secretary, Hong Kong Federation of Asian Domestic Workers Unions (FADWU), Hong Kong)
・Hisako Motoyama (Representative of Asia-Japan Women's Resource Center (AJWRC) and Senior Researcher at Ritsumeikan University, Japan)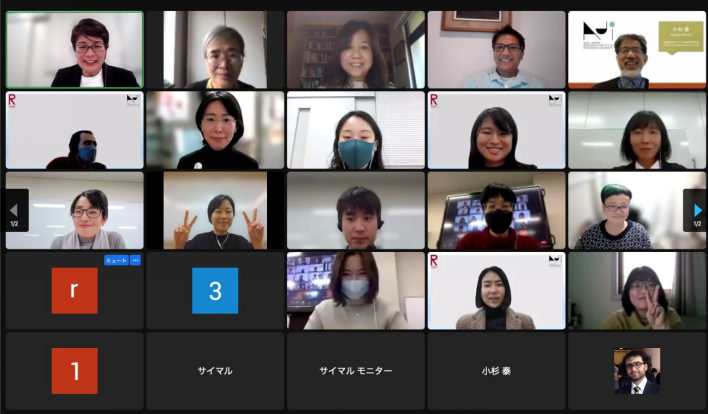 Attendees for this Seminar
East Asia is considered to be more successful than other regions in the sense that this region has suffered relatively few casualties in this pandemic. However, in this session, from a feminist perspective, the panelists asked: "Who are given priority?" "Whose rights are being sacrificed?" and "Whose knowledges and statements are given greater value in the measures against the pandemic, particularly in science, technology, economics, and the state?" Political decisions that did not reflect the interests and needs of women resulted in marginalized people such as immigrants suffering significant social costs.
In particular, gendered division of labor that regards care and household work as women's natural roles, has led to women's vulnerability during the pandemic. Furthermore, care and domestic jobs are becoming more marketized, and immigrants, especially women, are becoming exploited in these labor markets. In this session, the panelists also discussed the extreme difficulties and significant challenges that afflicted migrant domestic workers during the pandemic and the limited space available for civil activities.
In this difficult situation, solidarity and cooperation within the East Asian region are essential to make changes toward a more equal society. The panelists for this session shared their expectations for a multilingual exchange forum.