NEWS
2022.06.23
International symposium was held!Syrian Refugees in Their Calamities, Survival, and Future Lives: A Japan Roundtable"(Keynote Speaker: Professor Wendy Pearlman [Northwestern University])
On Sunday, June 12, 2022, a symposium titled "Syrian Refugees in Their Calamities, Survival, and Future Lives: A Japan Roundtable" was held, hosted by Asia-Japan Institute (AJI) of Ritsumeikan University, and the Center for Middle East and Islamic Studies (CMEIS) and organized in collaboration with Northwestern University of Evanston, Illinois, under their partnership agreement partnership as members of the Meridian 180 Global Network. Due to the COVID outbreak this is the first time Northwestern University has been able to send a representative in person and we were honored to host the renowned specialist on Middle East Studies, Professor Wendy Pearlman as the keynote speaker.
Prof. Suechika of the CMEIS welcomed the speakers and gave an outline of the schedule. He explained how the Syrian conflict had developed and escalated to an armed conflict that displaced millions of refugee within Syria, its neighbors, and as far away as the EU. Then he introduced the Keynote Speaker, Wendy Pearlman as a professor at Northwestern University of Evanston, Illinois, who specializes in Middle East politics and has spent more than twenty years studying and living in the Arab World.
Professor Wendy Pearlman wisely addressed the needs of her audience that consisted primarily of Japanese researchers on Middle Eastern studies. She began her presentation entitled: "Studying Middle Eastern Politics from the US: General Reflections and Personal Experiences", by explaining that based on the facts, academicians in the US are against oppressive regimes, supportive of Palestine and critical of Israel. She revealed that professors of political science in the US evaluated a research article not only for its in-depth research of the object of study but for the generalizable causal politics and relationships that could be derived from it, the usefulness of its insights and the high standard of its rigorous qualitative research.

Professor Pearlman delivering her speech
Explained her research methodology, she said that allowing her interviewees to speak freely frequently produced gems that would never be revealed by structured interviews. She gave the young researchers precious lessons for conducting interviews, explaining how to make their subjects comfortable with the indispensable practice of recording that would provide valuable data for future analysis. After her informative and practical presentation, four discussants gave their comments and questions.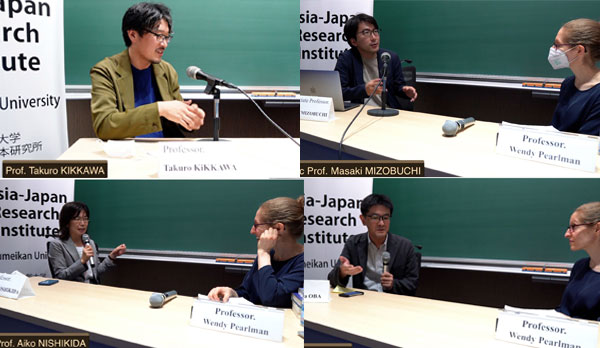 The Q&A session with Professor Pearlman
(Upper left) Professor Takuro Kikkawa (Ritsumeikan Asia Pacific University) /(Upper right)Associate Professor Masaki Mizobuchi (Hiroshima University) / (Left below) Professor Aiko Nishikida (Keio University)/(Right below) Dr.Riyuuta Oba (Kyoto University)
In second session, young Japanese scholars on contemporary Sham (Geographical Syria) and beyond gave their presentations. First, Dr. Marie Sato of Kyoto University gave a presentation entitled "Syrian Refugee-Run Aid Organizations Helping Newcomers: Observations in Turkey", in which she explained the growth of refugee led relief organizations and cross-border assistance from Turkey to Syrian citizens.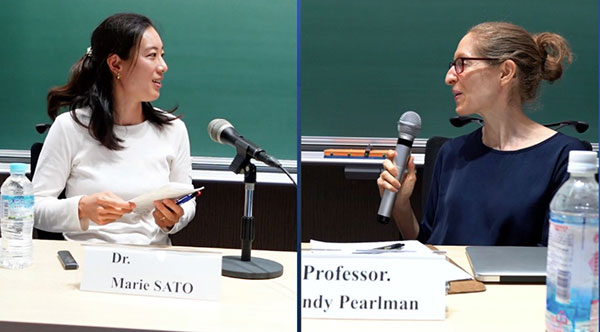 Dr. Sato and Prof. Pearlman discussing Dr. Sato's presentation
Next, Fukiko Ikehata of Ritsumeikan University, Kinugasa Research Institute gave her presentation named the "Dilemma of Muslim Solidarity and the Syrian Refugee Crisis: The Case of the OIC". She explained taking religion into consideration as one of the important aspects of International relations is the key to observe how the international ulama network is connected with the International organizations, governments, and the Muslim society.

Dr. Ikehata making her presentation
Then, Dr. Aoi Mochizuki, a senior researcher of Ritsumeikan University gave a speech entitled "Regaining Their Sense of Belonging and Livelihood: Syrian Refugees in Jordan and West Europe". She asked whether Syrian refugees could rebuild their livelihoods in the Middle East and West Europe, and concluded that they enjoyed support based on their religious or cultural belongingness during their displacement, which countered the difficulties of their daily lives, and their hosts are also helping them by utilizing their belonging.

Dr. Mochizuki presenting her research
The fourth presenter, Dr. Shun Watanabe of The Institute of Energy Economics, Japan, gave a presentation entitled "Whither Democracy in Arab Lands? Reflections on Political Participation in Monarchial Systems". Focusing on the absolute monarchial state, Jordan, he explained how the monarchy had struggled to stay in control by repressing successive attempts at political freedom, but that its demise is imminent due to its citizens' disillusionment.

Dr. Watanabe delivering his presentation
The fifth presenter, Mohammed Masri of Waseda University gave a compelling and personal speech titled: "Syria: No War Can Defeat Us". For those living in Japan who do not know what is happening in Syria, using sometimes disturbing images, he painted an accurate picture of life in his country, and life as a Syrian refugee.
Session two ended with a general discussion, with Prof. Pearlman as the main discussant, and this was followed by many interesting questions and comments from the floor.

Mr. Masri taking about Syria
Finally, Prof. Yasushi Kosugi, Director Asia Japan Institute of Ritsumeikan University gave the closing addressing, thanking the speakers, the organizers, the moderator and all the participants and congratulating them on the success of this wonderful event.

(Left)Professor Kosugi making a closing remark / (Right) Prof. Kosugi and Prof. Pearlman exchanging their views on this symposium