NEWS
2022.06.24
【Report】 The 4th AJI Book Launch was held! Dr. Ammar KHASHAN, Associate Professor at the Asia-Japan Research Institute talked about his newly published book on Islamic economics.
 On June 3, 2022, the 4th AJI Book Launch was held, co-hosted by the Asia-Japan Research Institute (AJI) and the Center for Middle Eastern and Islamic Studies (CMEIS), both of which are located in Ritsumeikan University. This time, we featured a new book written in Japanese by Dr. Ammar KHASHAN, an associate professor of Asia-Japan Research Institute entitled 『イスラーム経済の原像:ムハンマド時代の法規定形成から現代の革新まで』(The Origins of the Islamic Economy: From the Making of Law in the Age of Muhammad to Present Innovations)published by Nakanishiya Shuppan (February, 2022). Dr. Ammar specializes in area studies, Islamic economics, and Islamic jurisprudence. His research focuses on historical and contemporary developments in legal authority and interpretation of important researches and issues in the Islamic economy, particularly in the Middle East, centered on the Arabian Peninsula, and in Southeast Asia such as Malaysia and Indonesia.
 In his Book Launch, Dr. Ammar, who is from Syria, talked about how he grew up in Syria, the events that led to him being in Japan, and how he came to publish this book in the Japanese language. In his book he clarifies the development of the Islamic economy from the seventh century A.D. to the present day, and based on this historical investigation, he critically analyzes the activities of the Islamic economy in the modern era. His understanding of the subject is enriched by his own background. Learning from his own childhood experiences with his family of merchants in Aleppo, the capital of markets, to his studies as a graduate student at the University of Damascus, he was able to bridge the gap between the Hadith traditions and Islamic economics.
 In the Q&A session, there were academically interesting exchanges of opinions, including how to translate technical terms in the Islamic law and Arabic into Japanese. In sum, it was a very meaningful session full of valuable talks about Dr. Ammar's future research prospects, which could only have been enjoyed by attending such a Book Launch.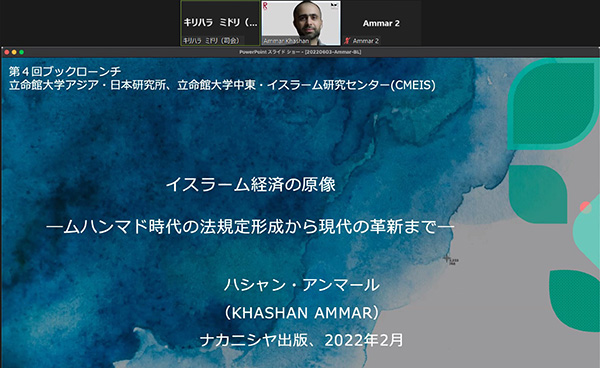 Associate Professor Ammar talking about his book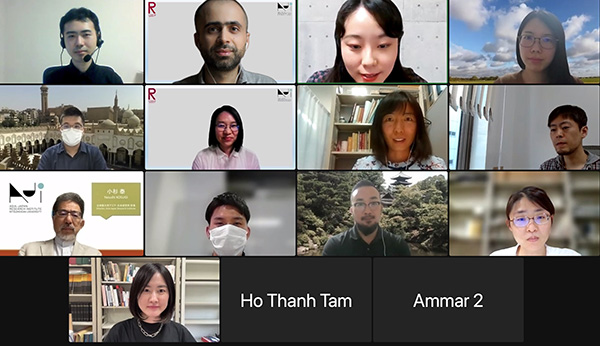 Attendees for this Book Launch