NEWS
2022.07.20
【Report】 The 1st session of the series of "Meet the Author" from the AJI Book Club was held! Professor Kota Suechika (College of International Relations) introduced his first publication, State Transformation and Islam in Contemporary Syria
The 1st session of the series of "Meet the Author" from the AJI Book Club was held! Professor Kota Suechika (College of International Relations) introduced his first publication, State Transformation and Islam in Contemporary Syria (written in Japanese).
On Wednesday, July 6, the AJI Book Club introduced its new series, "Meet the Author" in which authors and scholars talk about important books that have already been published before. In this commemorative first session which was held online, Professor Kota Suechika (College of International Relations) presented his first book, State Transformation and Islam in Contemporary Syria. Nearly a hundred participants took this precious opportunity to listen to his talk.
Professor Suechika explained in an easy-to-understand manner the three key concepts that describe "Syria ": (1) "Syria " as a region (Sham/Historical Syria), (2) Islam in "Syria", which attempts to relativize the modernization theory that the power of religion is shrinking, and (3) "Division of Syria" as the "unfinished narrative". He explained that after the collapse of the Ottoman Empire, the present borders were drawn and the nation-state was formed, and its form might be changed even more in the future).
He emphasized that in order to understand the current state of Syria (the Syrian Arab Republic), one must first understand the present "Syria" that rests on these three concepts. In other words, the state is a legal system as a human construct, and unless one studies the region as the background for creating it, one cannot fully understand the state.
He also talked about the real joy of fieldwork while reminiscing about his experiences in Syria and Lebanon and his interviews with Syrian refugees in Germany and other places, illustrating his story with nostalgic photographs of the past.
In the Q & A session, an attendee posed a question about the differences between area studies and existing academic fields. Professor Suechika made a clear and powerful answer that "what makes area studies special is the need to consciously face a specific region to be studied and to scrutinize it with your heart and soul". This passionate discussion made by Professor Suechika attracted many younger attendees and others. He commented that "doing what you love and solving the mysteries you are fascinated as your life work while flying around the world, meeting people and gathering information, is really fun." His passionate messages were a great encouragement to students who were aiming for graduate school and young people who were aspiring to do research.
From the case of Syria presented in this first session of "Meet the Author", we were able to confirm that the political structure is not within a state but beyond it, and this transnational and regional viewpoint is important for area studies. We would like to offer our sincere appreciation to everyone who participated in this session.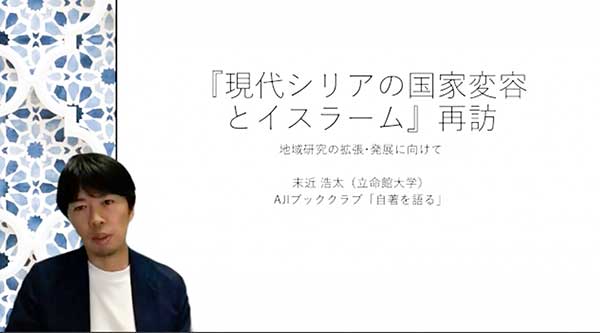 Professor Suechika talking about his book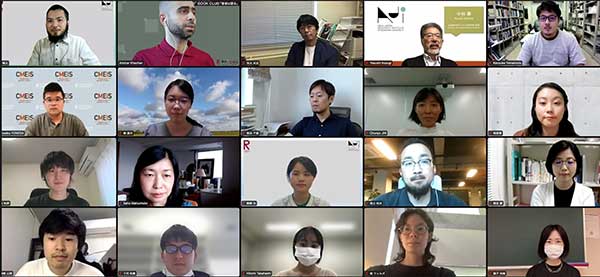 Attendees for this "Meet the Author"