NEWS
2023.03.23
【Report】Report for Session 1 of the AJI International Symposium 2023: "Diversity of Postpartum Childcare Support among East Asian Women and Its Impact on Maternal and Child Well-Being"
On February 25, session 2 of the AJI International Symposium 2023 "Asia-Pacific Research Beyond Borders: Asian Societies Striving for Secure and Sustainable Life" took place under the title of "Diversity of Postpartum Childcare Support among East Asian Women and Its Impact on Maternal and Child Well-Being". This session was hosted by the Asia-Japan Research Institute, Ritsumeikan University.
Moderator: Professor Yuko YATO (College of Comprehensive Psychology, Ritsumeikan University)
Speakers / Titles:
Dr. Takuto MISHINA (JSPS for Research Fellowships for Young Scientists (PD)):
"Results of Interview Survey of Women in Child Care in Ibaraki City: Toward International Comparison through Qualitative Research"
Ms. Tingting Chen (Ph.D. candidate, Graduate School of Human Science, Ritsumeikan University):
"Qualitative Research on Social Support and Psychological Processes of Postpartum Women in China"
Professor Joonha Park(Graduate School of Management, Nagoya University of Commerce and Business:
"Study of Childcare Experiences and Well-being among Postnatal Working Women and their Families in Korean Society"
Discussant:
Dr. Jiaobo Duan(Visiting Researcher, OIC Research Institute, Ritsumeikan University / Director of the Mental Health Center of Shenzhen, China)
In this session, three speakers reported on the results of qualitative analyses such as the Trajectory Equifinality Approach (TEA) applied to the data that were obtained from interviews with mothers in their child-rearing periods in Japan, China, and South Korea.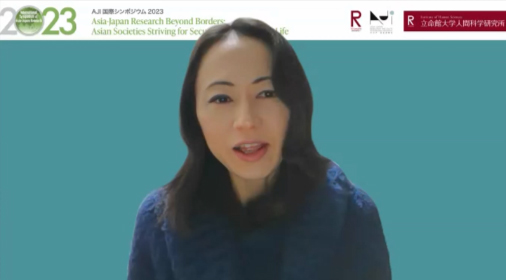 Professor Yato moderating this session
First, Dr. Mishina made his presentation about the results from an interview survey of 18 Japanese women raising children. His presentation provided an insightful result based on his qualitative research that shed light on underexamined topics in quantitative research such as the experience and meaning of "late childbirth", which tends to draw attention to its negative aspects in Japan, information networks for mothers, support from the family home, and conflicts associated with the use of parenting support.

Dr. Mishina delivering his presentation
Second, Ms. Chen presented the results of interviews in Shanghai, Chengdu, and Suzhou in China based on Trajectory Equifinality Model (TEM) and break-even analysis. Semi-structured interviews were conducted with 24 mothers of 0~2-year-old children, 8 from each region. Through these analyses, she examined the changes in their careers that puerperal women experienced and the process of change in their psychological states with various parenting supports. Based on this approach, her presentation could clearly describe the diversity and complexity of human beings, their possibility and potential captured in China's cultural and social context.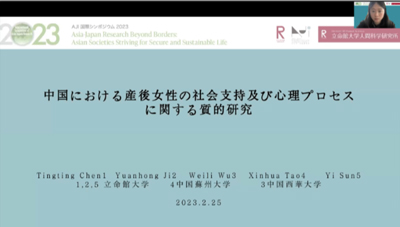 Ms. Chen making her presentation
Third, Professor Joonha Park presented the results of a qualitative analysis on data collected from 10 interviewees, using Grounded Theory Approach. Although increasing numbers of women in South Korea hope to maintain their careers after childbirth, in reality, many still face difficult challenges in maintaining them. In this regard, a research group in South Korea conducted a survey aimed at clarifying the experience of receiving various childcare services, quality of life (QOL) as a caregiver, and other psycho-social issues that working women face in child rearing. The results showed common patterns of Asian countries in parenting experiences for working women and their families, as well as patterns specific to Korea.

Professor Park delivering her presentation
In response to the above three presentations, Dr. Jiaobo Duan as a discussant provided comments based on her specialty, positive psychology. For example, after her comments, participants discussed issues concerning the most critical factor that influences the well-being of women who juggle their childcare and work, and what impressed speakers most in their interviewing surveys.

Dr. Duan commenting on the presentations
This session was a beneficial opportunity to share discussions on issues that arise when international comparisons are made in qualitative research, such as the difficulty of sharing viewpoints and methods of analysis of qualitative data among the three countries, and the issues brought by matching conditions that are employed to handle research subjects in each country. Lastly, it should be pointed out that Japan, China and South Korea all have in common the fact that women are increasingly required to participate in society in recent years, while the gender gap has not improved, and working mothers find it difficult to balance childcare and work. This session enabled us to reacknowledge the significance of conducting joint research and continuing to disseminate research results for the sake of developing and providing effective parenting support systems to improve the well-being of children and their families.

Participants discussing in the Q&A session