NEWS
2020.05.12
New "AJI Interdisciplinary Seminar" launched: "Issues and Prospects of Researchers in the Corona Crisis Era"
The 1st AJI Interdisciplinary Seminar was held on April 28, 2020. This new series of seminars aims to incorporate interdisciplinary knowledge into Asia-Japan Research by inviting experts in various fields. In the first seminar, Prof. Yasushi Kosugi, Director of the Asia-Japan Research Institute, presented a talk entitled " Researchers in the Era of Corona Crisis: Issues and Prospects". The seminar was held online due to the coronavirus conditions.
In this talk, Prof. Kosugi analyzed the impact of the corona crisis on education and research, and the prospects for globalization in the post-corona era. In parallel with conventional face-to-face research activities, he proposed new ways of research life such as promoting online research meetings and online publishing activities to make global networks perpetual. During the Q & A session, he actively exchanged opinions with the audience, including the alternatives for research activities when fieldwork is difficult and how to expand the use of online materials.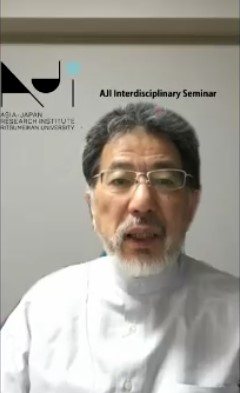 Prof. Kosugi discusses issues and prospects