The winner's speeches.
The 2020 Gold Award
Mr. Roni ARMIS (Representing the co-authors)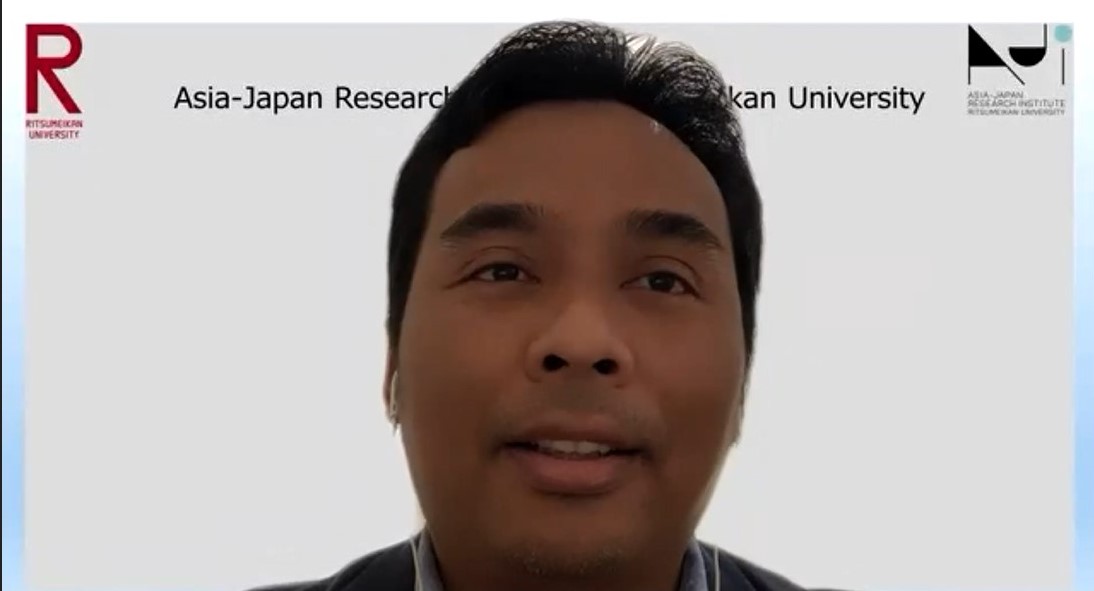 It is an honor to receive the best article award for AJI Journal of 2020. I would like to extend my deepest gratitude to the editorial board for this achievement. This paper is part of my dissertation in the Graduate School of Policy Science, Ritsumeikan University. It focused on the role of the post-mining community members in the regeneration of a post-mining city at the UNESCO World Heritage site, namely Sawahlunto in Indonesia. During the last three years, I have been conducting research about the regeneration of post-mining cities as tourist destinations. The competitiveness in tourism is an important attribute for many post-mining cities, particularly small-sized post-mining cities. The bankruptcy of Yubari city, a post-mining city in Hokkaido, was the first and still the only municipality bankruptcy in Japan. It really triggered my critical thinking in providing a destination competitiveness model for post-mining cities.

This paper would not have been possible without the AJI advanced support for academic writing in English. I joined this program before the submission of this paper in 2020. During the program, there were many workshops and individual sessions designed particularly for early career researchers like me, not merely to improve English academic writing but also to develop the logical thinking needed to make a good academic paper. Asia-Japan Research Institute also offered a great opportunity to present my article in the International Colloquium on Asian Paths of Civilization and Development, which took place in Putrajaya, Malaysia, on 17 October 2019. I found it very encouraging to discuss my findings with other experienced researchers. Taking part in Asia-Japan Research Institute was a rewarding experience for me, and this award obviously exceeded my expectations. I am deeply indebted to Professor Yasushi Kosugi, Professor Anthony Brewer, and all staff members for these great opportunities. I expect to regularly participate in future academic activities at the Asia-Japan Research Institute for my professional development.
The 2020 Silver Award
Mr. Yuto NISHIDONO (Representing the co-authors)
We are very honored to receive the Best Article Award for the AJI Journal of 2020. On behalf of the authors, I'm extremely grateful to the reviewers and editorial board members.

In this study, we comprehensively clarified the chemical constituents contained in ginger and discussed the differences in the usage of ginger in Asian traditional medicine from the perspective of chemical ingredients. I have been studying about ginger since I was an undergraduate student, so I'm very happy that the research is evaluated as the Best Article.

This paper was reported as one of the research results of the research project, "Increase of Healthy Life Expectancy by Studies on Indonesian and Japanese Medical Plants". I was engaged in this project as a young researcher and had many experiences. For example, I conducted fieldwork in Indonesia, Lao P.D.R., Thailand, and Taiwan, and by directly experiencing the local customs such as drinking "Jamu", I realized that traditional medicine is rooted in people's lives. In addition, I learned about the values, religion, and culture of the country through collaborative work with local researchers. These opportunities, which I couldn't have experienced by just doing experiments in the laboratory in Japan, became a valuable asset for me as a researcher. I would like to thank the research project leader, Prof. Mikio Nishizawa, and all the people involved in the Asia-Japan Research Institute for giving me the opportunity to have such a valuable experience.

From now on, based on the platform established in this project, I would like to continue exchanges with researchers in Asian countries and promote research aimed at "co-creation".

Thank you very much.
The 2020 Silver Award
Mr. Shoki TAKAYAMA (Representing the co-authors)
We are very honored that our paper has been selected for the Best Article Award for AJI Journal of 2020 (Silver). We would like to express our sincere gratitude to the reviewers and editorial board members for their valuable comments and also we would like to thank to all those who were involved in this paper.

In this paper, we used Structure from Motion (SfM) to obtain three-dimensional coordinate data of the landslide dam failure processes observed in the experiments and verified the data accuracy. We hope that the outcomes of this paper will contribute to the development of experimental techniques and to the elucidation of landslide dam failure mechanisms. We will make further efforts to produce even better researches in the future.

Thank you very much for your support.
The 2019 Gold Award
Dr. Marina NISHII
I am most honored to receive the Best Article Award for the AJI Journal of 2019. I am very grateful to Professors Yasushi Kosugi and Anthony Brewer for giving me this chance and supporting me in the AJI English Article Writing Program, and to the professors who gave me referee comments. I really appreciate the technical instruction I received through this program.
I have studied the post-war history of Hiroshima. Historically, Hiroshima is known as an area damaged by the A-bomb, and has become a symbol for peace and against nuclear war. In addition, the history of the city's reconstruction from ashes is apt to be held up as a successful example of revival from destruction. In my article, I tried to clarify how the city's reconstruction was actually experienced from the voices of the people who lived there. It includes the methodological challenge of how history studies can listen to the people's silent voices.
On this occasion, I hope to enlarge the stage of my own study more. Finally, I would like to thank the professors and the study environment in Ritsumeikan University, and all the friends and teachers I have studied with. Thank you for listening.
The 2019 Silver Award
Dr. Fitrio ASHARDIONO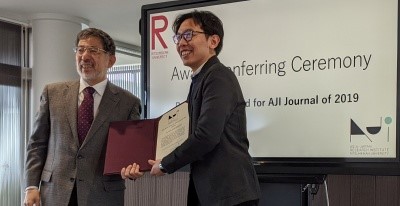 I am very honored to receive Best Article Award for AJI Journal of 2019 (Silver) for my article submission in the Journal of the Asia-Japan Research Institute of Ritsumeikan University. On this occasion I would like to express my gratitude to Prof. Kosugi and Prof. Brewer for their continuous guidance and support during the writing process.
Through the work on this article I was able to further expand my inquiry on the issue of climate change and agriculture from the perspective of agroecology, which correlates with the ecosystem and social factors of a particular area.
I would also like to offer my sincere gratitude to Kitamura san, Fukui san, Tsuji san, Shimizu san, and many other tea growers in the Uji Area to whom I have been heavily indebted, for always providing me with information which is undoubtedly very important to them.
Once again, I would like to give a huge thank you to everyone who has been continuously supporting my work, especially during the writing process of this article.