What are "Extracurricular Activities?"
What are "Extracurricular Activities?"
At Ritsumeikan University, activities outside of the regular curriculum are called "Extracurricular activities," are activities, such as arts or sports, which fall outside of the regular curriculum, and here at Ritsumeikan University, groups active in this area are called "extracurricular activity groups."
Many students participate in a variety of extracurricular activities, sometimes belonging to more than one group. Working with others across collegesfaculties and campuses, they make new friends, expand their possibilities and grow as individuals.
On the In SPORTS & CULTURE page, we introduce a variety of extracurricular activity groups, along with records of their activities. The University hopes that all students will find their own extracurricular activities where they can meet and connect with people, and challenge themselves to learn new things and try new activities.
Enhance your all-round people skills through extracurricular activities!
Currently, over 32,000 students are enrolled at Ritsumeikan University. About 70% are involved in some kind of extracurricular activity. Students are active both on and off campus, not only in sports, academic and cultural activities, but also in a variety of other areas such as volunteering and student government activities.
The University views the entire campus as a place to experience diverse learning, and expects students to grow as individuals through a variety of activities. If you have anyare at all interest whatsoeverted in any of these activities, we encourage you to go ahead and join one of thea groups. We hope that, by actively participating in extracurricular activities in addition to their regular classes, that youstudents will grow as a human beings.
Finally, we would like to express our deepest gratitude to parents, alumni, and community members for their ongoing support for our students' activities. We appreciate your continued support.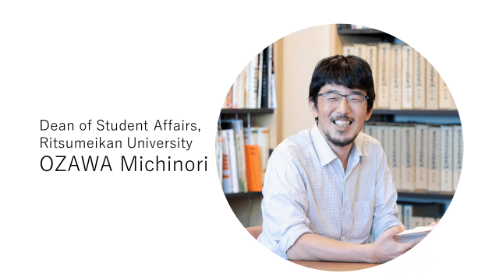 Create a fuller life through Ritsumeikan Sports!
As a universal element of human culture, based on the enjoyment of voluntary exercise, sports have the power to help students establish a happy and healthy lifestyle. The cultural significance and value of sports are enshrined in the Ritsumeikan Charter and the Ritsumeikan Declaration on Sports, informing our vision of what Ritsumeikan Sports should be. The University has a wealth of extracurricular activity groups enabling students to enjoy the cultural aspects of Ritsumeikan Sports and providing a place for learning and personal growth.
By voluntarily engaging in not only their regular class activities, but also extracurricular sports activities that bring together students with diverse values, cultures, experiences, and abilities, we hope all students will be able to fully enjoy the value of Ritsumeikan Sports, thereby creating a happy and healthy lifestyle, and achieving strong personal growth that will support an inclusive society. We also believe that our students' sincere commitment to extracurricular sports activities will contribute to the development of Ritsumeikan's sports culture.
Finally, we would like to express our deepest gratitude to the parents, alumni, and community members, as well as our students and faculty/staff memberswe would like to express our deepest gratitude to the students and faculty who study with us, as well as to parents, alumni, and community members , for their understanding and support in promoting Ritsumeikan Sports, which enhances students' wellbeing and helps students create a fuller life.