Ritsumeikan University has a long tradition of sport and other extracurricular activities for both native Japanese and international students alike. With over 450 teams, clubs, and circles, students are bound to find extra curricular activities that will not only help round out their academic experience at Ritsumeikan University, but also allow for them to make connections with other students while enjoying an old or new hobby.
If you are interested in joining a specific club or circle, or just want to know what kinds are available, please visit the International Center at your campus.
Please understand however that Japanese university student clubs can be very demanding as far as commitment and time are concerned. It would therefore be wise to evaluate your objectives carefully before deciding to officially become a member of a club or circle.
Some examples of clubs and circles available to Ritsumeikan students can be seen below.
Aikido (Weaponless self-defense)
You may think that Aikido is a kind of magical martial art to make an attack by using life energy ("ki" in Japanese), however, it is often used for self-defense. As there is no so-called victory or defeat, nor convention, beginners are able to train and progress at one's own pace.
---
Demae Chindon
Chindon means bands of performers for advertising purposes. In regular training, we play music of Ireland, Sweden, France, East Europe, China and Japan using instruments of one's choice. We also participate in events or work at shops for advertising purposes.
---
Explorers Club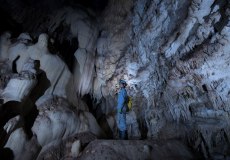 Explorers club members venture into mountains, rivers and caves with specific techniques according to each field. In our expedition last September, we found 62 unexplored caves in an Indonesian island. New living creatures, ruins and nature are waiting for you!
---
Japanese Tea Ceremony Club
Japanese Tea Ceremony Club has about 100 members at Kinugasa Campus and Biwako-Kusatsu Campus. At many tea ceremonies including three major tea ceremonies in spring, summer and fall held at temples or shrines, members entertain the guests with Japanese green tea.
---
Cheerleading Club PeeWees!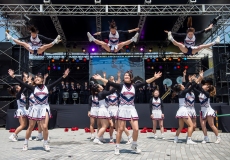 Ritsumeikan University Cheerleading Club PeeWeeS! cheers for many sports clubs registered for Ritsumeikan University Sports Association as well as participates in cheer-leading championships.
---
Sumo
Sumo Wrestling Club is training from 18:00 on weekdays and 9:00 on weekends. Sumo is Japan's national sport which is full of old traditions. The year 2017 marks the 100th anniversary of the founding of the Club.
---
Karuta (Japanese playing cards)
Ritsumeikan Karuta Club ranks with the best in Japanese universities, aiming to improve individual's ability as well as to instruct beginners. Our motto is "To play karuta with pleasure."
---
Kyo-en Sodefure Odorits (Dance)
Kyo-en Sodefure! is originated from Kyoto Students Festival, a creative dance circle with Kyoto taste. Our club consists of 12 teams from universities in Kyoto and is showing our dances at local events or festivals.
---
Manga
Manga Club usually gets together three times in a week and talk about Manga, animation or games as well as draw illustrations or Manga. In addition to that, we have several opportunities to display our works at our school festivals and some other events.
---
CG and Game Club
CG and Game Club is creating computer graphics for games, from planning games, writing scenario, creating graphics, sounds and programming all by ourselves. If you are interested in creating games but do not know how to do it, why don't you join our club?
---