Ritsumeikan University offers a wide variety of facilities to meet the various needs of its students. These include libraries and peer learning rooms named "PIARA", as well as gyms and other facilities for students to work off the everyday stresses of university life. Other facilities include seminar houses, bookstores, bike parking and international exchange lounges known as "Beyond Borders Plazas" or "BBP" for short. Please see below for further details and locations of the many facilities open for Ritsumeikan students.

Please refer to our campus maps for the locations of each item explained below:
Research and Study Support
Libraries
Kinugasa Campus
・Hirai Kaichiro Memorial Library:
Newly opened in April, 2016, it mainly contains collections of literature in humanities and social sciences, including the Saionji Collection, Hakuyoso Collection and Suekawa Collection and special collections of Shizuka Shirakawa and Shuichi Kato.

・Shugakukan Research Library (Shugakukan 1st floor):
Contains collections of research books in the social science field and foreign languages. This library is primarily designated for use by faculty and graduate students (undergraduate students are required to follow specified procedures to use this library).

・Arts & Humanities Library (Shugakukan B1):
Contains collections of research materials in the humanities field. Japanese-bound, Chinese-bound and other highly specialized materials are also contained. This library is primarily designated for use by faculty and graduate students (Undergraduate students are required to follow specified procedures to use this library).


Biwako-Kusatsu Campus
・Media Center:
Contains materials in fields related to the Colleges of Science and Engineering, Information Science and Engineering, Life Sciences, and Pharmaceutical Sciences.

・Media Library (Across Wing 2nd to 6th floors):
Contains materials in fields related to the College of Economics and College of Sport and Health Science.

Osaka Ibaraki Campus
・OIC Library (Building B, 2nd to 4th floors):
Has about 1,100 seats and contains mainly collections related to the social sciences. The OIC Library is open to any member of the general public and provides fee-based access to the library's resources to assist with research, analysis and study.
Click here for more information.
Suzaku Campus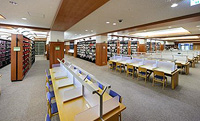 ・Suzaku Research Library (Nakagawa Kaikan, Floor B1):
Contains law and management research materials. This library is for use primarily by faculty and graduate students of Ritsumeikan Suzaku Campus.

For more information on libraries at Ritsumeikan, see the Ritsumeikan University Library website.

Common Laboratories
Many students in our graduate courses are provided with their own personal work spaces in our common laboratories located on campus. These laboratories aim to create a mentally nurturing and supportive environment where students can communicate amongst one another. In addition, students are able to use their own personal locker inside their common laboratory with prior application.
Peer Learning Rooms (PIARA)
Learning spaces called "Peer Learning Rooms (PIARA)" are established in several libraries at Ritsumeikan University to provide a lively and active learning space. The concept of PIARA is to provide a space for "peers to experience the enjoyment of learning and the pleasure of growing together" and has been designed to promote independent and creative learning amongst students. To encourage group work and active learning, the following facilities and equipment are available to students to use as they wish.
IT support counter
Group work and personal computer area: Equipped with large sized displays as well as projectors
Presentation room: Equipped with a large sized screen and projector for group presentations
General learning space


Convenience Stores
Locations:
Kinugasa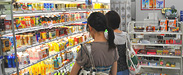 ・Shitokukan B1
・Ryoyukan 1st floor

BKC
・Union Square 1st floor
・Link Square 1st floor

OIC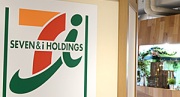 ・Building A 1st floor (south)
・OIC Cafeteria Hall
             
Suzaku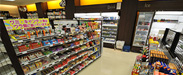 Bookstores
Locations:
Kinugasa
BKC
OIC
Suzaku
・1st floor beside the Cafeteria
Gymnasium
Regarding Training Room (i.e., Gym) Usage Related to Preventing the Spread of COVID-19
Due to the impact of COVID-19, the Kyoto Kinugasa, BKC and OIC Gymnasium (training room) will not be available for personal use for the immediate future. Thank you for your understanding and cooperation.

Training gyms are generally considered to be places where risk of infection is high because users exercise in an enclosed space.

In the future, even after the training gym is reopened, those who have underlying conditions (i.e., those with diabetes/ heart disease/ respiratory diseases/ etc., those who are receiving dialysis, those who are taking immunosuppressive drugs or anti-cancer drugs, etc.) and elderly people are still at risk of becoming severely ill if infected with COVID-19. For their own safety, these individuals should please refrain from visiting the gymnasium until the risk of infection is reduced in society, such as with the spread of a vaccine.

*The following is from "Let's Start a New Campus Life!" available through the university's website. "< At athletic facilities, gyms (including the changing rooms), studios and halls > Use will only be permitted to students and organizations who have prior permission. We ask for your cooperation and understanding in advance. "
(Among the student organizations that are allowed to engage in face-to-face activities, some of them are permitted to use the gym only if they are participating in matches, competitions, etc., and are specifically given permission from the viewpoint of preventing injury. Thank you for your understanding.)
Center for Athletes and Sports Services
Ritsumeikan University
In order to support students from a health perspective, our campuses have gym facilities including weight training rooms with the equipment necessary for a healthy workout. At the gyms we have trainers residing nearby and students can use the facilities free of charge. If you wish to use the training room, you are required to attend a brief orientation before use. The orientations are held on an irregular basis during each semester.
You must present your gym ID card (to be issued after taking an orientation) at when checking in at the gym.
To attend an orientation to use the training room, you must to make a reservation at the front desk or Management Office of your campus's gym in advance.
Locations:
Kinugasa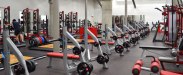 BKC
OIC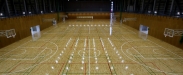 International Dorm
Ritsumeikan University has several international dormitories in the vicinity of Kinugasa Campus and Biwako-Kusatsu Campus.
Ritsumeikan University Cooperative (Co-op)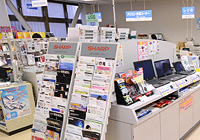 Ritsumeikan University co-op provides support for students all the way from the time they prepare to enter university until they graduate by providing everything from clothing, food, and housing, to school supplies, and everyday items.
Bike Parking
Bike parking is available for all students in various areas around each campus. Refer to the campus maps for the various locations of parking areas. Please ensure your bike is locked when parked in one of the university parking areas as the university takes no responsibility for bikes stolen from the university bike parking areas.
Kyoto Museum for World Peace, Ritsumeikan University
Helping to bring education to the public and emphasizing Ritsumeikan's educational policy of "Peace and Democracy," the Kyoto Museum for World Peace was created with the goal of contributing to world peace. The Peace Museum's main objectives are to convey the tragic realities of war, illustrate the efforts of those who oppose war, and provide an understanding of the importance of establishing peace. In addition, the museum also hosts a number of special exhibitions, conferences, and events every year.

Kyoto Museum for World Peace
HOURS
Tuesday through Sunday
9:30 - 16:30 (last entry by 16:00)
ADMlSSlON
・Adults = 400 yen
・Junior-Senior High School Students = 300 yen
・Elementary school students = 200 yen
*Group rates are available for parties over 20
Directions
| | |
| --- | --- |
| From KYOTO STATION | Take City Bus 50 or 205 |
| From HANKYU OMlYA STATlON | Take City Bus 55 |
| From KElHAN SANJO STATlON | Take City Bus 15, 51, or 59 |
*Get off at Bus Stop "Ritsumeikan Daigaku Mae"
*Parking facilities are not available

For more information, refer to the Kyoto Museum for World Peace website.
Issuance of Certificates