Housing
International Dormitories
Kinugasa (Kyoto): Kinugasa Campus has three international student dormitories for new students.(Only for students who have no experience of living in Japan). Information about the dormitory is available in English and Japanese.

Biwako-Kusatsu Campus (Shiga): Biwako-Kusatsu Campus has an international student dormitory located immediately adjacent to campus. Information about the dormitory is available in English and Japanese.

Osaka Ibaraki Campus (Osaka): Osaka Ibaraki Campus has a student dormitory for both international students and Japanese students. Information about the dormitory is available in English and Japanese.

Apartments
Besides the dormitories, students can find information about campus-area apartments in English at the Student Co-op, or on their "Sumai-Sagashi" Housing-Search homepage.
The student housing real estate agency NASIC also offers housing search services on their homepage and at their branch offices.
Housing Information for New Global Studies (GS) Major Students
Dormitory (GS Students Only)

Housing Guarantor System
Choosing an apartment is a very important step when starting your life as an international student. Generally, when you sign an apartment rental contract in Japan, a co-signer is required. When a co-signer is not available, you must use the services of a guarantor company. In order to ensure that our students can smoothly complete their contracts and begin their studies worry free, we recommend you use the guarantor company below. If you are an international student of Ritsumeikan University (regardless of visa status), you are eligible to utilize the guarantor company's housing co-sign guarantee at a specially discounted rate.


Global Trust Networks (GTN)
Support in English, Chinese, Korean, Vietnamese, and Nepali.
You do not have to find anyone to co-sign for your housing.
You can enjoy the company's co-sign guarantee simply by designating both an emergency contact person in your home country (family), and an emergency contact here in Japan (any nationality).
Support for your daily life.
Call the help line for assistance when you move in and need to complete your utility contracts - electric, gas, and water. You can also call for support when you'd like to cancel or renew your housing contract.
*For further details, please see the link below.
Housing Support System (English).
Language Support for International Graduate Students
International Center
At the International Center, students can receive assistance with visa issues, accommodation, health, and day to day life. When new international students arrive at Ritsumeikan University, the International Center organizes thorough orientations to start off the semester which include sessions outlining the procedures for resident registration, enrollment in health insurance, and opening bank accounts.

After students receive assistance in filling out important public paperwork, the documents are submitted to the local administration on the students' behalf, or the students are escorted to the local public office to ensure the forms are submitted accordingly. Additionally, the International Center provides new students with a handbook for issues that arise in daily life and maps of the campus area so students are able to adjust to life in Japan as quickly as possible. The International Center employs native English and Chinese speaking staff who can assist students with their needs.
Locations:
Osaka Ibaraki Campus
・Building A 1st floor (AN Office)
Student Support General Guide
When you are in trouble but do not know where to turn for help, these Support Coordinators are here to assist. A Support Coordinator will listen to your concerns and guide you to the most appropriate support on or off campus.
Student Support Room (SSR)
The SSR is here to support you when you want to talk to someone about university life, personal relationships, or anxiety about the future, or when you just want someone to listen to you.
Student Success Program (SSP)
The SSP supports students by fostering each individual student's learning autonomy in both classes and extracurricular activities in order for them to grow to their full potential as students. The SSP offers a variety of support that includes support tools, seminars and on-demand videos to help you in your university studies, SSP peer supporters' college tips, and individual consultations.
Disability Resource Center (DRC)
The DRC is a support desk for students with disabilities which aims to ensure equal learning opportunities for all students at Ritsumeikan University.
Career Center
The Career Center offers career support not only for international students who complete their studies in Japanese, but also those who study in English and wish to find work in Japan. Moreover, the Center also provides assistance for those seeking jobs overseas by utilizing the university's overseas offices and alumni association.
Locations:
Biwako-Kusatsu Campus
・Manabi Station 2nd floor
Osaka Ibaraki Campus
・Building A 1st floor (AS office)
Medical Service Center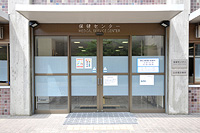 Located on campus, the Medical Service Center promotes the health of students through a combination of general health support services and a medical office that specializes in internal medicine. To ensure their good health, all students must take part in a yearly health check that assesses their overall health condition and, depending on the result, follows up with additional tests as necessary. Students with any persevering health issues are put under watch and given follow up medical guidance until graduation.
Locations:
Osaka Ibaraki Campus
・Building A 1st floor (AS office)
Volunteer
In addition to campus clubs and circles, students can get involved in the local community through various volunteer activates. The Ritsumeikan University Service Learning Center provides support for students wishing to volunteer for a good cause. If you are interested in volunteer activities, contact the Service Learning Center on your campus.
Financial Aid
Ritsumeikan University offers a wide variety of scholarship opportunities to its international students. Application procedures differ depending on the scholarship type.
National Health Insurance Fee Assistance provided by the Ritsumeikan University Parents Association for International Student Education
The Parents Association of Student Education Assistance, an association of Ritsumeikan University students' parents and guardians that supports various activities at the university, provides assistance to undergraduate international students to defray some of the costs of their National Health Insurance Fees.
Eligible students should apply once each year for National Health Insurance Fees, either in the spring or fall semester (the application period is determined by the student's status).
Please refer to Manaba+R for details.
Kyoto City National Health Insurance Subsidy Program for International Students
Kyoto City offers a partial National Health Insurance subsidy for self-financed international students residing in the city. For information on the application process and period for Spring 2014, please review the program outline and application instructions.