Ritsumeikan Hosts Asian Food Study Conference
In conjunction with an international symposium to commemorate our academic exchange agreement with the National Museum of Ethnology, Ritsumeikan University held the 6th Asian Food Study Conference (AFSC) at the Biwako-Kusatsu Campus on December 3, 2016. About 140 participants from Japan and abroad gathered to discuss and clarify the dynamism of food culture in Asia.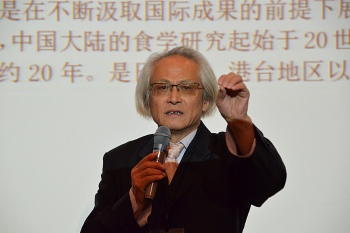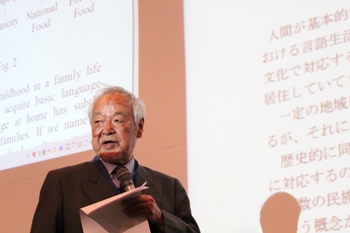 Following an opening speech on the purpose and pursuits of the AFSC by Professor Rongguang Zhao from Zhejiang Gongshang University, keynote speeches were delivered by Dr. Naomichi Ishige of the National Museum of Ethnology and Mr. Tadao Kikuchi of Royal Holdings Co., Ltd. Professor Theodore C. Bestor of the Reischauer Institute of Japanese Studies, Harvard University, was scheduled to deliver a keynote speech on Washoku – Japanese traditional cuisine, but was unfortunately not able to attend. However, Professor Toshio Asakura of the Research Center for Gastronomic Science, Ritsumeikan University, gave a presentation on behalf of Professor Bestor.

Dr. Ishige talked about the history of food culture exchange in Japan, discussing the strong influence of the Chinese civilization on Japanese food culture, westernization of the Japanese diet in the second half of the 20th century, and the spread of Japanese restaurants and the Japanese food boom overseas.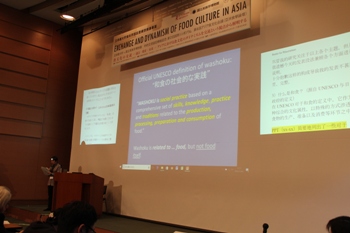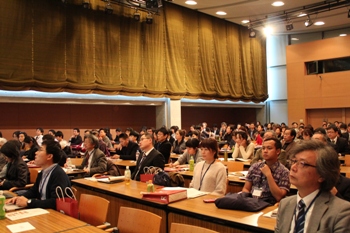 Professor Asakura spoke for Professor Bestor about the recognition of Washoku on UNESCO's Intangible Cultural Heritage list and considered the meaning of the term Washoku as well as the process of its globalization.