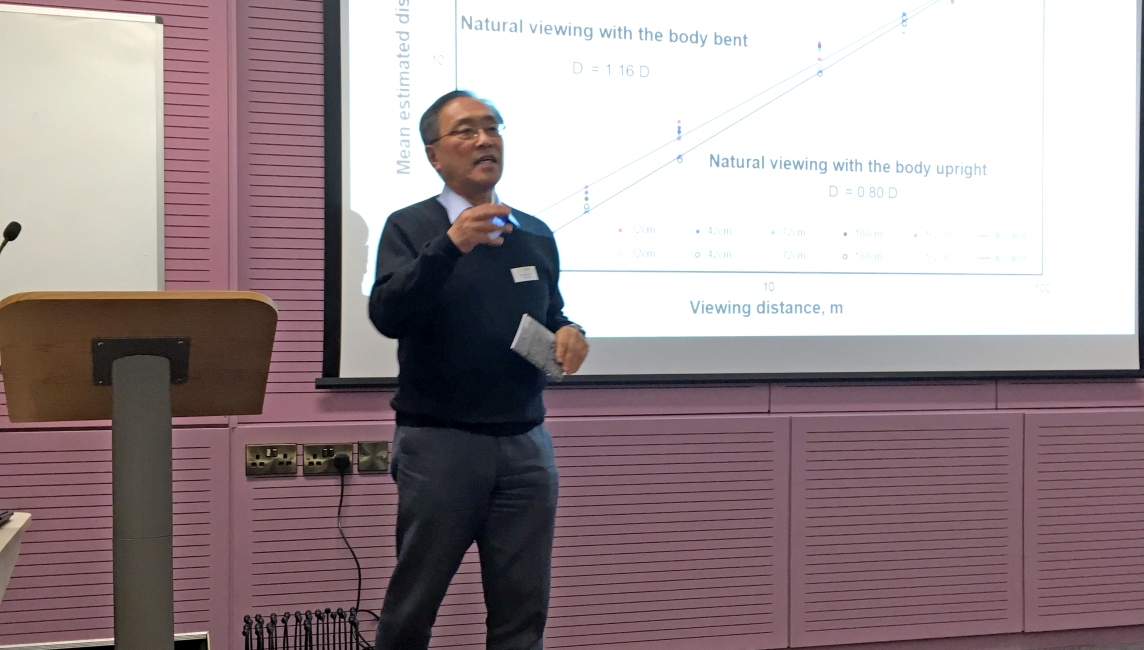 Ig Nobel Prize Winner Prof. Higashiyama of College of Letters Gives a Lecture in London
Ritsumeikan University hosted a lecture by Professor Atsuki Higashiyama of College of Letters in London on February 24 with the support of the Japan Society for the Promotion of Science (JSPS) London and with the cooperation of the Japan Chamber of Commerce and Industry in the UK. About 60 people attended the lecture, including Japanese government officials and business managers, members of the press, and Japanese and British researchers in the UK.

For Professor Higashiyama, it was the first lecture he gave overseas since winning the Ig Nobel perception prize in September last year. In the past, some scientists received both a Nobel Prize and an Ig Nobel Prize, and the results of research that come up for consideration for an Ig Nobel Prize are said to meet international standards.
Professor Higashiyama talked about the effect of viewing objects bent over and between one's legs, the focus of his research for which he had won his Ig Nobel Prize. He told the audience that the ruins of Melrose Abbey in Scotland are famous as a spot where many people bend over and look between their legs, just like at Amanohashidate, a pine-covered sandbar that spans the mouth of a bay in western Japan. He explained the effect of the relationship between visual perception and body orientation, saying that when the viewer is inverted, the field of vision becomes flat and objects far in the distance, especially, look smaller and nearer. Professor Higashiyama said this perception results not from an upside down retinal image but from a change in the world of vision caused by the inverted position of the body.

He fielded many questions from the lecture participants. They asked if gymnasts and fighter pilots can gain this viewing effect and what the Ig Nobel Prize award ceremony was like as well as questions about the anisotropic perception of slant, another recent subject of his research.
Related information