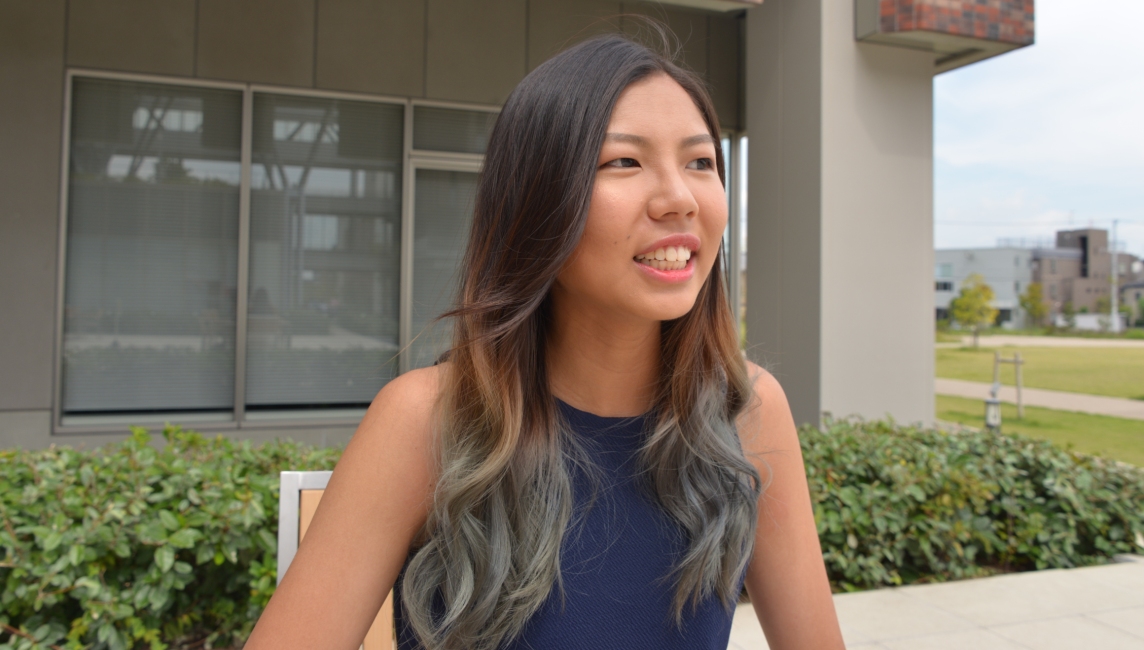 How I spent my Time at Ritsumeikan – Two Graduates share their Stories (1)
Here are the stories of two of the twelve graduates from the Community and Regional Policy Studies (CRPS) major at the College of Policy Science.
Story of Jia Min Koh from Singapore
Jia Min had always been interested in Japanese culture and she started learning Japanese as a third language when she was twelve years old. She had the opportunity to come to Japan for three weeks for an immersion program when she was in junior high, and that experience gave her an insight into daily life in Japan. She also gained a second family whom she still keeps in touch with today. As a result of the program she decided to study in Japan and worked hard to fulfill that dream.

Through the Global 30 Project website launched by the Japanese government, she learned about Ritsumeikan University and the CRPS major, which was to be established in fall 2013. The CRPS major attracted Jia Min as she was interested in policy issues ranging from urban planning to governance, especially in the context of Japan. She received a scholarship from Ritsumeikan University and another scholarship from a private company, which enabled her to study at the university.

Jia Min thinks that she has definitely matured after four years of studying abroad. It taught her to be independent and confident in taking on new challenges. She started doing part-time jobs in Japan from her third month here as she didn't want to rely on her parents for her expenses. In Japan, most university students do part-time jobs and she thinks it is a great way to meet other students as well. In addition, she had many opportunities at Ritsumeikan to try out new things: in her second year, she took over the "Peer Mentor Support Group," which aims to support incoming international students in their lives in Japan and at Ritsumeikan University. While there are many events for learning about Japanese culture targeted at short-term exchange students, she realized that there was a lack of events for CRPS students to get to know each other across different year groups and bond as a family. That led to the beginning of the annual orientation camp, which has been organized successfully in Kyoto and Shodoshima since 2015.
Jia Min's graduation thesis is on the town of Kamiyama in Tokushima, which is famous for attracting people from outside. She was initially planning to do research on urban planning, which she was familiar with, being from an urbanized country. However, as she spent more time in Japan traveling to regional areas, she was drawn to the serenity of rural locations and that made her aware of the issues the people in such places were facing. Many of these rural locations are filled with shuttered storefronts and are facing impending extinction. In contrast, there are also successful cases of rural revitalization around Japan, which has enabled the local communities to sustain their lifestyles. She wanted to learn more about such places and find out what can be done to revitalize rural areas.

After searching online for information, she stumbled upon Kamiyama, a typical depopulated rural area, which has been successfully revitalized by entrepreneurial newcomers. The town departs from old paradigms of economic development through reliance on agriculture and forestry, instead using creative and innovative approaches incorporating ICT. She felt the lessons learned from that case study would be useful in assisting other regions in Japan facing similar issues.

From next April, Jia Min will work in a design and advertising company in Osaka. Although she will be mainly engaged in marketing and sales, she hopes to get herself involved in the designing process as well.

"I had faced many difficulties in job hunting as an international student in Japan," she says. While she was relatively fluent in Japanese, she didn't have much experience in class discussions in Japanese as she didn't continue language classes at the university. As part of the interview process, there were group discussions and the participants had to present their arguments to the interviewers. At times, she struggled to express herself in a coherent and succinct way, and lacked confidence when she had to present her ideas in a group with other Japanese students.

"My advice for job hunting is to brush up your Japanese skills while you are studying at Ritsumeikan. Most companies require you to be able to speak, read and write Japanese (preferably at N1 level). Other than attending language classes at Ritsumeikan, you can join activities held by student groups such as TISA (Tutors for International Students Assembly) to meet new Japanese friends and practice with them."

Her other advice is to be well-prepared and not to leave anything to the last minute. The job hunting process in Japan follows a strict schedule, so you have to keep track of the deadlines for applications. Sometimes, they require you to answer essay questions which may be quite tricky, so do leave yourself enough time to write and review them. She also recommends getting a native Japanese speaker to proofread your answers before submission, and contacting the Career Center for help, as the staff members can give you good advice on your writing.

Message to the fifth batch of CRPS students:
Firstly, a warm welcome to Ritsumeikan! I was in your position four years ago and I still remember the feeling of excitement and nervousness at being in a new environment. Living away from home may not be easy at times, and there may be days when you feel discouraged. Despite it all, do take a look around you and remember why you made that decision in the first place. Don't forget that your friends are here to support you through both the good and bad times. Study hard, but don't forget to have fun!

Message for those considering the CRPS major:
Go for it! My greatest takeaway from studying at Ritsumeikan has been to come away with a network of friends from all over the world, while being able to experience daily life in Japan. It has been an exciting journey for me and I believe that you will enjoy your time here too!
(Continued in next article)