How I spent my Time at Ritsumeikan – Two Graduates share their Stories (2)
Continuing from last time, here is the story of a graduate from the Community and Regional Policy Studies (CRPS) major at the College of Policy Science.
Story of Abu Baker Khan from Pakistan
Abu Baker Khan has lived abroad for many years. He is originally from Pakistan, but grew up in Saudi Arabia and attended middle school in the US. His family was familiar with Japan, since his brother had already studied at Ritsumeikan Asia Pacific University. After finishing high school, Khan enrolled at a university in Pakistan to study computer science, but he was somewhat dissatisfied with his life. Around this time he heard about the CRPS major, a program established in 2013, which he thought would provide a better opportunity to study in a non-English-speaking country. When he read the messages from professors talking about their expertise on the problems contemporary societies face, it struck him that Pakistan has also faced decades of such problems since separation from India. Believing that the expert supervisors in the college could make him a better person, develop his skills and knowledge, and equip him for a brighter future, he applied to Ritsumeikan University.

When he arrived at Kansai International Airport, his brother came to pick him up because he was not familiar with the Japanese language. He lost a piece of his luggage that day, but the airport officials found it and sent it to the guest house he and his brother were staying at. This, he thinks, demonstrates the beauty of Japanese culture.

Many things have impressed him over the course of his four years in Japan, such as the day he went to a shop to get a cell phone. The salespeople couldn't understand him, and he couldn't comprehend them either. Then a young woman approached him and offered assistance, spent a whole day translating for him, and finally got him a phone. He could never imagine someone helping him in this manner in Pakistan. Japanese society has taught him to be kind and humble, and to recognize people who need help.

Khan considers that the most significant aspect of studying policy science in English as part of the CRPS major is that many of the Japanese professors obtained their Ph.Ds. overseas. Their international experience gives the students much broader perspectives. In addition, his eleven classmates from seven different countries share a diverse range of views on many topics. "Our class is small, so everyone's participation in discussion is a key feature," adds Khan.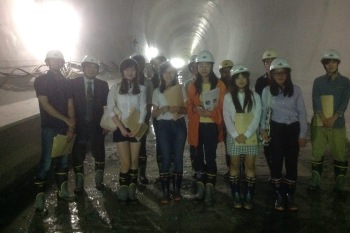 After six months in Japan, he found a part-time job at a fast-food restaurant in Kyoto. It was difficult at first, but he got used to it. He still works in the same restaurant, and the job has taught him a lot about Japanese language, culture, and society, as well as how to foster teamwork and many other things.

According to Khan, an important benefit of studying in Japan that will help him in the future is Japanese people's respect for time and work. They are always punctual in arriving for appointments and accomplishing designated tasks. Public transportation is always on time. He is also inspired by the honorific language Japanese people use to talk to their customers. This experience has motivated him to be a responsible and warm-hearted person.

Thanks to the 4+1 program offered by the CRPS major, Khan has already started his master's studies and will continue in the Graduate School of Policy Science this October. He hopes to earn a Ph.D. in Japan and join the United Nations to gain more experience in his research field. His ultimate goal is to teach at a university in Japan, to share what he has learned. "Teaching has always been my passion; sharing and spreading knowledge is essential to increase awareness and introduce new ideas," he says.

Message to the fifth batch of CRPS students:
Dear newcomers in the fall semester of 2017, welcome to Japan. CRPS is an excellent choice and you will love it here. Work hard, study as much as you can, and make new friends during your stay at Ritsumeikan University. It is a tough decision to be apart from family and friends and spend four years in a completely different environment. You are not alone; we warmly welcome you to our big international family and will make you feel at home.

Message for those considering the CRPS major:
I would like to say don't think too much, just apply for Policy Science at Ritsumeikan. The brilliant faculty members work so hard to prepare us for the future and polish our abilities. The diverse environment created by students from all over the world is a unique feature of Ritsumeikan University. Together, we learn, grow, and work hard to make this world a better place to live and love.