Prof. Kanayama and Dr. Youde Talk about the new College of Global Liberal Arts opening in April 2019 (2/2)
In Part 2 of this series, Dr. Jeremy Youde provides an introduction to The Australian National University (ANU) and GLA's partner school, the Coral Bell School of Asia Pacific Affairs. After this, Prof. Kanayama and Dr. Youde discuss the skills and qualities that students need to succeed in the global arena.

Return to PART 1>>

GLA students will study at the ANU Coral Bell School of Asia Pacific Affairs, based on the partnership between the two universities. Could you tell us about ANU and Coral Bell?

Dr. Youde: The 2018 QS World University Rankings by Subject ranked ANU No. 1 in Australia and No. 8 in the world in Politics & International Studies. This is a testament to the quality of research and education for which ANU is recognized.

Prof. Kanayama: Professor Peter Drysdale at ANU helped to establish APEC (Asia-Pacific Economic Cooperation) by advising all the related government officials in Asia. As for the Coral Bell School, it was named in honor of Dr. Coral Bell, a distinguished political scholar the Australian government looked to for advice.

Dr. Youde: Coral Bell helped to establish international relations as a field in Australia, and engaged with top level government officials. She had a long connection to ANU, and we were able to rename the school after her a few years ago, in honor of her legacy.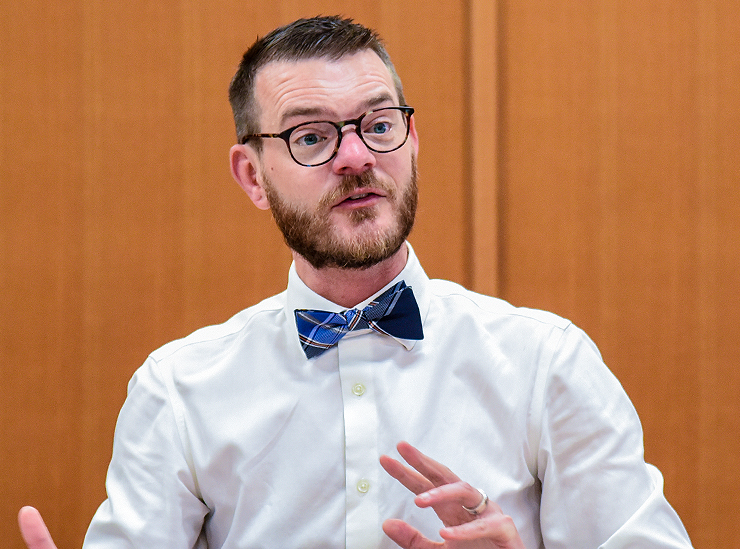 How many students are studying at the Coral Bell?

Dr. Youde: The Coral Bell School has seen great increases in its undergraduate enrolments because we are teaching courses and programs that resonate with student interest. This past semester, we had more than 1700 students in our undergraduate courses. We also have a large number of post-graduate students who are pursuing their Masters degrees or PhDs.

Does ANU have many students from around the world?

Dr. Youde: Yes. It's an incredibly international campus. When GLA students come from Japan to ANU, they will be able to contribute to and benefit from our diverse university population. It can be overwhelming to go to a new university and a new country, but we have a lot of support services for international students. We also have a number of student organizations, which are valuable for students to connect to their own cultures and also learn about other cultures. Students will have an enjoyable campus experience.
In 2021, the first GLA students will study at the ANU Coral Bell School of Asia Pacific Affairs. What does the school expect from them?

Dr. Youde: We are expecting these students to bring the experience they've had and inject it into classroom conversations. One of the things we try to stress with undergraduate education at the Coral Bell is that it's not a passive process. Students should be active and engage in this process.

The other thing we're looking forward to is having these students, who will have had great experiences in previous years, make appearances in other classes and spread the word about the dual-degree program to the rest of the students at the Coral Bell. We're hoping that we can have as many students as possible speak about this experience, talk about what they're doing, and infuse the great experiences they have had at Ritsumeikan into their classes at ANU.

Global business leaders are greatly sought after by employers and in society. To be one, what skills and qualities should students have?

Dr. Youde: It is important for a global business leader to be able to think more strategically—not just about yourself, your business, or a single organization. You need to think about the broader implications of the decisions you might be making, how these decisions will reach the broader community, and how they will cause ripples.

Universities can get students critically thinking about ethics and the long term impact of their decisions. They can get students to think two to five steps down the road, and think about it as a system as opposed to just a single transaction. This program will give our students, who will be future business leaders, the opportunity to take that broader perspective and think about how they will be able to use their education, experiences and cultural competency to influence organizations to which they belong.

Prof. Kanayama: After finishing their studies at ANU and Ritsumeikan University, students should be able to identify and solve problems in society and serve the local community, their respective nations, the Asia-Pacific region, and hopefully the world. Above all, I hope our students will serve the community after graduating from this program.

If they can do so, they will impress company executives and the people running profit and non-profit organizations. Global leaders will be able to handle problems under any circumstances.

Dr. Youde: You never know exactly what situations are going to be thrown at you within an organization you are working for after you graduate. We will be preparing the next generation of global business leaders to be resilient, respond to challenges, know what resources they can draw on, and know how they can meet those challenges. We will be making sure our students are ready for surprises and able to respond to them.

What would you say to Japanese high school students who are interested in GLA and hoping to study at ANU on the dual-degree program?

Dr. Youde: We're looking for ambitious students. This program is a brand-new experience for both of our institutions. The program is going to reach out to students who are looking to do something that goes a little beyond the traditional degree structure. It's going to give them a unique set of skills and experiences that will set them apart.

Prof. Kanayama: You'll never regret joining our program. Taking this great opportunity is challenging, but worthwhile. You'll receive excellent care from both of these distinguished universities. After diligent studying and a fulfilling college life, I'm sure you'll grow into global leaders. No need to worry. Please come and join us!

Return to PART 1>>


PROFILES: