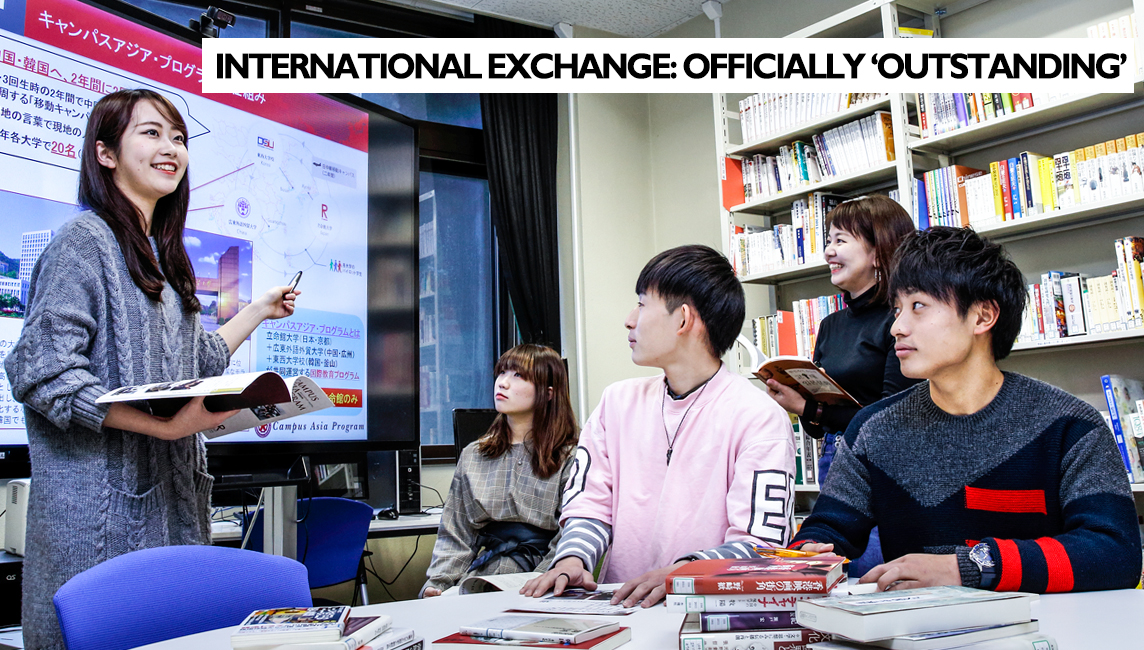 Excelling at International Exchange: Campus Asia Program rated 'S' (Outstanding) in mid-term evaluation
Ritsumeikan University College of Letters earned an 'S' (Outstanding) rating on the mid-term evaluation of its 'Korea-China-Japan joint campus program to foster leaders in the humanities for East Asia' - commonly referred to as the Campus Asia Program (CAP).

CAP is a four-year program jointly operated by Ritsumeikan University (Kyoto, Japan), Dongseo University (Busan, South Korea), and Guangdong University of Foreign Studies (Guangdong, China), designed to: a) cultivate competent individuals equipped with exceptional communication skills and a good understanding of both the traditional and modern cultures of Japan, China, and South Korea, and b) build a network of next-generation leaders in these three nations.


The Evaluation Report stated:

1. This program is jointly administered by the three universities based on a clear vision for deepening students' understanding of language, culture, literature, and history and cultivating talented East Asian who can succeed in the fields of cultural and international exchange and education and research.

2. This completely original program has been designed such that students spend their second and third years (for a total of four semesters) learning at two universities outside of their home countries before returning home to receive certificates of completion.

3. Japanese students successfully acquire Chinese and Korean language skills as evidenced by their passing of the higher levels of proficiency tests in those languages.

4. External funding is also being used to promote joint research on this program, whose output serves as an evaluation of the program's success. Furthermore, expectations are high for research output pertaining to cutting-edge multilingual education in Japan and trilateral joint human resources development.

5. Despite concerns that the multilingual nature of the program would not leave enough time for students to engage in and deepen their knowledge of their own specialized studies in Japanese, the fact that supplementary education is provided in the form of intensive summer school classes in Japan demonstrates commendable dedication to quality assurance.


Taking renewed impetus from such a positive evaluation, Ritsumeikan will continue pursuing efforts to globalize its education and research as one of the universities selected for the Top Global University Project.

Professor Ryuzo Ueno, College of Letters (Ritsumeikan University Vice President of Academic Affairs and Campus Asia Program Director):
This is a program that requires students to not only learn about the cultures of three countries in three languages, but to do that whilst living in those countries. As such, it is a challenge. Having said that though, students have been bold enough to accept and take up this challenge - it really is through their hard world that we have been able to achieve this exceptional evaluation. As faculty and staff, we will continue working together with students to ensure that participants can take their learning to a higher level and succeed in the global arena after graduation.

Professor Hiroshi Yoneyama, Dean of the College of Letters:
This is a hugely exciting program in which students have the opportunity to study in three different countries, including two stints outside their home countries in their second and third years. I look forward greatly to seeing the young people who gain this kind of experience becoming the next generation of contributors to peace and mutual understanding in East Asia.

The Campus Asia Program: https://en.ritsumei.ac.jp/campusasia/