Ritsumeikan Trust concludes Agreement of Cooperation with West Japan Railway Company
The Ritsumeikan Trust has concluded an agreement of cooperation with West Japan Railway Company (JR-West), which covers topics including the further advancement of education and research activities, the safety and security of local residents, regional revitalization, and human resources development.

This is the third agreement Ritsumeikan has concluded with a railway company following similar agreements with OSAKA MONORAIL CO.,LTD. and Hankyu Corporation.

On Monday, March 25, Chairman of the Board of Trustees, Tomomi Morishima, and General Manager of the Kyoto Branch of JR-West, Mr. Masatoshi Miwa, signed the agreement at a ceremony held at Kyoto Railway Museum.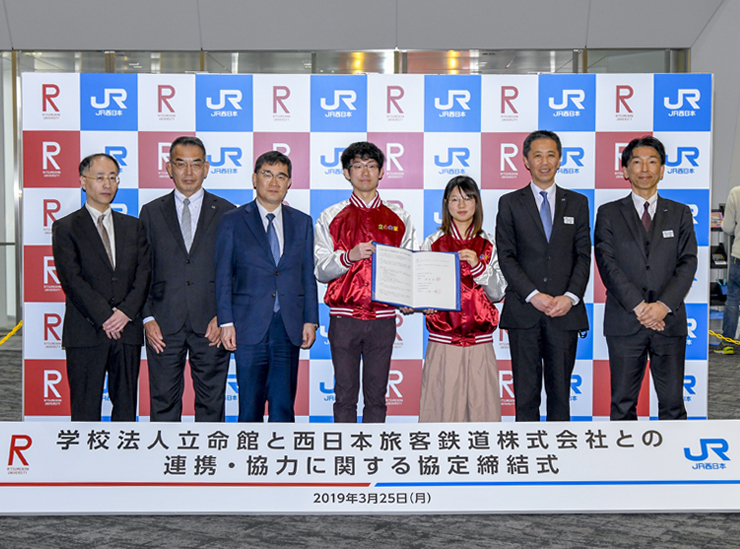 Press Conference comments
Chairman Morishima:
'Since opening Biwako-Kusatsu Campus, Ritsumeikan has focused its energies on building relationships with the local community. Although we are a place for student learning during the day, I aim to create an Academy that can further contribute to the lives of everyone in the local community by offering use of the campus to the local community at nights and on weekends. With this agreement of cooperation, I look forward to enriching our partnership with JR-West.'

General Manager Miwa:
'By tapping in to each other's strengths, we will work to improve the environment for young families and promote recurrent education, thereby helping us realize JR-West's mission of creating a "community that people want to visit and live in".'

The Ritsumeikan Academy will continue to pursue cooperative relationships with outside partners and work with the students, faculty, and staff to contribute to the local community and held find solutions to the issues society faces.

Major Areas of Cooperation
Promotion of academic research, education, health, sports, and preservation of local traditional culture together with local partners
Promotion of technologies and contribution to the local community
Development of an attractive community
Human resources development
Synergistic utilization of each other's resources
JR-West Official Website: https://www.westjr.co.jp/global/en/