Dr. Denis Mukwege:Conferral of Honorary Doctoral Degree and Commemorative Symposium
Ritsumeikan University awarded an honorary doctorate to Dr. Denis Mukwege, recipient of the Nobel Peace Prize 2018, on Monday, October 7, Kinugasa Campus. The conferral ceremony and commemorative symposium was attended by around 600 participants including students, faculty and staff, and members of the public.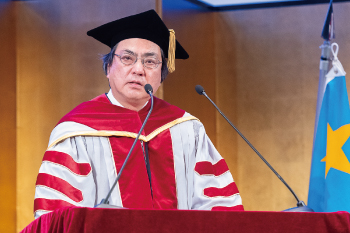 Opening proceedings, President Nakatani spoke about Dr. Mukwege's achievements and the decision to confer an honorary doctorate:

Dr. Denis Mukwege has, through his work, contributed greatly not only to the nations of Africa, but to the progress of human peace and democracy in general – both of which have been highly recognized by the international community. Their affinity with Ritsumeikan Academy's educational philosophy of "peace and democracy" is so great that we are honored today to be able to confer an honorary doctorate to Dr. Mukwege.

After the conferral, Dr. Mukwege expressed his gratitude for the award, before giving a commemorative lecture entitled 'Women rights, absence of violence in the context of the Sustainable Development Goals (SDGs)'.

The lecture was open and frank in addressing a number of topics related to Dr. Mukwege's work across a range of areas related to conflict in the Democratic Republic of the Congo.

He spoke about the rapes of women and girls taking place in the Democratic Republic of the Congo, an area long mired in conflict, as well as the context in which such sexual violence was utilized – describing it as a deliberate tactic of wars waged over the abundant mineral resources of the eastern Congo; before going on to explain how they provided holistic care and support for survivors, and sharing with the audience his own personal experience of this.

Finally, he called for collective action as he expressed his belief that without respect for women, without their empowerment, achieving the SDGs and overcoming the great challenges that lie ahead for mankind, would be impossible.


Dr. Denis Mukwege

Dr. Mukwege continues to work tirelessly in a number of important areas including: the introduction of holistic care for female victims of rape in the Democratic Republic of the Congo; strengthening of regulations in order to ensure the sustainable development of the industrial mining of resources in Africa; and the improvement of working conditions for women and children employed therein. He was awarded the Nobel Peace Prize in 2018.