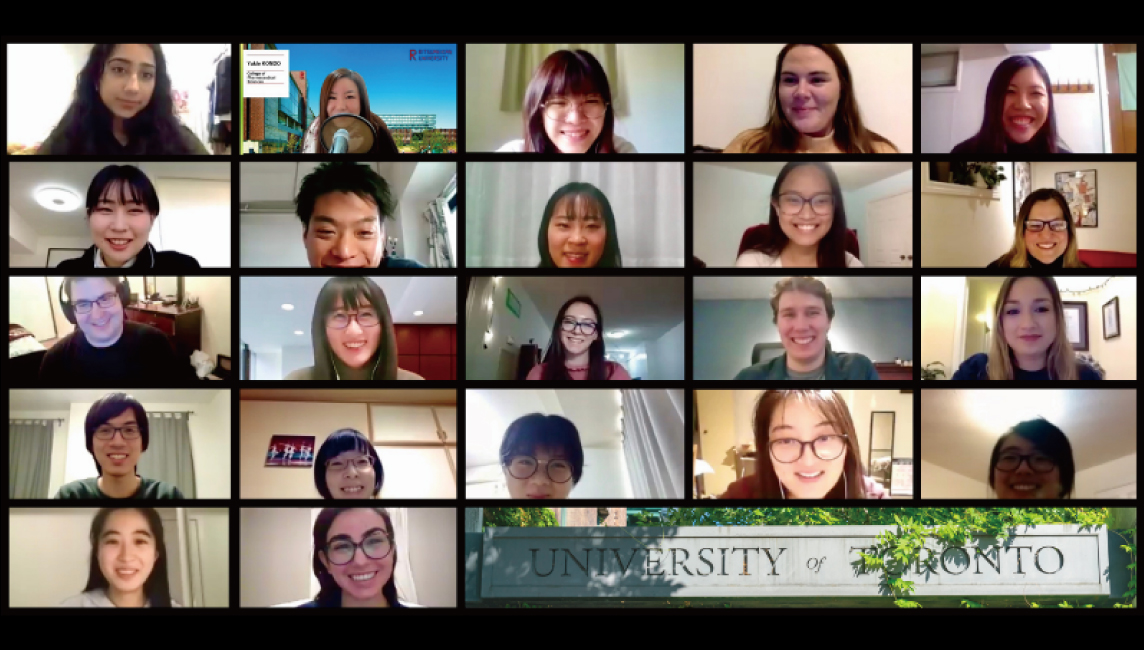 College of Pharmaceutical Sciences Offers Online Exchange Program with the Toronto Hospital for Sick Children and the University of Toronto
For one week starting on Monday, February 8, 2021, the College of Pharmaceutical Sciences held the Toronto Clinical Training Program ("TCTP"), an online exchange program offered in cooperation with the Toronto Hospital for Sick Children ("SickKids") and the University of Toronto.
An original program that allows students to learn in cutting-edge medical settings
The TCTP is an original exchange program designed by the College of Pharmaceutical Sciences for fifth-year students in the Department of Pharmaceutical Sciences. On this program, students gain first-hand experience in the clinical ward at SickKids, one of the world's leading medical centers, join a conference on case histories, and take classes and interact with students from the University of Toronto's Faculty of Pharmacy. To produce students who can contribute to medical care anywhere in the world, whether they work as clinical pharmacists in hospitals or as pharmacists in pharmacies or companies, and instill them with a global perspective, we have been sending students to Canada on this program since AY2016.


Creating opportunities for exchange amid a pandemic: Offering the best possible virtual education instead of a substitute program
Concurrent with the COVID-19 pandemic that struck at the end of AY2019 (February and March 2020), we cancelled student dispatch given that the objective of this program is to provide students with experience in medical settings. In AY2020, we spent nearly a year working with SickKids to develop a virtual education (online exchange) program. To develop this program, we held several online meetings with SickKids. This served to bolster our partnership since we both felt the best option would be to provide students with a virtual program precisely because of the pandemic, rather than offering some kind of substitute program.
In addition to taking classes, experiencing a foreign culture and immersing yourself in an English-speaking environment are important aspects of an exchange program. To create this kind of environment online, we designed the entire program to enable a virtual exchange experience by providing students with Zoom classes offered by SickKids and the University of Toronto as well as sessions held by College of Pharmaceutical Sciences faculty and TAs with a wealth of overseas experience.


Program details
Program with SickKids
SickKids, a hospital affiliated with the University of Toronto, is one of the world's leading providers of pediatric care. In Canada, it plays a leading role in advancing the health of children through a combination of medical care, research, and education. On this program, hospital pharmacists, pharmacist residents, and physicians gave seminars, after which the students from Ritsumeikan University presented case histories.


Program with the University of Toronto
An exchange session was held with around 25 students from the University of Toronto Faculty of Pharmacy. The students engaged in a lively discussion about the educational systems, practicums, and electives in their respective colleges and career opportunities and volunteer activities in their respective countries.


Program at Ritsumeikan University
Case history discussion
After joining the seminar with SickKids, students discussed what they learned with College of Pharmaceutical Sciences lecturer Nahla HAMOUDA in a case history discussion. Nahla provided the students with feedback and the students reviewed what they learned in terms of its medical significance.

Video of the case history discussion

Video of the review session

Intercultural exchange session with Tas from India and China and a lecturer from Canada
We held an intercultural exchange session with two TAs (Xinjia WANG (China; Graduate School of Life Sciences) and Haarish C. V. (India; Graduate School of Science and Engineering)) and guest lecturer Philip Gurney. Each person spoke about over-the-counter (OTC) drugs in their respective countries and the roles of pharmacists. On the final day, everyone introduced sweets from their home countries.

Video of the intercultural exchange session, part 1

Video of the intercultural exchange session, part 2

Comments from students
Participating students commented on their experience on the program as follows.

At first, I couldn't understand English at all, and I was worried about whether I could keep up with the classes and communicate with the other students. After about the third day, however, I got used to the pace and gradually I started to understand what everyone was saying. I was even able to ask questions.
The joy I felt when I realized I could understand the classes in English, ask questions, and understand the answers given was indescribable, and it made me want to use and speak English even more.
I learned about the different roles of pharmacists and was able to think about how I would like to work as a pharmacist in the future.
I was able to learn about the state of pharmacists at SickKids, one of the top hospitals in the world, and I developed a clear view of what I want to focus on when I start working as a pharmacist after graduation.
Although it was only a short week-long program, the TCTP afforded participating students with an invaluable exchange experience because it enabled them to think about their careers as pharmacists from many different perspectives. At the same time, they were able to actively use English and learn about pharmacy from a global perspective.
Related information