NEWS
2022.07.04
【AJI-DX verse】 Here's the webinar-screen-friendly flyer!
In July 2022, the Asia-Japan Research Institute decided to use horizontal posters for event announcements so that they can completely fit on your computer screen for webinars.
The above flyer is the vertical type used in general. Please click on it. Depending on your screen, you will need to scroll to see all the information.
Now please check our new horizontal design below.
We expect that the most of our users' devices have horizontal screens, so when you click on it, you will be able to see all the information at a glance without scrolling.
When you are looking at it on your smartphone or tablet, you can flexibly turn your screen vertically and horizontally, and in this case, both vertical and horizontal types have to be used for respective purposes.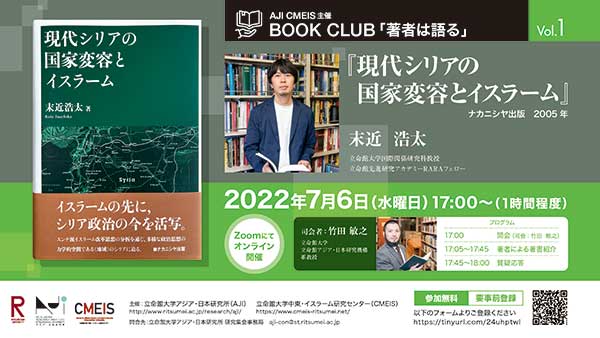 Until recently, it was the mainstream to put posters on bulletin boards and walls. However, in the present day, it has become more convenient to view them on your smartphone or PC screen whenever you like.
The Asia-Japan Research Institute will seek to develop the communication measures appropriate for the age of digital transformation (DX).
《AJI-DX verse》 (A new corner)
"Asian and Japanese Studies" advocates interdisciplinary research, and various projects are being carried out at this Institute with the participation of researchers from the natural sciences. At the same time, a lot of researchers from the humanities and social sciences also participate in our research projects. The digital transformation (DX) of research has become one of the imminent issues, especially, for the humanities and social sciences.
In this new corner, we would like to introduce measures for making researches appropriate to the DX that can be useful for other researchers from humanities and social sciences. We would really appreciate it if you constantly checked and supported our DX activities.
Related Articles
・KHASHAN Ammar "Life between Searching for the Classic in the Cyber Space and Going to the Field: My Studies on Islamic Economics in the Middle East and Southeast Asia" (Asia-Japan Today: Researchers' Essays, No.11) (https://en.ritsumei.ac.jp/research/aji/publication/essay/number11/)
・Ammar Khashan and Ayaka Kuroda, eds. Asia and Japan Today (1): Researchers' Essays at the Arrival of a New COVID Era (AJI Books)
(https://en.ritsumei.ac.jp/research/aji/publication/aji_books/)