ISSE - New English-based Course Launched at Ritsumeikan (vol. 1)
What is Ritsumeikan ISSE?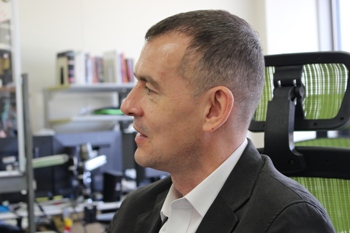 In response to rapidly-evolving information and communication technology (ICT) and dramatically changing lifestyles in today's world, the College of Information Science and Engineering, one of the largest ICT colleges in Japan, launched a new English-based course named ISSE, Information Systems Science and Engineering, at Biwako-Kusatsu Campus in April 2017.

Professor Kryssanov of the ISSE course says, "Skills and knowledge that the students will acquire in the ISSE course are (1) the information systems engineering skills that would allow them to work anywhere in the world; (2) the practical knowledge of creative solutions necessary to become ICT professionals; (3) broad expertise not only in the technical fields of ICT but also in many other domains, such as social science, politics, biology, etc. that will benefit the students' future career; and (4) experiences to work as multi-cultural team members, as innovators, and as leaders."

ISSE's flexible curriculum blends together the best of Japan's engineering education, including "traditional" lecture and practice classes but also ICT project work. A few illustrative examples of the curriculum subjects include:
- Computing Mathematics
- Systems Biology
- Professional Ethics
- Ergonomics and Affective Engineering
- Engineering Project-Based Learning (consists of five one-semester classes: Problem Analysis and Modeling, Team-Based Design, Creative Design, Team-Based Creative Design, and Design Evolution)
- Artificial Intelligence
- Embedded Systems
- Visualization and Computer Art
Features of ISSE Course:
(1) Flexible and customizable programs unrivaled with traditional educational channels
A combination of fundamental science courses and interdisciplinary engineering practice disciplines allows the students to learn both for and from doing.

(2) Practice-oriented
All the students join engineering projects from their first year of study, so that practical engineering experiences acquired by the students throughout the four years provide them with abilities to meet demands of the contemporary and future industry leaders worldwide.

(3) Four specialized laboratories + two shared Engineering Project Labs prepared for ISSE students from the first year
The e-Society Laboratory "ICT for Human Enhancement," the Affective Engineering and Computer Arts Laboratory, the Robot Dynamics and Control Laboratory, and the Advanced Computer Graphics and Digital Human Laboratory are designated for ISSE students, and are equipped with everything necessary to conduct cutting-edge research and development. The two shared laboratories are also well equipped and can be used by the students virtually at any time. All the laboratories' environment is designed to promote the students' creative thinking.

(4) Engineering project-based education by project cycle
The students are encouraged to accumulate practical experiences in every step of the engineering product lifecycle, beginning from problem identification."

(5) Highly-skilled and experienced teachers from all over the world are assigned as supervisors to ISSE students from the first year
Unlike the traditional educational systems in Japan, prominent researchers and industry professionals with cultural diversity are assigned as student project supervisors beginning from the first year.
Message from Professor Cooper, the Director of the ISSE Course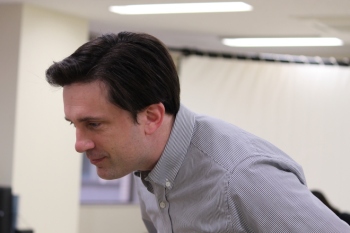 The students who attend this program are internationally minded and often have prior experience participating in science and engineering projects. They come to our program because they want to develop their leadership and innovation skills by experiencing the project lifecycle common to a wide variety of endeavors, including both the information industries and the science and engineering education process itself. So it's not just about making software and using hardware; experiencing the process allows students to develop emotional intelligence and management skills, as well as knowledge in multiple fields of study. These students are highly motivated to learn the skills necessary to solve real-world needs, as a key component of a personally fulfilling career.
Collaboration with Leading Academic Institutions
- University of Oxford, Department of Education
Prior to the launch of the program, researchers from the University of Oxford, Department of Education provided advice on the learning environments, such as the Engineering Project Lab rooms which are modern, clean, and convenient for the students and include both open spaces for any type of group work and experimental areas with limited access. The university will also interview multinational companies on the skills required to be work-ready and as educational professionals, will provide ISSE with the feedback to make the curriculum more practical, and the learning environments more efficient.

- University of Zurich
Professor Serdult, who also serves as a scientific collaborator at the University of Zurich, leads the ISSE course collaboration with the Swiss university to provide the students with opportunities for academic mobility and integration with top-level research conducted in the European Union. In addition to the above institutions, the ISSE course has established partnerships with the University of Applied Sciences Nuremberg, Nuremberg, Germany, the University of Applied Sciences Augsburg, Augsburg, Germany, and the Cyprus University of Technology, Limassol, Cyprus.

Photo courtesy: D. Moritz Marutschke


Related information